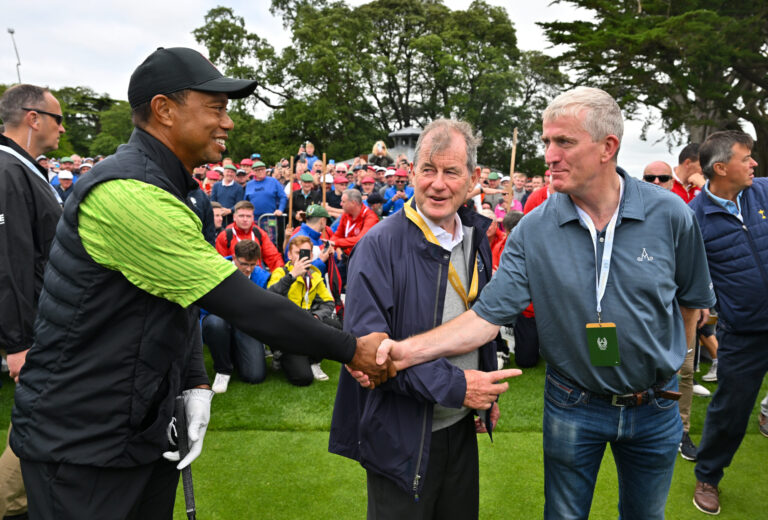 THERE may have been a galaxy of stars from the worlds of film, music and golf at the sixth JP McManus Pro-Am in Adare on Tuesday, but the home fans reserved their biggest roar of the day for local hero John Kiely.
Fresh from the nail-biting All-Ireland semi-final in Croke Park on Sunday, the Limerick senior hurling manager was the star everyone wanted to get their photo taken with – leaving 15-times Major winner Tiger Woods in the shade.
"Can you sign this, John?…Well done, John… Best of luck, John," shouted mothers, fathers, grandparents and children, as the hurling maestro made his way to meet Tiger at the first tee.
"Sure, he's one of our own, and he's put us in another All-Ireland final," quipped a man balancing on his tippy-toes behind a scrum of journalists, spectators, security personnel and course stewards, to catch a glimpse of the Limerick manager.
Kiely grabbed Tiger, patted him on his back, and later joked that the US golf legend needed to "work on his weak side".
"There's times we could do with him in Croke Park," continued Kiely, who beckoned Limerick hurling captain and local sporting hero Declan Hannon into the fold as the GAA stars and Woods posed for photos with JP McManus in the middle.
Some 40,000 golf fans descended on Adare over the two days.
Gazing across a sea of spectators, Woods – who survived a near-fatal car crash in Los Angeles last year – was lost for words when asked by the Irish Independent if he had been practising his hurling swing but offered that the crowds were "really crazy".
The day was all about "having fun", he said.
A slightly frail-looking Woods was driven around the course which hosts the Ryder Cup in 2027. "It was a lot easier when I was walking so I don't know how the hell I'm gonna get my cart around here, so we'll see," he added.
The US golf legend is lucky to be still standing on a golf course given what happened to him last year. However, the massive roar of delight and whoops from the crowd, after he thundered his first shot straight down the fairway, showed the Tiger has yet to be tamed.
2020 Hurler of the Year Gearóid Hegarty was busy signing autographs on the sidelines. He admitted that even he was here to see "the main man" Woods – "that's why all the crowds are here, to see him".
Local Tiger fanatic James "Bomba" Hogan was thrilled when Woods gave him a "thumbs-up" after the Rathkeale superfan showed him his arm emblazoned with a giant tattoo of the American golfer holding the British Open Claret Jug.
"I just love Tiger. I love the way he plays, and I have won a lot of money on him over the years. He saw the tattoo and gave me the thumbs-up. I'm hoping he'll autograph it later," he said.
Eleven of the world's top 12 golfers answered JP McManus's call to support the Pro-Am, which has already raised €140 million for charities across the mid-west and with more to come on the back of this year's event.
Former Republic of Ireland striker, Niall Quinn, who went around the course with British golf legend Nick Faldo was feeling "what a child must feel like when you go to Disneyland for the first time".
Standing in awe beside his golfing heroes, he said: "It's just amazing, extraordinary and I'm thrilled to be part of it."
Meanwhile, Rory Mcllroy was also up for the "craic", borrowing Tiger's driver and preparing for chilling out afterwards. He said: "It's good fun, even last night, getting together with everyone, having a couple of drinks and the craic, it's what it's all about."
And despite being on the same team as bandmates Shane Filan and Nicky Byrne, Kian Egan was working on a plan to "secretly beat both of them because they are bigger into their golf than I am".