THEY say a rising tide lifts all boats and, on Shannonside, they're praying Limerick's hurlers can lift the Liam MacCarthy Cup for the third year on the trot this Sunday.
Treaty hurling fans are painting boats, bikes, cars and scooters green and white as All Ireland Final fever heats up ahead of Limerick and Kilkenny's showdown at Croke Park, July 17.
Beneath a giant Limerick hurling flag emblazoned across King John's Castle, Limerick super-fan Christy Keogh posed for photos standing in his fishing boat, moored on the River Shannon, which he and his brother David painted green and white, unfurled giant hurling flags for sails, and included two giant hurley paddles for steering.
"We have been doing this since 2018, we stuck a few flags in it and put it out in the river but it's after blowing out of all proportion now, and every year people are looking for it," said Christy.
"You're going down the street and people are roaring at you asking, 'when are you putting the boat out?", it's a bit of craic, a bit of fun, and it puts a smile on people's faces," he added.
Not as confident in his boat as he is that Limerick will retain the All Ireland on Sunday, Keogh won't be sailing to Croker, instead he'll travel by train to the big match.
"It sank two weeks ago so we had to repair it but its back in the river again. You wouldn't be sailing anywhere on this thing."
Keogh, 58, is one of Limerick hurling's longest-serving super-fans, "I'm going to matches 50 years, I have a season ticket, I don't miss a game, this is my thing, I don't drink nor smoke, this is my thing, going to matches, hurling."
Recalling his memories of Limerick's All Ireland final win over the Cats in 1973, before Limerick suffered a 45-year All Ireland drought, Keogh joked: "I was only about nine and, to tell you the truth, I didn't see much of it. All I remember is looking up at fellas cursing and I'm one of those fellas now."
"That's what its all about, my father loved the Limerick team and I love them, it's just my thing I love going to hurling matches, I deck out the house, we put the boat out, it's great times for Limerick."
Confident of a Limerick win on Sunday, Keogh added: "I'm going to Limerick hurling matches long enough to know the team's chances and this Limerick team are one of the very best and they will do it."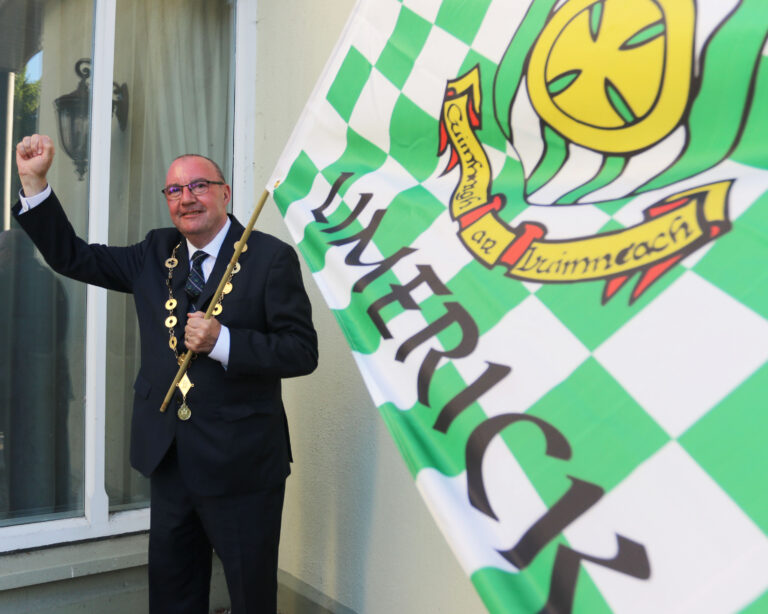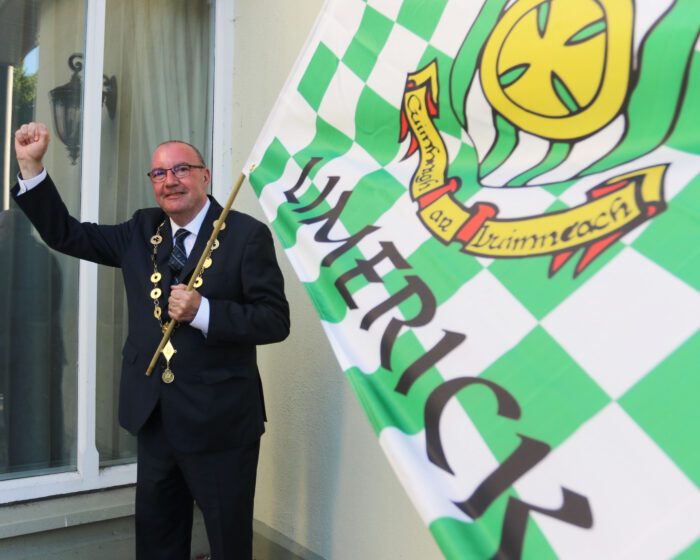 Fans who can't get a ticket for the big match will surely be green with envy of those who do. However Limerick GAA and Limerick City and County Council have teamed up to provide a big screen event showing the big game live, at the home of Limerick hurling, the TUS Gaelic Grounds, with gates opening from 2pm, Sunday.
Tickets for the event which will include live music and DJs are on sale via Ticketmaster.ie.
Newly elected Limerick Mayor Francis Foley, waving a giant Limerick flag, wished Limerick manager John Kiely, and his champion charges, the "best of luck" in returning Liam MacCarthy to Shannonside.