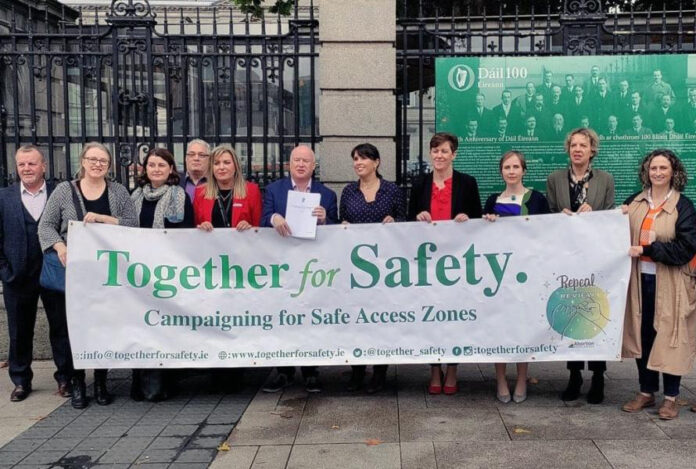 TOGETHER for Safety, the Limerick group campaigning for safe access zones around medical centres to protect people from anti-abortion protests, have welcomed the pledge from Health Minister Stephen Donnelly that legislation will be in place by the end of the year.
On Tuesday, the Minister finalised the General Scheme of a bill which will see anti-abortion protests banned outside maternity hospitals and clinics, providing termination of pregnancy services before the end of the year.
"We are delighted with the announcement," said Yvie Murphy, co-convenor of Together for Safety on Tuesday. "People need to be able to access health care in privacy and dignity and without being harassed or intimidated.
"Safe access zones around health centres have been shown worldwide to be the best and safest way to facilitate this. This year has seen a number of other European countries bring in this safeguard and we are so proud that Ireland will be taking steps to protect people when they're at their most vulnerable" she said.
"What's really inspiring is that this has come about because of the work of a huge number of dedicated people who worked together because we all believe that people should be able to access healthcare in safety and privacy," said Karen Sugrue, co-conveynor of Together for Safety.
"Barristers, constitutional law experts, doctors, nurses, unions, Gardai, human rights and women's advocacy organisations, abortion rights groups, activists, and TDs, senators, and councillors from across the political spectrum and both houses of the Oireachtas have worked tirelessly with us on this. This is proof of the power of dedicated people working together."
Sinn Féin Senator Paul Gavan also welcomed the announcement. Senator Gavan introduced legislation in the Seanad to create safe access zones around healthcare settings which provide abortion services last year.
The Safe Access to Termination of Pregnancy Services Bill, which was written by the Together For Safety Group, passed all stages of the Seanad winning broad cross-party support.
Welcoming the announcement, Senator Gavan called for urgent priority for the long promised Government legislation.
"We have been waiting four years for this legislation. There have been regular protests outside maternity hospitals across ten separate counties this year by anti-choice protesters including Limerick."
"These protests are attempting to intimidate and cause upset. They are invading women and pregnant people's privacy and bodily autonomy at a profoundly vulnerable and sensitive time. People should not have to access healthcare like this."
"HSE officials have acknowledged that the threat of these protests is a factor in GPs declining to opt in to the provision of abortion services, leading to just one in ten GP's currently offering such services."
Senator Gavan also paid tribute to the Limerick-based Together For Safety advocacy group, who have campaigned for such legislation.
"I have no doubt that there would be no such Bill forthcoming from this government without the magnificent work of the activists from Together For Safety. They have campaigned tirelessly and built a cross party consensus for change that will finally deliver this much needed legislation."