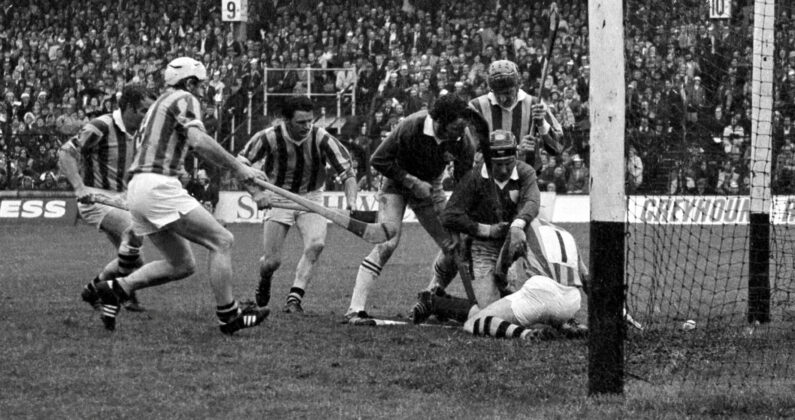 AFTER a tortuous break that had stretched all the way back to 1940, Limerick eventually came good and claimed All-Ireland Senior Hurling Championship honours with victory over Kilkenny in 1973.
Appearing in their third final on the trot, the Cats were installed as favourites but were overturned 1-21 to 1-14 by the brilliant Munster champions in an era when such occasions were held at Croke Park on the opening Sunday of September.
Under leaden skies, the showdown attracted an attendance of a little over 59,000 and was officiated by Mick Slattery of Clare.
Pat Delaney's early goal helped Kilkenny to a five-point advantage, but dogged Limerick were 0-12 to 1-7 interval leaders.
Second-half proceedings were tight and the ultimate difference was a goal from Moss Dowling of Kilmallock.
A puck-out from Kilkenny keeper Noel Skehan was quickly sent back in his direction by Liam O'Donoghue. Skehan saved the shot but Dowling and Ned Rea were waiting for the rebound. Dowling became the Limerick hero as he cracked the sliotar to the net. Limerick, unquestionably, were the better of the sides in the closing half, highlights of which were holding the opposition scoreless for 20 minutes, and the immense scoring contributions of Richie Bennis (0-10 in total, and 2-25 in Championship '73).
"That definitely has to be the high point of my career," Dowling later recalled. "That year's Munster final was great too because that was where we actually made the breakthrough. It was against Tipperary in Thurles and to beat them at home has to be a highlight."
Limerick won that particular dramatic decider by a solitary point, 6-7 to 2-18, courtesy of a late 70 by Richie Bennis.
Bennis once opined of Dowling: "A very important link on the team, bold and aggressive — he'd have been a great flank forward in rugby. An outstanding worker, did a huge amount of spade-work for the rest of us, most of which would have gone unnoticed by the crowd."