LIMERICK is well represented at this year's All Together Now festival happening at Curraghmore Estate, County Waterford. The festival is back for the first time since 2019. Joining headliners Underworld, Nick Cave, Jungle and Groove Armada will be Blindboy Boatclub, Denise Chaila, Emma Langford, Paddy Mulcahy, Sinead O'Brien and PowPig. Narolane's MuRLi and DJ Elaine Mai perform at the new Jameson stage while Hermitage Green's Dermot Sheedy presents Bodhran Beats fusing trad with electronic beats.
Jameson Whiskey will be opening the doors to its brand-new stage this year at the festival, taking place from July 29-31. 'The Circle' will feature a line-up of Ireland's leading artists and performers, and will be home to a host of immersive workshops that are open to public from merch making to Bodhran Sessions. These will be available to book via the Jameson Connects platform.
Fans who visit The Circle @ ATL can also enjoy a host of other activities including a Jameson cocktail station offering some signature brews along with a BBQ grill full of delicious summer bites.
Choice Music Prize electro pop DJ Elaine Mai and rapper MuRli, together for a collaboration which surley will be one of the moments of the festival. They will perform an exclusive new track live at The Circle stage in what promises to be an unmissable experience for fans.
In addition to Elaine Mai and MuRli, The Circle stage has curated an eclectic line up of artists, bringing kindred spirits together to perform under one roof including Loah, John Francis Flynn, Kean Kavanagh, The X Collective, Jordan O'Leary, Claire Kinsella and much more. Late into the night, a host of the best DJs around will play back-to-back sets, pairing some unexpected household names together for more exclusive collaborations that will keep festival goers moving until the early hours with The Circle @ ATL confirmed as one of the latest stage curfews at 2am.
The Circle @ ATL will also be the home of a series of workshops offering festival goers some immersive experiences to take part in across the weekend.
Hosted by multi-instrumentalist Zaska, The Big Jam invites music fans to join in on a jamming session bringing artists and fans together in song while Dermot Sheedy (Hermitage Green) will host Bodhrán Beats, a bodhrán masterclass fusing traditional music with electronic beats. The Spoken Word Circle will encourage attendees to embrace the power of spoken word, hosted by poet laureate Sasha Terfous whilst visual artist and screen printer Execute Exist will be on site to provide fans with the tools to put their own stamp on merchandise via a host of immersive screen-printing sessions where attendees can learn screen onto tote bags, t-shirts and their own cotton-based clothing.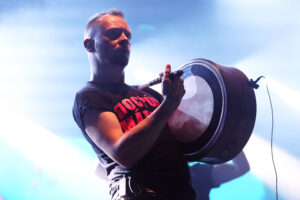 Bodhrán Beats with Dermot Sheedy
Fusing traditional bodhrán with some up-tempo beats, join acclaimed instrumentalist Dermot Sheedy (Hermitage Green, Strangeboy) for a bodhrán masterclass with a twist. Dermot will share some basic techniques in a guided masterclass before leading attendees through a set of high energy tracks, courtesy of Aidan Kelly