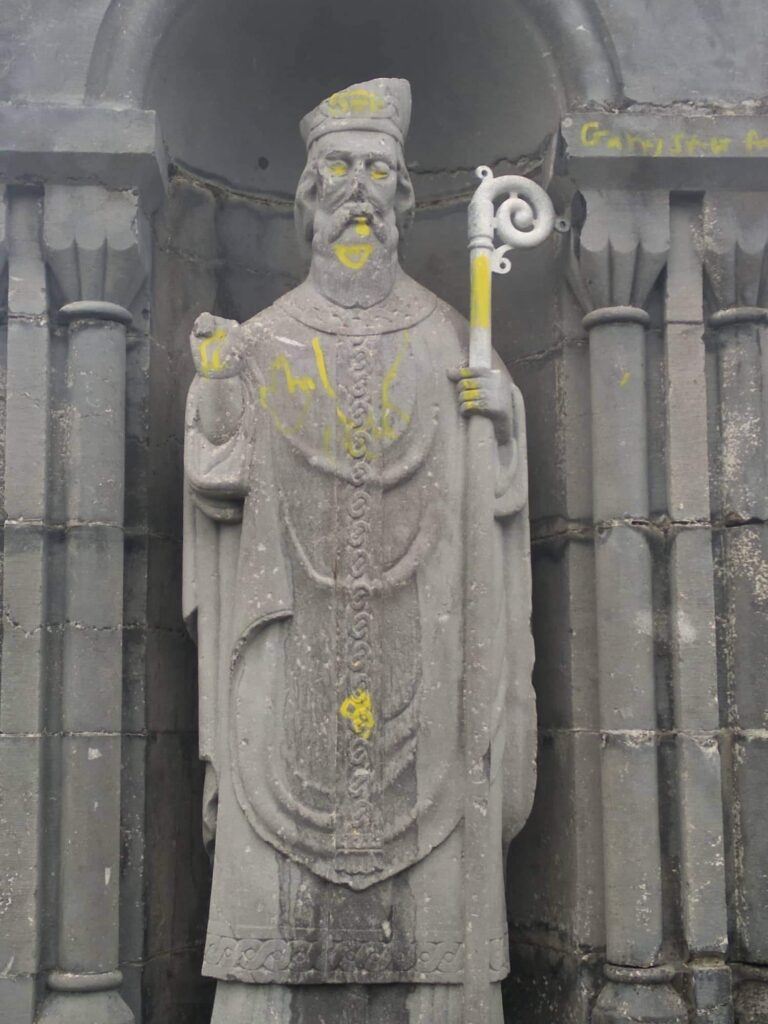 by Bernie English
GARRYOWEN Residents' Association is appealing to parents to watch out for tell-tale staining on their children's and teens' clothes and hands after a beloved statue was desecrated at the weekend and covered in graffiti.
The statue of St Patrick and 'The Well' as it's know locally was built in 1904 by the clergy and parishioners and has been a place of prayer and contemplation for generations. It has been lovingly maintained for all that time.
But vandals have made use of refillable graffiti pens to scrawl all over the statue and the surrounds, leaving splashes of paint from bungled refills, which Association Chairman, John Nugent, believes will mark out the culprits.
"This happened overnight on Friday and we did our best to clean it up on Saturday because there are a lot of people, particularly older people, who like to visit the area and pray," he told the Limerick Post.
"It's a lovely area where people like to visit and walk their dogs and we do our best to take care of it but we couldn't get all of the paint off. If it was a wall we could just paint over it but this is lovely old stone. We're hoping that the Civic Trust, who have more expertise in this are than we do might be able to help."
John said that he believes that the paint will have stained the clothes and hands of those behind the vandalism and it will be equally hard to get off.
"Parents must know their kids have these pens. They're mostly available on line. Parents know if a package arrives at their house and they should ask what's in it. We all love to see our kids being creative but this is not creativity."
The Civic Trust have already agreed to take down the wall which encloses The Well and statue so that youngsters bent on mischief can't hide behind it or climb on it, as one youth did when he was spotted trying to break off the cross at the top of the statue recently.
"We're very lucky to have The Well, the Patrick Sarsfield monument and The Shrine here in Garryowen and people are very proud of them. This hasn't happened before and we need to nip it in the bud.  Parents can help by watching what their children are doing with these markers. Even the name 'graffiti' brings to mind anti-social behaviour.
"If kids want to create graffiti art then the council should do what they've done in other European cities and have a dedicated graffiti wall," said John.