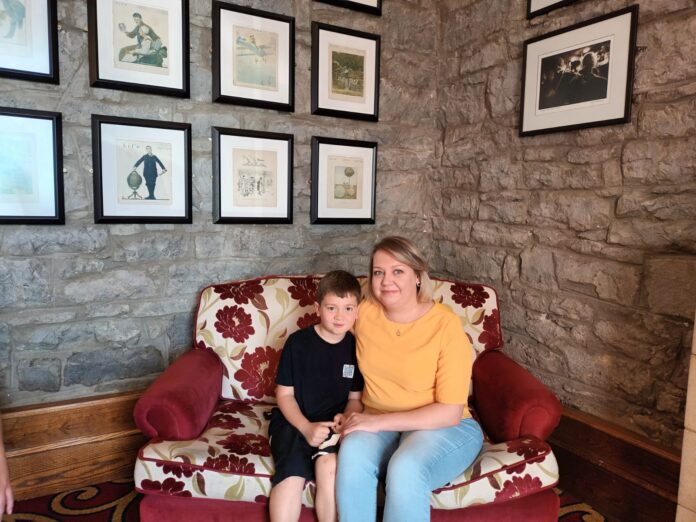 A UKRAINIAN mother who fled war torn Kyiv with her six-year-old son is now one of 37 war refugees who have been newly trained by a Limerick company as interpreters for war refugees trying to access work and healthcare here.
Anna Onyshchenko and her son Artem spent their first five days fleeing the Russian invasion in a basement Kyiv as they tried to avoid Russian air attacks.
They eventually made their way to Ireland, however Ms Onyshchenko's ex-husband and Artem's father, Paflo, has remained behind in Ukraine to assist in Ukraine's military resistance. The family worry over his wellbeing due to their limited contact with him.
"Sometimes for a few days we cannot hear anything from him, but we are trying to make little calls every day," said Ms Onyshchenko.
"We spent around five days in a basement because it wasn't safe to go home. Then we moved a bit outside of Kyiv and there was more bombing and a bridge was destroyed. When the gas station was blown up, I understood that I needed to take my son and go somewhere."
"So we spent around three days on the road. I was trying to decide whether to go to Cyprus or to Ireland, but there are no more possibilities for refugees in Cyprus, and because I have a cousin living in Ireland for more than 25 years, I decided to come to Ireland and I really like it."
Ms Onyshchenko, who worked as a corporate lawyer in Kyiv, has, along with 36 other Ukrainian war refugees in Clare, recently qualified as an interpreter to assist fellow Ukrainians to engage with Irish employers and healthcare providers.
Limerick firm Translit collaborated with the Clare Local Development Company to provide the training, which was funded by SICAP – the State's Social Inclusion and Community Activation Programme.
"I heard about opportunities to go on this course and I didn't need to worry about financing it. I saw a lot of authorities and medical centres needed interpreters for Ukrainians because a lot of services don't understand the language or emotional meanings (in words). It's really interesting and I am helping my community engage with different state bodies and medical centres."
Translit chief executive, Alex Chernenko, who is a Ukrainian national from Odessa, said there was a great need to provide an interpreting training programme to organisations throughout Ireland who work with Ukrainian refugees.
"We are pleased to have an opportunity to work with the local authorities and start providing our services to a bigger cohort of refugees fleeing this terrible war. Our training also includes a module on how interpreters can look after their own wellbeing, considering they themselves have just gone through an awful trauma of fleeing their homes," explained Mr Chernenko.
With building this local partnership in Clare, and more on the horizon, Mr Chernenko said he was determined to see it promote peace and help those who have been displaced due to war.
"I've heard first-hand accounts of what's going on back home in Ukraine and it's terrifying, but I still cannot imagine what many of these people have seen and gone through. At Translit our mission has always been to help people communicate and promote understanding. Aligning ourselves with local organisations in Ireland is another huge step in the right direction."
Ms Onyshchenko who, along with her son, is currently residing in Lisdoonvarna, West Clare, thanked the local community for welcoming them. However, she said her dream is to return to Ukraine.
But for now, the threat from Russia to her and her fellow Ukrainians remains: "My son cannot go to school in Ukraine in September because it's not safe, so he will go to school here and we'll see how it will go, but I have applied also to the school in Ukraine. I hope this war will end soon."