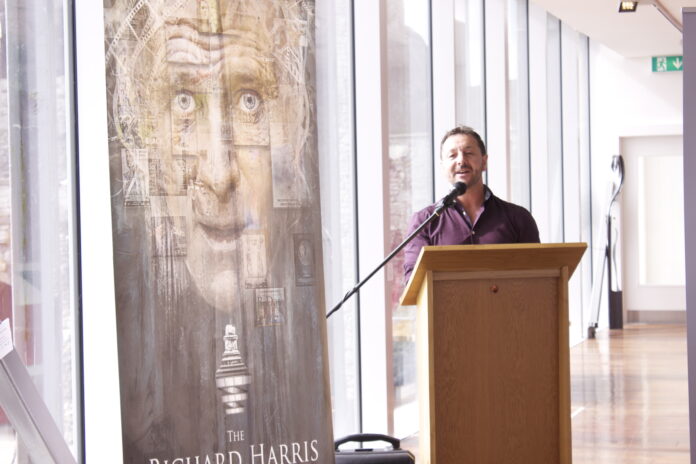 RENOWNED Canadian movie distribution and production company Amcomri Entertainment Inc (AMEN) has announced a €10 million investment fund to help discover new Irish movie-making talent through a new partnership with the Richard Harris International Film Festival (RHIFF).
The annual film festival, named after the late Limerick-born Hollywood actor Richard Harris, announced the film fund along with Amcomri executives at a launch party at King John's Castle on Tuesday evening (August 16), ahead of the RHIFF's tenth year – which runs from October 26-31.
Amcomri said the funds are open to this year's entrants and previous entrants involved in feature-length narrative films, documentaries, and animation. However they noted short films will not be eligible.
Amcomri chief executive Robert Price said the company "works to encourage project dialogue for film financing, publishing, and international distribution and sales, so we are thrilled to sponsor this year's RHIFF."
"We want to continue to develop long-term relationships which can grow to multi-deal co-production activity and are eager to receive the applications to the AMEN Film Investment Fund," the exec added.
A "delighted" Zeb Moore, director of RHIFF, said the festival was thrilled "to be partnering with such a renowned and innovative organisation as Amcomri, as we are both committed to discovering new talent and promoting emerging filmmakers".
Mr Moore said it is "a unique opportunity for independent filmmakers from all over the world to potentially access funding and/or distribution. The ambition is that this collaboration will find the next (Martin) Scorsese or (Jim) Sheridan".
"The 10 million film fund is really to distribute to independent filmmakers. The significance for us is that if you have been accepted into the festival, you have an opportunity to apply for this fund. Overall, what it means for the festival is that it will bring a lot of credibility." 
The festival director noted how RHIFF has begun to attract more acclaim for the city year on year: "I know some filmmakers have put down their actual holiday around the festival, that's pretty exciting and a wonderful thing to hear."
Amcomri, which provides global distribution capabilities for independent movies, TV shows, and documentaries, has recently focused on partnerships with independent producers – like Mike Hatton's Ton of Hats – to create its own action content with a host of movie stars, including Oscar-nominated and BAFTA-winning actor Mickey Rourke, and Oscar-winner Richard Dreyfuss.
As well as managing its own in-house productions across a range of traditional and digital media platforms, it has also acquired 101 Films, 101 Films International, Hollywood Classics International, Amcomri Productions (Republic of Ireland), and Abacus Media Rights.
Unaudited interim consolidated financial statements filed by AMEN for the first six months of 2022 show it doubled its total assets to $46.2m Canadian dollars, plus $31.4m in total liabilities and $14.7m shareholders equity,  and had a gross margin revenue of $6.6m, $4.2m in operation expenses, and a net and cumulative income of $1.1m.
RHIFF is regarded as one of the fastest-growing film festivals in Western Europe, and will this year hold a major concert event, "Richard Harris: Music of the Movies", marking its tenth birthday as well as the 20th anniversary of the death of Mr Harris.
Part of the Global Irish Festival Series (in partnership with Limerick City and County Council, Failte Ireland, and the Dept of Foreign Affairs), RHIFF, which is licensed by the Harris Estate and affiliated with IFTA (Irish Film and Television Awards), has grown from screening 10 films in its inaugural year to a festival that screened over 150 shorts and features in 2019 with innovative events like live script readings.
Additional reporting by Manon Gilbart