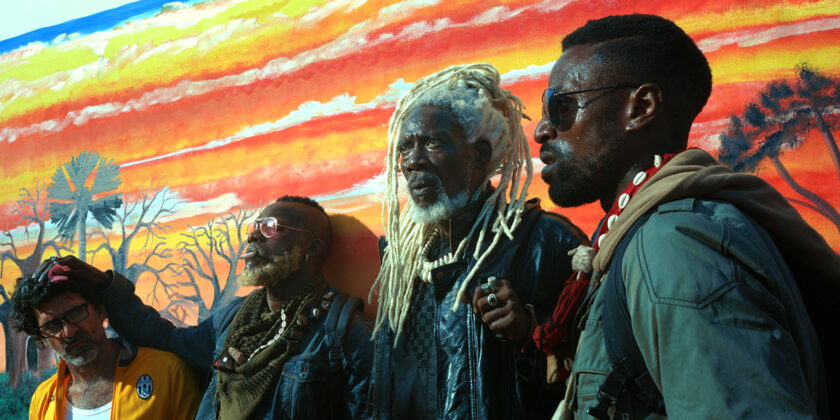 'SALOUM' is a Senegalese thriller about a trio of mercenaries who are shot down after fleeing a coup and extracting a Columbian drug lord from Guinea-Bissau.
Chaka (Yann Gael), Rafa (Roger Sallah), and Midnight (Ba Mentor) are legendary hired guns known as the Bangui Hyenas who find themselves in a real spot of bother in the opening scenes of the film. After their plane crash lands, they must quickly stash their stolen gold bounty, lay low long enough to repair and refuel their plane, and escape back to Dakar, Senegal.
These unlikely tourists take refuge at a holiday camp in the coastal region of Sine-Saloum where the price of admission is simply to do your fair share of the daily chores.
The bristly fortune-hunters do their best to blend in with their fellow guests, including a mute named Awa (Evelyne Ily Juhen), with secrets of her own, and a police detective who might be on their tail.
However, it is the belligerent troupe's own leader Chaka who happens to be hiding the darkest secret of them all.
Unbeknownst to the other Hyenas, this isn't his first visit to Sine-Saloum.
Chaka, as it turns out, has brought them to this magical out-of-the-way place for a reason. But once his barbarous past catches up to him, the decisions he makes have devastating consequences for the entire island, and threatens to unleash hell on them all.
'Saloum' (now on Shudder) is a modern-day reimagining of the classic western tropes of crime, revenge, and redemption with a mystical twist all of its own. This is a real stylish and carefree ride that draws on tales from the region's local folklore and adds supernatural monsters to the mix to create something truly fresh and thrilling.
Director Jean-Luc Herbulot manages to bend genres together in a daring and masterful piece of filmmaking that takes us on a really remarkable excursion.
(4/5)