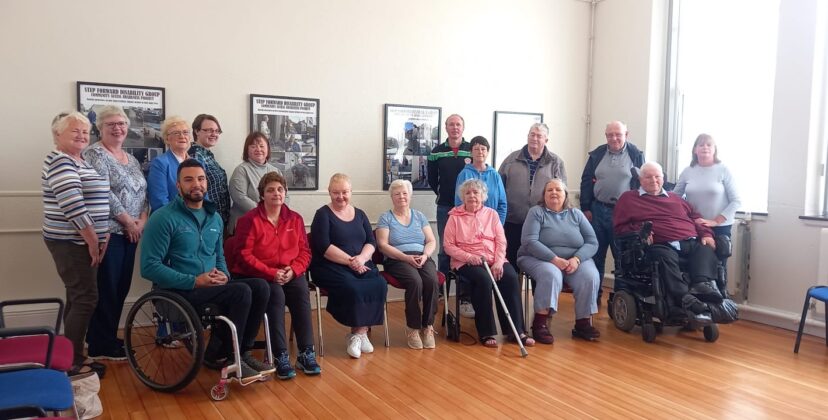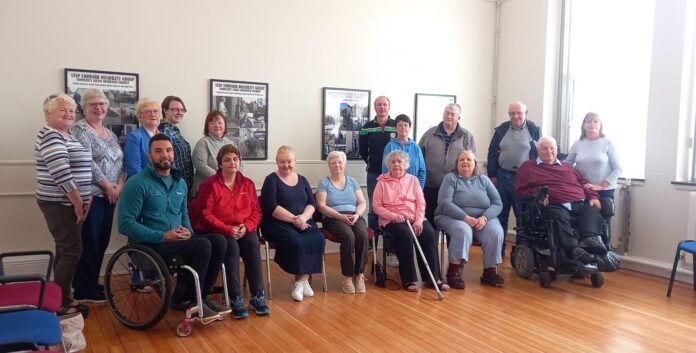 STEP Forward Disability Group at Hospital Family Resource Centre launched their Photographic Community Access Awareness Project at Hospital Family Resource Centre this week.
The group audited the communities of Ballylanders, Galbally, Hospital, Kilmallock and Bruff to raise awareness of the impact obstacles have on the day to day lives of people with disabilities.
Many of the Step Forward Disability Group members acquired their disability. They like most did not realise the impact this would have on their lives when it came to getting out into their communities.
Day-to-day barriers such as cars parked on footpaths, bins on footpaths, service poles, signage, poor highlighting on steps, hedging and briars coming out onto footpaths etc. all cause distress for people with disability, older people and parents with buggies across many communities in Limerick.
Attending at the event were Step Forward Group members, staff from Hospital Family Resource Centre, Joseph Hargrove from Croom FRC and Cllr. Brigid Teefy and Cllr. PJ Carey from Kilmallock Municipal District area.
As part of the campaign the group also highlighted what really supports them with accessing their community, such as highlighted steps, clear footpaths with dishing and ramps into buildings because when communities are safe and accessible everyone benefits.
Issues and actions identified at the launch to better support access in the community included:
All steps, railings, and polls in public pathways should have contrasting colours or be highlighted, as they are not often visible to people with limited vision.
Cars parked on footpaths across all towns; villages and city area are illegal.  There needs to be a campaign to highlight the message regarding parking on footpaths and its impact on people with disabilities, older people and parents with buggies.
Pathways must be clear of obstacles.
Service poles for ESB etc. should not be in the middle of footpaths blocking access to walkers, wheelchair users, those with limited vision and parents with buggies.
Clear footpaths of cars, signage, bins, flower displays etc.
Parking spaces that are family and disability friendly.
Walkways are clear and user friendly for people with different levels of mobility.
Community facilitates to be accessible to everyone in the community.
For more information about the Step Forward Disability Group, contact Martha at Hospital Family Resource Centre on 087 2813341.