FACING the prospect of a lengthy jail sentence after making poor choices and living on the wrong side of the law, former rapper Philip Scanlon arrived at a crossroads in his life.
However, the healing powers of St Padre Pio has given the Kileely man a second chance.
Known as "Scally" to his friends, as well as the Gardaí that used to chase him in his wilder days, Scanlon opened up about how he is trying to right past wrongs through the power of prayer.
A former member of Limerick hip hop outfit Celtic Crew, who supported legendary US trio House of Pain in the 1990s, he now runs with the monks of Moyross spreading the message of St Padre Pio: "Pray, Hope, and Don't Worry".
The 50 year-old says his incredible journey from being a thorn in the side of the law to helping others turn away from crime hasn't been easy.
"I was so wild. My mother would be looking out the window at home and she would see me flying past on a motorbike with a Garda car following me.
"I was just wild, taking the chase, and to go from that to this is mad really. It's hard for some people to get their heads around," offers Philip.
He used to hang out on street corners causing strife, but now he offers scapulars and a word of encouragement to young people caught up in crime and looking for a way out.
His extraordinary road to redemption led him to being chosen by a priest in 2018 to safeguard a mitten which had belonged to St Padre Pio.
The glove, which is said to have miraculous healing powers, is encased in glass and under Vatican seal.
Some might see it as a penance, but Philip says the responsibility he has been given is a privilege.
"I'm trying to give back to God for the wrong I did. If he took me back, he will take anyone back. I was a big sinner, it's like I have been born again."
Scanlon said he began to embrace his faith after experiencing a miracle. A friend told him to pray the rosary after he was informed that his daughter Kayleigh, who was born with severe special needs and autism, would have to wait four-years for a guide dog.
After initially "laughing" at the idea, Philip said he pledged to God that he would say the rosary everyday for the rest of his life if his vulnerable daughter could quickly receive the guide dog she needed.
"I said a few prayers and a few minutes later a woman from the Irish Guide Dogs group called me and said they had a dog for Kayleigh. I couldn't believe it," explains Philip.
The second intervention came when Kayleigh was 15 and her father brought her to a Franciscan Friary in Moyross were the monks performed a nine day Novena to Padre Pio.
"On the ninth day, she was healed. She changed immediately from being very aggressive to being a happy contented girl – up until then it had been very, very hard for all of us because she was so aggressive. She would throw things at us, we couldn't go anywhere together as a family".
Later he brought his son Leon, then aged 8, who was suffering with chronic lung problems after being born premature, to the late Killaloe healer and Padre Pio devotee Tom Cooney.
Leon received a blessing from Cooney and since that day has had no further respiratory issues.
Another miracle occurred when Philip and his wife Mary once again visited Cooney, this time bringing their second son Samuel, who was born with a hole in his heart.
Samuel received a blessing and the following day a hospital scan of his heart showed the hole had filled in.
Mary Scanlon – who is receiving ongoing treatment for urachal cancer believes that their faith in Padre Pio – along with her medical treatment – has, despite the odds, kept her alive since she was first diagnosed in April 2018.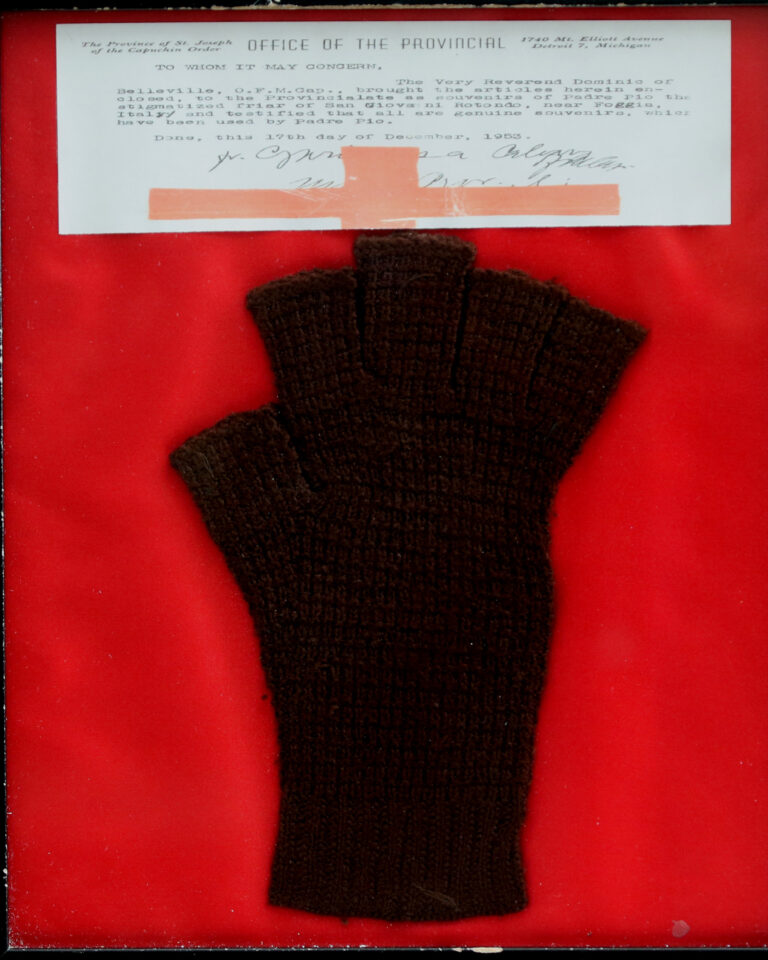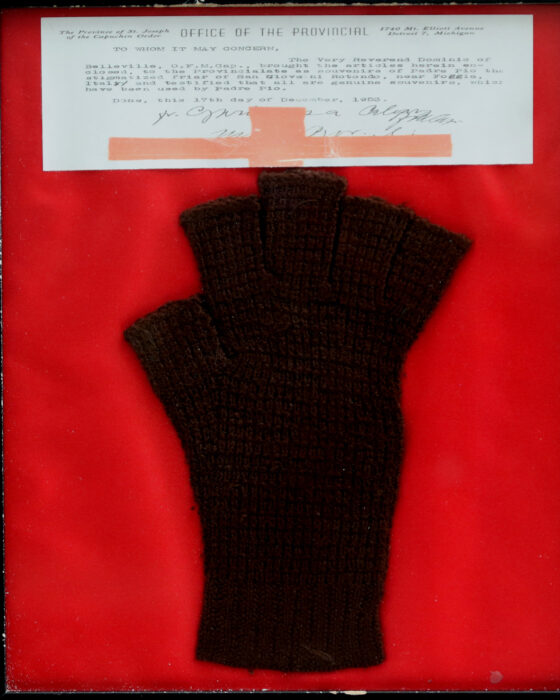 Two weeks after Philip was given responsibility for Pio's mitten in April 2018, Mary was diagnosed with cancer.
They both questioned why "we had another cross to bare". Philip considered giving the glove back, but the couple keep going for their three children, Kayleigh (now 22), Leon (19), and Samuel (13).
Mary said: "I've had five 12-hour surgeries and over 50 chemotherapy sessions. I'm receiving 35 more sessions at the moment".
"It makes me feel very sick. They cannot do any further surgery because there's very little left for them to take out of me."
She has been given the all-clear serval times, each of which have coincided either with the feast day of Padre Pio or the anniversary of the date he received his alleged stigmata of the crucifixion wounds of Jesus on his hands and feet, and so Mary's faith continues.
The couple thank family and close friends, particularly Martina and Paul O'Connor, Ken Greaney, Jason O'Neill, and many more for all their support throughout their journey.
A Padre Pio prayer group, led by Philip and the monks of Moyross and including the veneration of the saint's glove and blessing of the sick, will meet at St Saviour's Church between 2pm and 4pm, on October 8.
After this, the group will meet on the second Saturday of every month at St Saviour's Church from 2 to 4pm.
"All are welcome, even those who might think that they are not," Scanlon adds.