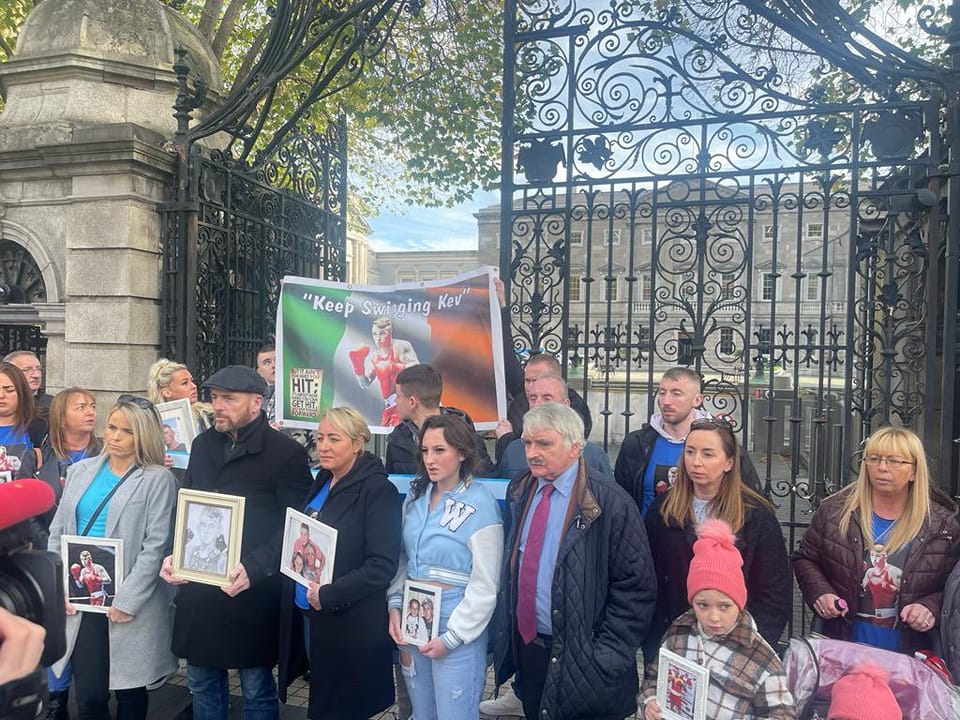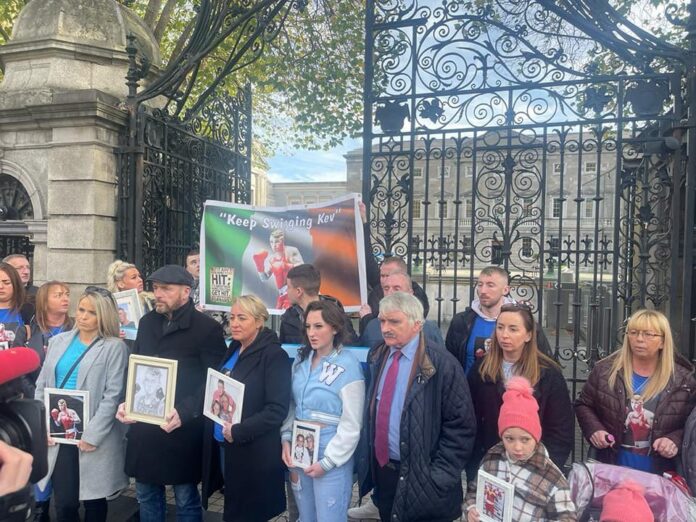 TRACEY Tully, the mother of murdered Irish champion boxer Kevin Sheehy joined former Minister for Defence Willie O'Dea at a press conference outside the gates of Leinster House today (Friday) in calling for her son's killer to spend his life sentence in jail in Ireland.
Five-time national champion Kevin Sheehy (20) was earmarked for the Olympics in Paris in 2024, and had won a gold medal at a multi-nation competition a week before his killing in 2019.
Mr Sheehy, who had no links to crime and was regarded as a working class hero among his neighbours in John Carew Park and Kennedy Park in Limerick City, was repeatedly run over by English man Logan Jackson as he walked home after celebrating Limerick defeating Tipperary in the 2019 Munster Senior Hurling Final at the Gaelic Grounds.
Jackson was jailed for life in December 2021 after a jury at the Central Criminal Court unanimously convicted him of the boxing champ's murder, a charge he denied.
However, only three months into his life sentence, and unbeknown to Mr Sheehy's family, Jackson requested that Minister for Justice Helen McEntee allow him to be transferred from Limerick Prison to a jail in the UK. In the UK, Jackson would be nearer his family and criminal associates, reliable sources have said.
Minister McEntee granted Jackson's request, however Mr Sheehy's family – who were not consulted by the minister – only discovered it by chance at the last minute.
Mr Sheehy's mother Tracey Tully, through her solicitor Sinead Nolan of Mark Murphy Solicitors, and her barrister Arthur Griffin, was granted a judicial review of the extradition decision – which is being fought by Minister McEntee and Jackson, who was made a notice to the proceedings.
In early September, Minister McEntee informed Ms Tully that she would review her earlier decision, however Ms Tully's solicitor Sinead Nolan said the Minister has not made any further contact with them in the past eight weeks.
The judicial review hearing is scheduled before the High Court on November 10.
Ms Tully joined Ms Nolan and Limerick Fianna Fáil TD Willie O'Dea outside the Dail today (Friday), calling on Minister McEntee to reverse Jackson's extradition – which would also immediately bring the present legal proceedings to a conclusion.
"I am just pleading with the Minster now. Why is this taking so long? I'm so confused by it. It's so stressful. I feel like I'm having a stroke, this is causing me a lot of pain and stress and I feel really frightened," said Ms Tully.
"It's going on too long. This time last year I was getting ready for a trial and, despite (Jackson's) life sentence, I still can't grieve properly or move on. Not until this is over.
"We don't deserve this. My son doesn't deserve this injustice. He was an innocent human being and an amazing young man. I tried to appeal to Minister McEntee as a mother herself, but she has never seemed to have had any thought for our family. I just still hope that she will reverse her decision.
"If this had been a hit-and-run it would be bad enough, but my son got up after being hit and (Jackson) viciously kept running over my son. He used his vehicle as a weapon."
Limerick TD Willie O'Dea said, in his opinion, Jackson should not only not be afforded the benefit of serving his sentence in the UK, he should never be allowed out of prison.
Minister McEntee has "unjustly treated" Mr Sheehy's family, he said, by her decision "without any consultation with the family to repatriate a very vicious criminal who deprived them of their son".
Mr Sheehy's family say they are also facing a "huge legal bill" after they were "forced to go to court".
"My view is that the Minister for Justice should stop fighting this family on behalf of a remorseless criminal," added O'Dea.
Ms Nolan said: "Tracey Tully has said she is being retraumatised by all of this and I'm disappointed that the minister has not prioritised the matter."
The Department of Justice said it "does not comment on matters that are the subject of ongoing judicial proceedings".