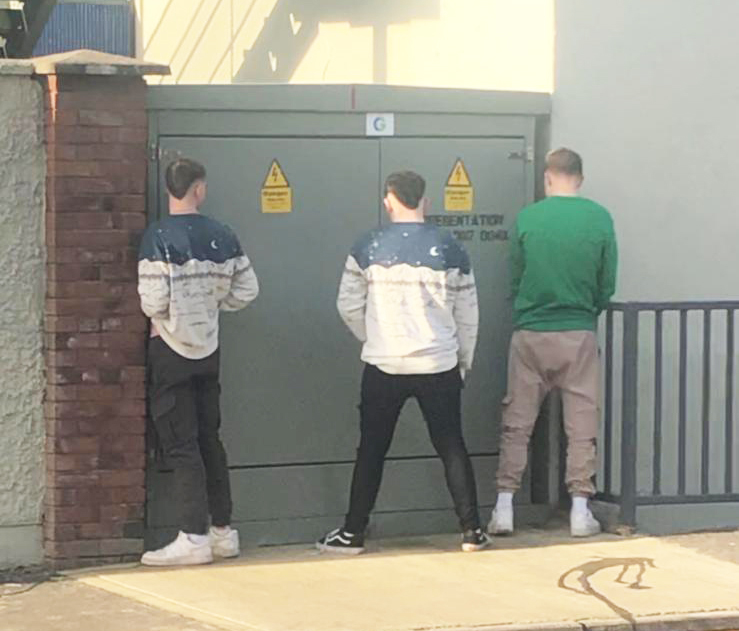 RESIDENTS of a quiet cul-de-sac in Limerick City are furious with the carry-on of people they believe to be UL students, urinating and defecating on their street and in their gardens.
"There's puddles of it everywhere and faeces. It's not just the boys. The girls are climbing into people's gardens or crouching down between cars to go to the toilet. We're finding dirty knickers, rubbish, bottles – they're invading us," Presentation Court resident, Carol Enright told the Limerick Post.
And last week on the college 'Christmas Jumper Day,' Carol says the problem was "the worst ever. There were hundreds of them getting off the bus and coming down here from 9am in the morning."
The problems started after Covid, when a new bus stop was placed at the end of the cul de sac.
The bus carrying students from UL stops there and, Carol said, "Bus loads of them get off and come down here before they go on into town. Because it's a cul de sac, they feel they can do that.
"You could set your watch by it. Every Wednesday, Thursday, Friday Saturday and Sunday, bus loads of them get off at that stop. We know it's students because we only have this problem when they come back to college and they're getting off the UL bus. And before we had a bus stop there, we had no trouble."
Carol says that the street "stinks like a toilet. I have to walk in the middle of the road to get away from the streams of urine. I've lived here thirty years and we never had a problem like this. There are children living on this street who have to walk through that and look out their windows at the people exposing themselves."
When she remonstrated last week with one group "one of them asked 'can we use your toilet then?' My home is not a public toilet and neither is our street."
The residents have asked the Gardaí to help but, Carol says, "they told us they have to be caught in the act."
She said they haven't complained to UL because they do not know what mechanism they might utilise to do that.
"The stress of this is dreadful. We shouldn't have to put up with this and clean up after them. There are residents seriously considering selling up because they've had enough."