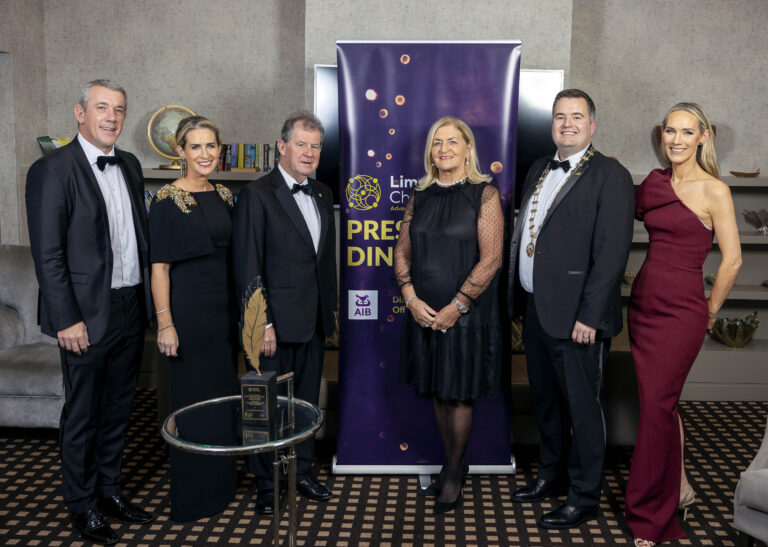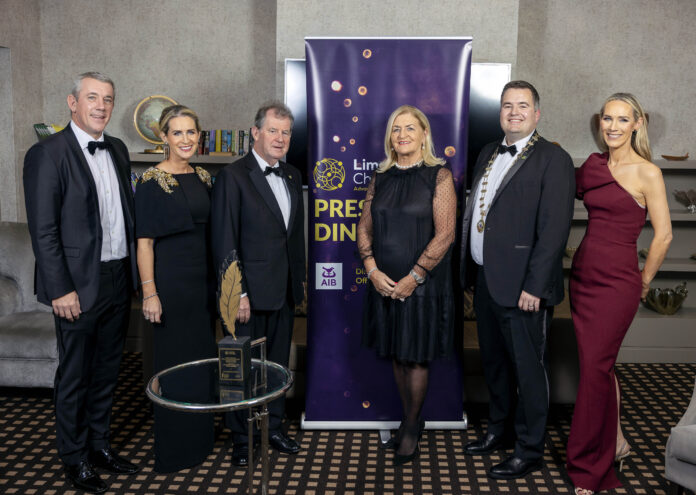 PHILANTHROPIST JP McManus paid tribute to his native city and county for its passion and pride as he received this year's Limerick Chamber President's Award.
The proud Limerick native received a standing ovation as he became the latest recipient of the award at the Chamber's first in-person Mid-West Business Awards ceremony since 2019.
In addition to the President's Award to JP McManus, nine other companies/organisations were recognised through the Regional Business Awards programme, with the 'Business of the Year' going to global medical devices company Stryker.
The other award winners were Agri Guardian (Emerging Business); Serosep (SME Contribution); Dansko Foods (Supply Chain Innovation); Stryker (Sustainable Business); St Gabriel's Foundation (Not For Profit); Cook Medical (Best Employer); Adare Manor (Customer Experience); IloveLimerick (Special Recognition).
Receiving the President's award, Mr McManus said that it was recognition of the work of many, from his family to the legions across Limerick who support the events and organisations that he has been involved in.
He said that Limerick and the region is "going in the right direction", but emphasised that its future very much lies in, and is underpinned by, the quality of education.
"My family and I are just so proud to receive this award. It's a really special night for us. But this is an award that's really for a large number of people as you do not get anything done on your own. An example of this is all those who come out on Good Friday for the Team Limerick Clean Up, or all the other activities, from the golf pro-am to the scholarships, that I'm lucky to be involved in," he said
"Limerick people are very passionate about Limerick. Take our hurling team, for instance, even in the poor years, they always came out in force to support the team. You know, if you've an idea or a thought and they believe in it, you get great support for it in Limerick."
Mr McManus paid tribute to the region's third level institutions for their impact on the region. "Limerick has so much to offer, not least in terms of talent for companies. When an organisation, be it a multinational or one of our own, is setting up in Ireland, the first thing they look at is what talent is available to them. We're fortunate here in Limerick with our three third level institutions as they are really forward thinking, doing everything they can to bring investment into the region. The role of our universities is key to our future."
He added: "My hopes are that we continue going in the direction we're going. I think everybody is on the same hymn sheet here and we're moving forward all the time.  So, what I say specifically to the business community tonight is continue doing the job you are doing. Our city and county are on the way up thanks to you."
Mr McManus was selected by Limerick Chamber President Donal Cantillon for his remarkable impact on the region, from his own business activity and investments, not least the impact of his stunning Adare Manor, chosen as the top Resort in the World by Conde Nast Traveler Reader's Choice Awards 2022, to his many philanthropic enterprises.
These range from the 'Team Limerick Clean-Up', an annual county wide Good Friday spring clean initiative that has been embraced by the people of Limerick and replicated in other parts of Ireland, to the JP McManus Foundation and JP McManus Benevolent Fund, which have invested in not-for-profit organisations in education, healthcare and community initiatives, many of which support the most vulnerable people across Limerick and the Mid-West Region.
Mr Cantillon said that the award also acknowledged JP McManus' contribution to a range of other activities and initiatives, from the JP McManus Pro-Am, which raises much-needed funds for those organisations, to his sponsorship of Limerick GAA, which is currently enjoying its golden era. His scholarships for hundreds of boys walking in his footsteps at Sexton Street CBS and the All-Ireland third level education Scholarships.
The Chamber President also cited Mr McManus' funding of the International Rugby Experience, a world-class visitor experience situated in the heart of Limerick city which will open early next year.
Other factors included the securing of the 2027 Ryder Cup at Adare Manor, as well as JP's horse racing interests and the Con and Annie Kirby Memorial Stakes at Limerick Greyhound Stadium – the richest juvenile dog race in the world, which is dedicated to the memory of his wife Noreen's parents.