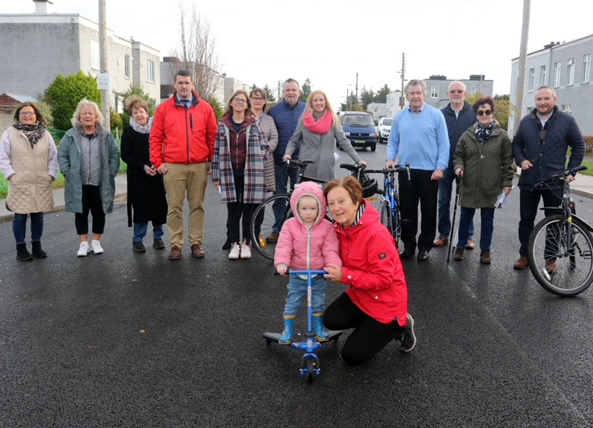 RESIDENTS of Irish Estates in Corbally are seeking support in preventing proposed works at Lanahrone Avenue, which they consider "flawed".
The Section 38 proposal would widen the existing footpath on Lanahrone Avenue to three metres (10 feet) running the entire length of the avenue. This will create a shared footpath for bicycles, e-scooters, e-bikes, and pedestrians.
However, residents state that their quiet neighbourhood with its wide boulevard already provides ample room to accommodate both bicycles and vehicular traffic.
They are also of the view that safety of cyclists in the neighbourhood has never been highlighted as an issue.
Residents have described the Council's proposal of a shared path as dangerous and impractical. They believe that moving ESB poles and drainage, tearing up the new footpaths and road, just installed in the neighbourhood, is all a huge waste of funds that should be used to make cycling safe where it is needed on main roads.
"The bar has been set very low in this process. The debate is no longer just about the proposed plans, but about the process," Irish Estates resident Joanne Garvey explained.
"It has been flawed from start to finish. Whether individuals are in favour or against plans such as these, access to accurate information is paramount. I wholly support environmental initiatives and I am disappointed that valid points around the Section 38 plans and process are dismissed."
Other parts of the proposal include raised tables/ramps, an additional pedestrian crossing, which locals say is in the wrong location. Junction tightening, they also maintain, is usually used in heavily trafficked areas and not in quiet residential neighbourhoods.
Independent Limerick councillor, and Irish Estates resident, Frankie Daly said: "We are all in favour of cycling where practical, however the residents and I are against this proposal as it is more hazardous than safe".