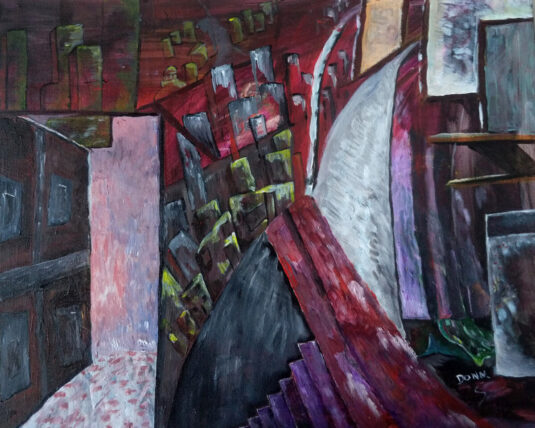 HAZYTRACKLINES.NET is the home of Peter Donnelly's art and musical conundrums. As well as being the leader of Limerick's favourite gang, The O'Malley's, Peter exhibits his wonderful and vibrant paintings annually.
'OnLine ExHiBiTion 2022' is a collection of 13 new works. By popular demand and for the first time Peter is including the originals (Acrylic on canvas board) for sale in this exhibition. Peter says, "I love this new style and approach I have found myself indulging in recently. To turn and discover more pleasure in the colour of things then the figurative. Somewhere in our atmosphere you find the depth, hidden in colour and that's what I'm always looking for."
Go to https://hazytracklines.net/ to enjoy and support his work.
The image above is this reporter's favourite painting from Peter's new collection. It is called "Open at Night – In a strange city at night, there's always a place open." Might it be inspired by Peter's many tours gigging throughout Europe's towns and cities?