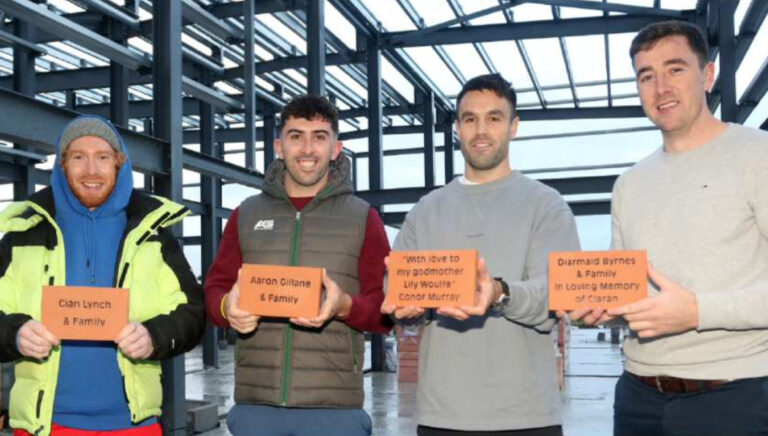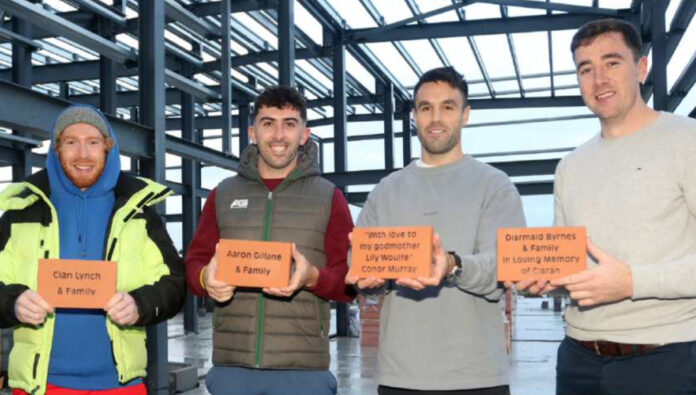 LIMERICK All-Ireland winners Aaron Gillane, Cian Lynch, and Diarmaid Byrnes, together with Munster and Irish Rugby international Conor Murray, have teamed up to relaunched the Patrickswell Community Council's 'Buy-a-Brick' fundraising drive.
Last July, the Community Council started construction on the much-needed Community Resource Centre, which will provide the community with a place to meet for generations to come.
The Community Council has received significant funding for the project, including €500,000 from the Town and Village Renewal Scheme, €430,000 from Limerick City and County Council, and €250,000 from the JP McManus Benevolent Fund.
Earlier this week, the four local sports stars togged out to relaunch a fundraising drive to meet the shortfall of funding for completion of the centre. To date, Patrickswell Community Council have in the region of €15,000 up on the scoreboard in 'Buy-a-Brick' donations.
Community Council Chairperson Michael McSweeney described the campaign relaunch as a historic day for the community of Patrickswell.
"To have four sports stars who are not only known across Ireland but across the world relaunching our 'Buy-a-Brick' is absolutely amazing and we will be forever grateful to the lads for their support with this project.
"The people of Patrickswell have waited for many years to see this day and I believe it is only the beginning of delivering much needed facilities for our community."
Bricks can be purchased for €300, with an option to pay by monthly direct debit. Each brick will be displayed in the new Community Resource Centre.
More information can be found here