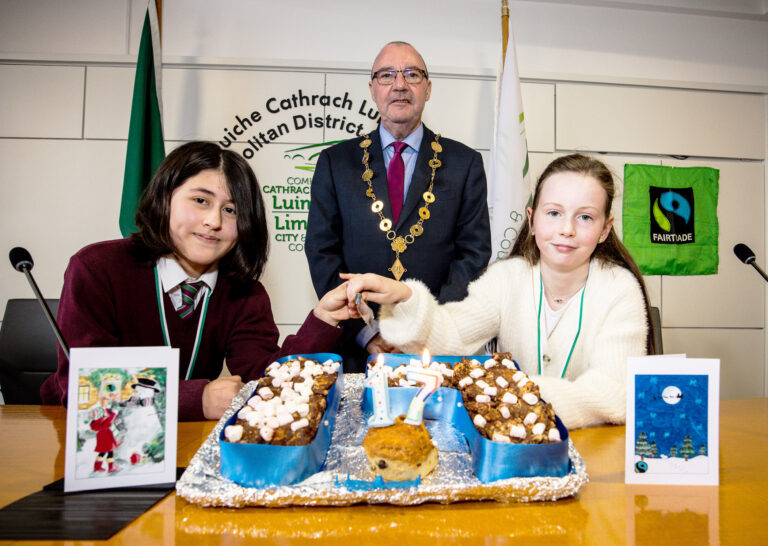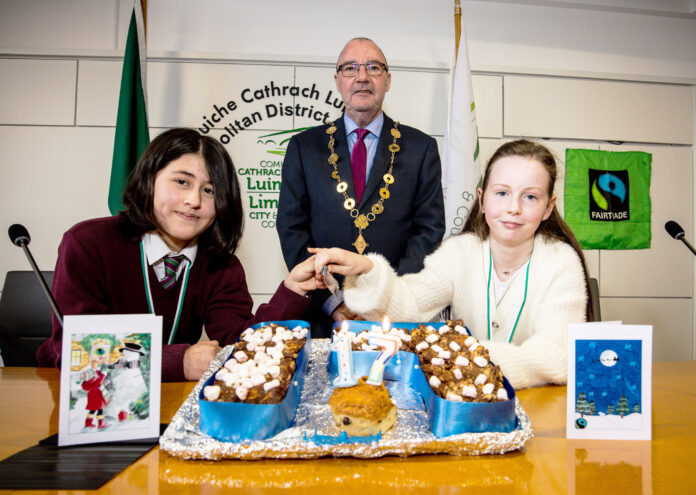 STUDENTS from primary and secondary schools across Limerick have been told that climate change is making the work of the Fairtrade organisation more important than ever.
The students were visiting Limerick City and County Council Headquarters in Merchant's Quay last Tuesday to celebrate Fairtrade Limerick's 17th birthday and promote the work of the organisation that campaigns for fairer terms of trade for farmers and workers in developing countries.
Limerick was awarded status as a Fairtrade City in 2005, thanks to the concerted efforts of local people to ensure that Fairtrade produce was made widely available.
As part of the awareness programme, students from primary and secondary schools across the city and county created Christmas cards centred on the Fairtrade message of promoting fair trading practices between Ireland and developing countries.
Addressing the students, Mayor Francis Foley said that choosing Fairtrade goods meant that people cared how the product was produced, who produced it and what benefit they got.
"It means taking a look behind the brands and get to the real story behind the product. There are over 1.7 million producers, farmers and workers spread across more than 75 countries in the world participating in Fairtrade with sales in 2017 reaching 9.2 billion US dollars."
Limerick City Fairtrade Committee chairperson Dolores O'Meara said that rising prices, the uncertainty of energy supplies and the impact of climate change have a far greater impact on those living in the developing world where they have little or no governmental supports.
"One way in which we improve their situation is to support them through Fairtrade.  We can put products with the Fairtrade logo such as tea, coffee, cocoa, chocolate, bananas and biscuits into our shopping baskets and provide Fairtrade producers with a living income to help them survive these global challenges", she explained.
The overall winner in Primary School category of the Christmas card competition was  Kate Hennessy of Scoil Dean Cussen in Bruff while the overall winner in the Secondary School category was Aoife Velayati of Laurel Hill Secondary School in Limerick City.