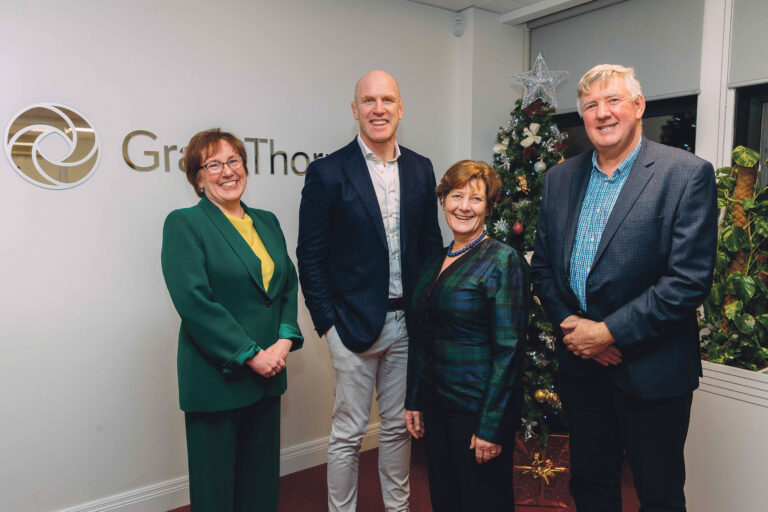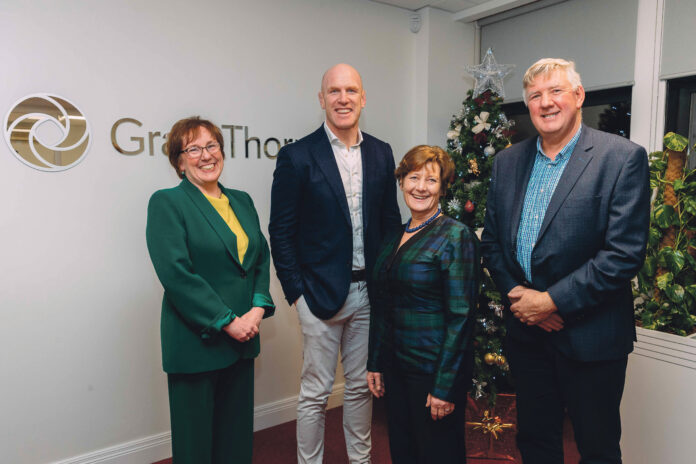 GRANT Thornton Ireland hosted an event in partnership with Limerick Chamber, GBM Limerick and The Hunt Museum on Tuesday, December 6th, focusing on the importance of leadership, and the ways that businesses in the Limerick region can cultivate high performing teams.
An evening of networking and insightful conversations took place in the newly refurbished Grant Thornton office, located at Henry Street, Limerick, where Irish rugby legend Paul O'Connell was invited to speak to businesses about ways of building team morale in the face of challenging circumstances, as well as getting the best performance from their teams.
Paul kindly waived his speaking fee in lieu of a donation by Grant Thornton to UL Bohemian's U15 and U13 teams fundraising efforts to support the costs of their Spanish tour in April 2023.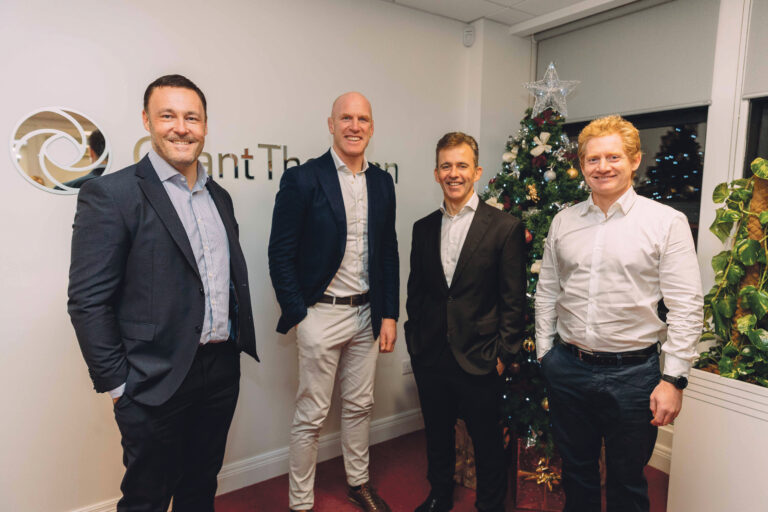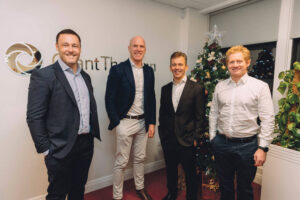 The event was part of the ongoing Limerick First Tuesdays, which is a monthly after-hours social networking event designed to connect people from all business sectors across Limerick city and county. Each month guest speakers give a short talk, based on topical issues. Grant Thornton Limerick were proud hosts of this month's event, which is an excellent way for people within the local business community to make lasting connections.
Damian Gleeson, Partner said, 'Grant Thornton Limerick is delighted to host the latest Limerick First Tuesdays event in our newly refurbished offices. We are committed to working closely with Limerick-based businesses and helping them navigate the challenging economic landscape to reach their full potential.
'Our recent office refurbishment comes on the back of significant recent growth, as well as anticipated growth across all areas of the business, in response to increased demand from our diverse and ever-growing client base.'
In Limerick, Grant Thornton has a multi-disciplinary team of over 100 high performing professionals across Assurance, Tax, Corporate Finance and Business Consulting, with a portfolio of clients encompassing all industry sectors, and ranging from Irish indigenous companies to large multinationals.
Grant Thornton is proud to play an active role in supporting the communities they operate within. The findings of the recently published Grant Thornton Irish Business Voice Report found that many Irish businesses are operating within challenging economic circumstances, with the issue of recruitment and retention at the forefront of these challenges.
Grant Thornton is proud to work with leaders such as Paul O'Connell, to provide expert advice to businesses throughout the mid-west region.
The next Limerick First Tuesdays event will take place at the Hunt Museum on the 7th of February 2023 with speaker Karl Daly on the topic "Corporate Social Responsibility (CSR). What is it all about?".
Vic Angley, Partner, Grant Thornton, Paul O'Connell, Damian Gleeson, Partner, Grant Thornton and Dara Kelly, Partner, Grant Thornton
Julie Long, GBM , Paul O'Connell, Jill Cousins, The Hunt Museum and Dermot Graham, Limerick Chamber