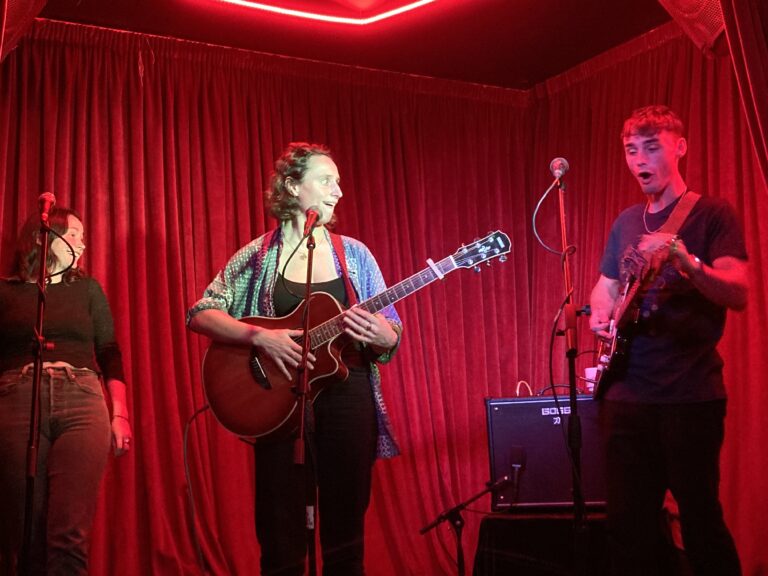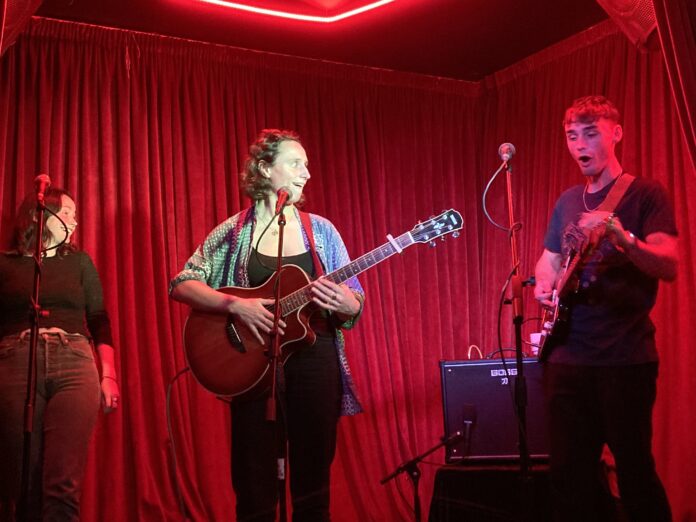 Reporter Sadhbh Pearse was at The Record Room to see singer/songwriter Molly O'Mahoney perform songs from her album called House of David.
As soon as the group got on stage, Molly plugged in her electric acoustic guitar which had a gorgeous red strap, while brother Fiachra set up his electric guitar. Her sister, Mathilda readied herself to perform backing vocals and harmonies, which Fiachra later joined in on, even getting a short solo in one of the numbers.
Molly sported a loose blue chequered shirt and sparkly socks with no shoes because her boots got waterlogged. It was then quickly noticed that all three siblings were wearing navy blue, even Fiachra shamelessly wearing Molly's merchandise, also available in green. It makes you wonder if this was coincidental or planned out and maybe even referencing the song Brother Blue.
They opened with a "jazzier" version of Bittersweet. There was a visible change in Molly's demeanour when she was and wasn't singing. Her singing voice is deeper than her speaking voice. She adds a breathy quality which does not diminish from her vocals, which is hard to accomplish, her range steering towards the direction of "true also". She becomes completely entranced while she performs and puts an unimaginable amount of emotion into every number.
Molly and Mathilda's voices just melt into each other creating a beautiful harmony and when Fiachra joins it, it is one of the most blissful three part harmonies.
Seeing the dynamic between the siblings on stage was so heart warming. Everything from their perfect harmonies to the obviously strong connection to their banter when they would want to get excited for the next number and decided to "dump it up!" in reference to an old set list left on stage.
Molly is originally from Ballydehob, West Cork where she returned to live with her family during Covid, after a decade of living in Dublin.
Through this she, her sister Mathilda and brother Fiachra (both musicians) decided to put their time in lockdown to good use and they all started singing together.
Molly's songs are inspired by her ritual of journaling which she did a lot of over lockdown as well as creating a seamless aura for performing with her siblings.
Molly's new album was recorded in just over a week at Black Mountain Studios in Dundalk.
Catching up with Molly afterwards she spoke about how she was happy with how the gig went and how excited she is for the album to finally be released.
They closed with 'Tomorrow's Lunch' which left attendees swaying to the "love song lullaby" vibes and after giving thanks to everyone who came they finished with 'Remember to be Brave'.
The entire album will be released to Spotify by the end of the month and we can't wait to hear all of the beautiful songs heard at the gig.
Limerick artist JaYne announced on Instagram that she would also be performing as special guest on the night.
JaYne arrived in vintage styled faux fur trimmed coat to reveal a more casual look than her last Limerick performance (hyperlink "all that jayne" piece) of a beautiful, loose fitting green silk blouse with red flowers.
After introducing herself and her accompanying pianist Martin (@martinatkinsonborrull), running through her chosen songs and having a good back and forth level of banter with the attendees.
JaYne first started with her song Soul Heros and her familiar, smooth vocals washed over the room. She also played a new song "Netflix and Breakfast" which fans are eagerly awaiting the release which JaYne says will be soon. She thanked everyone for their attendance and welcomed Molly on stage.