By Sadhbh Pearce
@sibhhead on twitter and instagram
On Saturday December 17, Limerick musician Paddy Dennehy took to the stage of Dolan's upstairs venue, giving an intimate setting for those in attendance. 
The room quickly filled up with everyone there to hear his newest songs. 
First we met warm up act Emily Donaghue (@emilydunnowho) who gave the crowd a lovely welcome and plenty of banter in between songs. The crowd loved Emily's set, especially a song called Girl where  the crowd was encouraged to get involved in the lovely melody of the lyrics "how to make the most", which allowed Emily to add some beautiful harmonies. Emily's voice was as deep, rich and smooth as luxurious chocolate and amazed the crowd with phenomenal scatting abilities that complimented a jazzy number near the end of the set.   
Emily later returned to the stage as a member of Paddy's band, switching from an acoustic guitar to a bass. Once Emily wrapped up, the main man himself took to the stage and greeted everyone before opening with his song "Bathroom Light". 
Prior to the gig Paddy said "I'm excited but in search of food!" as he zoomed back to the back stage area. 
Some of the attendees, being long time fans, hadn't seen Paddy perform since his gig in The Record Room in 2019, the same night as musician Marty Ryan, both accompanied by a small local choir.
Paddy was sporting an olive green button down and his signature specs with his thick hair in its usual haphazard style. Once he sat behind his keyboard he became lost in his own world. Whilst chatting afterwards, Paddy admits that "Once I start I completely forget everything else and just go with it. Nothing else really exits when I'm playing".  Many attendees were overheard commending him on how involved and passionate he gets during a song. 
Paddy and his band members had great chemistry on stage, passing knowing looks between each other and having great banter in between.
Paddy definitely gets completely lost during each song as not only is it evident on his face, but whenever he is about to address the audience in between songs, you can see him coming out of his musical trance and turn back into his big grinned, funny self which is a stark contrast to his melancholic music.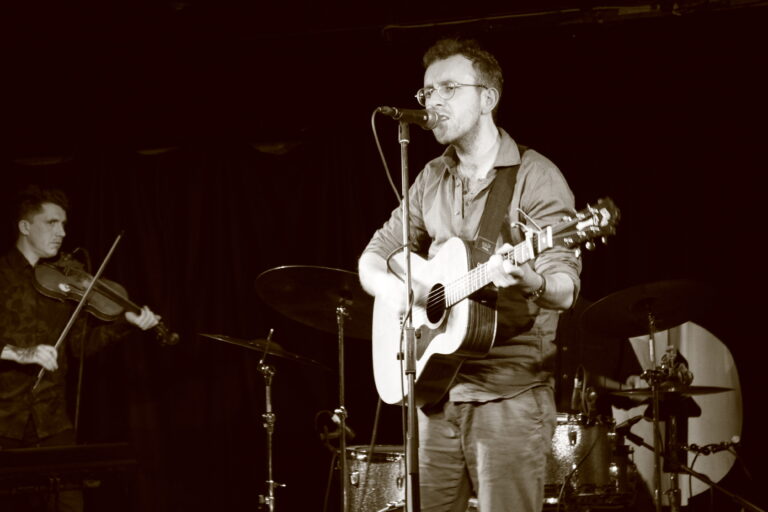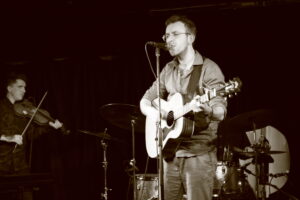 Paddy's band comprised of a violinist, drummer, a guitarist who favoured an electric guitar, alongside Emily on bass. Paddy himself occasionally arose from his keyboard to play acoustic guitar for some of the more upbeat, rhythmic numbers but he spent most of the gig playing his much loved keyboard. 
At one point the group even had a laugh together on stage as Paddy was due to go back to his keyboard for a song but was ready to play the number after which did require the guitar. This bit of banter, along with an anecdote about going to Xtravision as a child, left the crowd laughing as Paddy resumed the gig and went back into his performance trance. 
He then went on to play his newest song "Are You Still My Girl?" which left attendees awestruck and wanting more. Paddy went on to say he had somewhat of an epiphany about life and death whilst compiling the album, which he hadn't paid much attention to before. 
Paddy and the crowd would have happily stayed all night as it was so much fun. He showed off his amazing vocal rasps in "Love be brave", he went from rockstar with a guitar to classic musician with his keyboard in the blink of an eye and put every ounce of emotion he had into his songs, even wiping his brow at times for how hard he was working. His best quote of the night when he first switched to the guitar was "it doesn't get happier, but it gets louder!" and he and the band definitely delivered.
 
When Paddy was later winding down the set, announced that he would only be performing two more songs, a chorus of "no!" and sad "aww"s could be heard rippling throughout the room. 
After a farewell a quick farewell, the traditional "one more song!" emanated from the crowd as they weren't ready for the night to end. 
Paddy and the band quickly returned and played two more songs, including fan favourite "Snow Song". Despite it's somber tones, it has a very sweet story behind it which led to Paddy bringing about his classic sense of humour one more time on stage. After his final number which included the band, the room shook with applause and the crowd wasted no time in giving a standing ovation!
After thanking everyone for coming and wishing them a Merry Christmas, they exited the stage and could be seen mingling afterwards. Paddy was so happy to have finally been able to play in Limerick again as he'd recently been on tour with popular musician John Spillane and he was happy to be back in Dolan's and playing for such a great crowd. 
He chatted with everyone afterwards, accepting congratulations and passing out hugs to long time supporters and family& friends. 
Paddy is still flying high after the performance and can't wait for the release of his new album and whatever else comes next. 
His music can be found on Spotify.