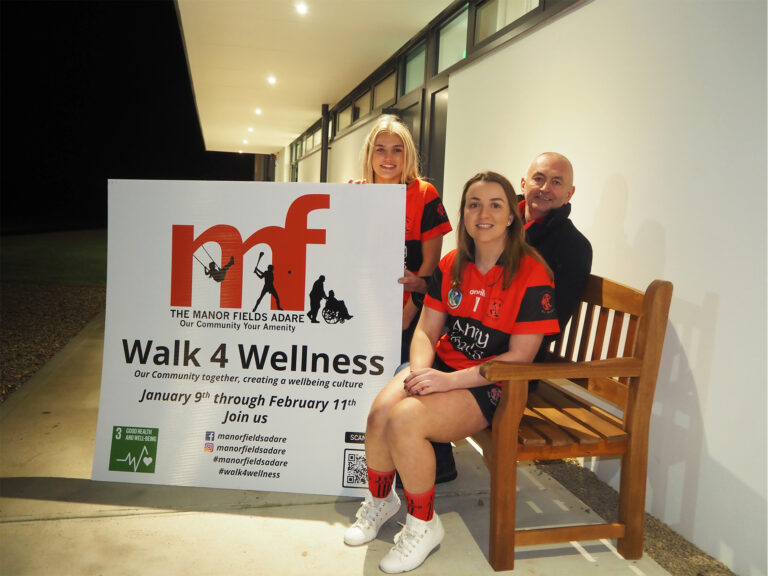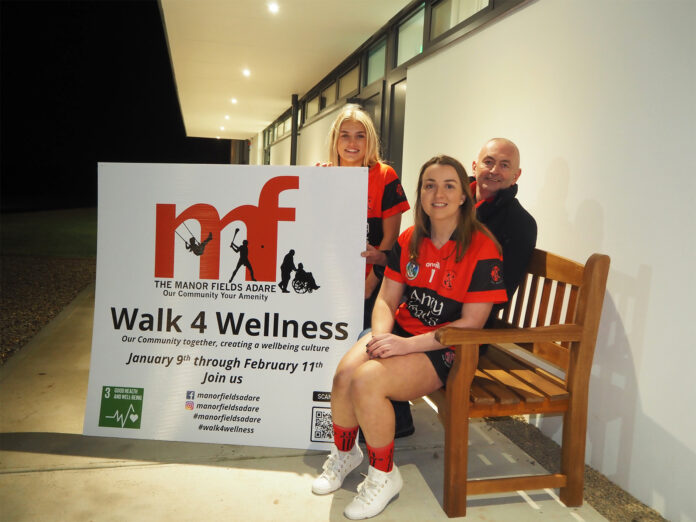 TODAY marks the launch of a new initiative that will see the community of Adare and surrounding area gather at The Manor Fields to walk for wellness and raise funds to develop the 25-acre community-owned recreational amenity.
Community and voluntary groups, schools, businesses and local residents have been asked to collectively commit to the Walk4Wellness challenge from today until Saturday February 11.
Participants are asked to walk 15 minutes per day, 13 laps of the Manor Fields walking track per week, per person, or their own personal target.
And, to mark their participation in the Walk 4 Wellness, all children taking part will be presented with a certificate on completion of the challenge by Adare camogie star Caoimhe Costello and Limerick All-Ireland hurling captain Declan Hannon.
Locals are being encouraged to use the challenge not just as a way of increasing daily physical activity, but also to raise funds to support the development of the The Manor Fields through sponsorship from family, friends and colleagues.
Located on land donated to the community in 2007 by the Kane family, former owners of Adare Manor, The Manor Fields has already benefitted from significant investment.
Over the course of three phases costing €3.1 million, the 25-acre greenfield site has been transformed into an all-age, all-ability recreational facility.
It incorporates an all-ability playground, a full-size floodlit astro pitch and walking paths as well as state-of-the-art pavilion which is home to a number of indoor meeting and activity spaces. It also includes a suite of changing rooms, a remote working hub and, most recently, an active generation physiotherapy trail which is the first of its kind in Ireland.
The Manor Fields volunteer committee chairman, James Collins said that Adare is one of the few places in Ireland to have such an incredible facility owned by the community for the benefit of the community.
"The Manor Fields is a place and space that has been created on the back of the generosity of those who have donated land, time, money and professional services to get us to where we are today," he said.
"We are already welcoming more than 80,000 people per year, with schools and clubs travelling from as far away as Kerry and Clare to use our facilities.  But what we are most proud of is the number of people from the locality – of all ages and abilities – using the facilities on a daily basis.
"This is only the beginning of our story.  We have great plans for the future, all of which require the ongoing support of the community.  These include the development of floodlit tennis facilities, a multi-sport ball wall, additional grass playing spaces and recreational walking paths, a six lane bowling pitch, additional car parking and landscaping," Mr Collins added.
In addition to the Walk 4 Wellness challenge, a calendar of events is also being rolled out over the next few weeks featuring guest speakers and specialists who will talk about a range of wellness-related topics.
An Athlete Development Programme is also being held which will see up to 150 primary school children of all athletic abilities take part each week for five weeks.
Full details will be available on the Manor Fields website www.manorfieldsadare.com