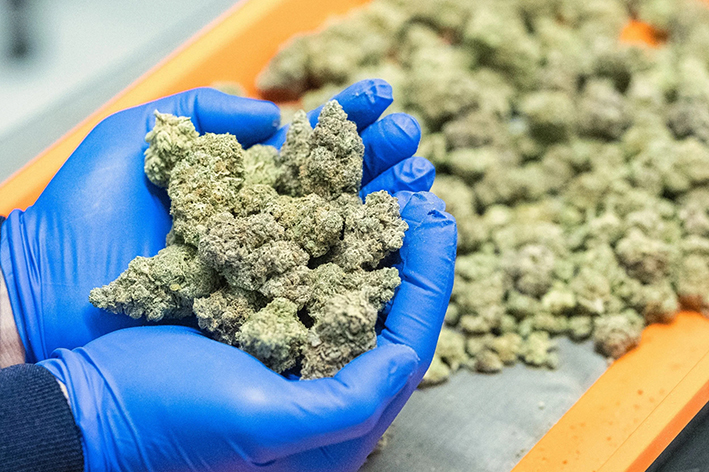 A MAN who smokes cannabis to help with post-traumatic stress disorder after being shot told Gardaí who arrested him for being in possession of more than €900 worth of the drug, that it's "hard to get good weed now."
He explained the presence of a small weighing scales in his kitchen saying that "when you're buying an ounce, you want to know it's an ounce."
David Leamy (40) of Kilteely, County Limerick, pleaded not guilty in Kilmallock District Court to a charge of possession of the drug for sale or supply at his home on March 20, 2021.
Detective Garda Niall Kenny told the court that he searched Mr Leamy's house on that date on foot of a search warrant.
The Detective, attached to the Limerick Garda Drugs Unit, said he found and seized cannabis herb with a street value of €810.
"Mr Leamy arrived home with his partner while we were searching the house and, on searching him and the car they arrived in, I found two further amounts, worth €62 and €88," he told the court.
Det Gda Kenny said that in interview, Mr Leamy made remarks about the quality of "weed" in the course of his interview and said that the scales – which was around the size of a matchbox and was produced in evidence – was his own.
He agreed that he would sometimes share his drugs with friends who called to the house, if he owed them an amount for having loaned him some on a previous occasion, but denied that the larger amount found was for sale purposes.
The Detective also told the court that he seized a number of mobile phones and found a message on Mr Leamy's Facebook page from a person asking about "the green", which he believed to be a reference to cannabis.
Mr Leamy's barrister, Reg Garret, asked the detective if in his search he had found any of the usual drug sale paraphernalia, such as lists or amounts of cash, to which the witness replied "no".
Mr Garret put it to Det Gda Kenny that Mr Leamy was a heavy user of cannabis and that he had the drug for his own use, claiming the evidence did not meet the threshold to prove that the drugs were for sale or supply.
Judge Harney said she did not hold with Mr Garret and convicted Mr Leamy.
Inspector Gearoid Thompson told the court that the convicted man has 132 previous convictions, including convictions for misuse of drugs, assault, threatening to kill, theft, unauthorised taking of a vehicle, and road traffic offences.
Mr Garrett pointed out that Mr Leamy has not been in trouble for drugs since 2003. The barrister said his client is a father of five and "a proud parent" who did not want to be apart from his children.
He said Mr Leamy smokes drugs to help with the effects and trauma of having been previously shot.
Judge Harney convicted him and sentenced him to three months in jail, setting bail for an appeal on his own bond of €100.