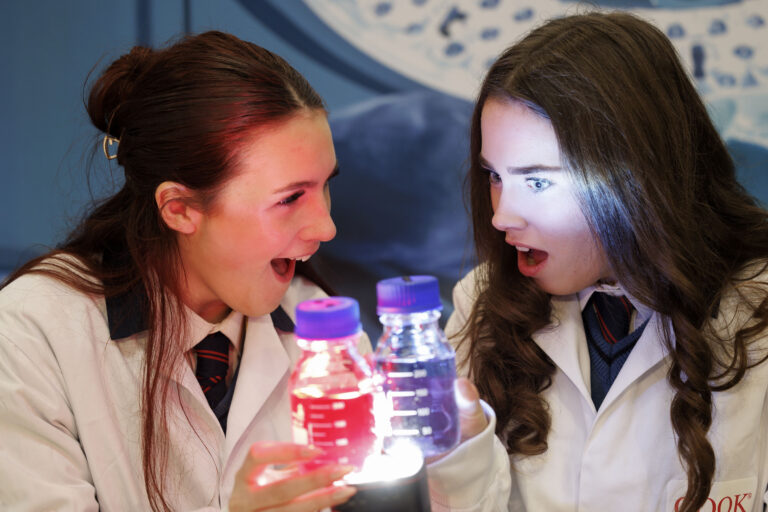 NO LESS than seven Limerick schools have made a clean sweep at this year's BT Young Scientist and Technology Exhibition (BTYSTE) last night (January 13), taking home a remarkable 18 awards between them.
Students, and one dedicated teacher, from schools across Limerick have won big at this year's BTYSTE awards ceremony. Desmond College, Salesian Secondary College, Mungret Community College, Coláiste Nano Nagle, Coláiste Chiaráin, Laurel Hill Secondary School, and Coláiste Iósaef have all done the county proud, taking home a clean sweep of prestigious BTYSTE awards.
For almost 60 years, the Young Scientist exhibition – first held in Dublin's Mansion House in 1965 – has been attracting the country's best and brightest young minds and encouraging them to take up the pipettes and slide rules in the name of scientific innovation. In the decades since, Irish students have submitted more than 100,000 clever and crafty project ideas to the competition.
Newcastle West's Desmond College took home a stomping five awards on the night, with teacher Donal Enright receiving the Stripe Educator of Excellence award. Students Edel McMahon, Padraig Doherty, Madison Reddin, Ethan Kirwan, and Jack Kelly are also taking gongs back to the school.
Sadie Loftus of Salesian Secondary School took home the Alexian Award Technology for her investigation into the use of external electrical impulses in the treatment and management of Raynaud's disease.
From Mungret Community College, Aaron Waldron and Conor Quinlivan took home the Institute of Physics in Ireland Special Award Chemical, Physical, and Mathematical Sciences prize, as well as chalking up a win in the Senior Group category.
Four awards were claimed by Sexton Street's Coláiste Nano Nagle, with Minahil Mir, Tamima Abedin, and Abbey McNamara being given the Cisco Technology Award and placing highly in the Intermediate Group category. Laiba Mir, Wagma Jan, and Lana Qaddoura received The Food Safety Authority of Ireland (FSAI) Technology award, as well as a Highly Commended prize in the technology category.
Coláiste Chiaráin celebrated three awards for the Ballinamona school, with Seán O'Sullivan receiving the Greencoat Renewables prize and placing third in the Intermediate Individual category. Katelyn Prior, Caitlin Quain, and Aiden Oscar received the Display Award in the technology category.
In Laurel Hill, Kate Murphy, Aoife Henry, and Éabha Halley also received a Highly Commended nod in the Biological and Ecological category, while Rafiah Islam placed third in the Social and Behavioural Sciences competition.
Darcy Hanley-Cronin, Sinéad Harte, and Marta Manero of Coláiste Iósaef also took home the Display Award in their Social and Behavioural Sciences category for their study into the prevalence of eating disorders in adolescent boys.
Addressing students at the event, held at the RDS in Dublin, BT Ireland Managing Director Shay Walsh said: "The past week has been truly inspiring, and I am in awe of your unique and individual talents. The level of creativity, innovation, and research displayed over the last number of days has been nothing short of remarkable."
"I would also like to extend my congratulations to all our winners, who join a special group of some of Ireland's brightest minds. I have no doubt this is only the beginning of all the brilliant work you will go on to do."
Also at the event, Limerick senior hurling manager John Kiely found himself celebrating another All-Ireland success, this time as principal of the Abbey School in Tipperary, who were overall winners of the competition.
Sixth year students Shane O'Connor and Liam Carew took home the coveted perpetual trophy, along with a prize of €7,500 for their research into the impact of second-level education on key aspects of adolescent life and development.
The winners were presented their award by Education Minister Norma Foley and BT Ireland Managing Director Shay Walsh.