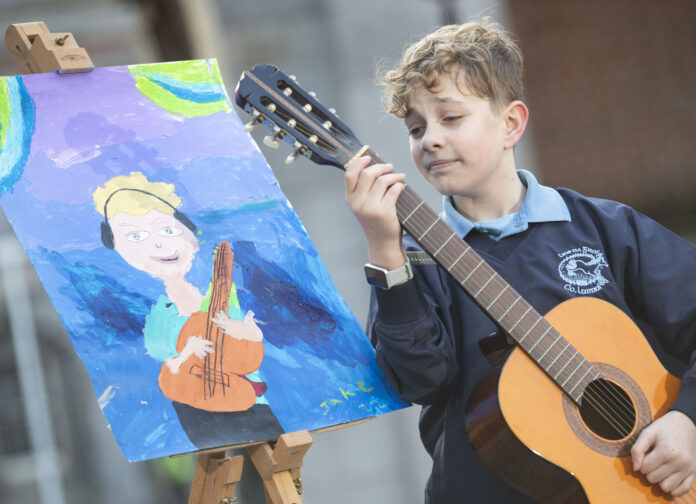 PABLO Picasso provided the inspiration for a Limerick schoolboy who has been named as overall winner of the National Disability Authority's 'Someone Like Me' art competition.
Jake Hoen Galvin, a fourth class pupil at Lisnagry National School, channeled the Spanish painter's 'The Old Guitarist' for a self-portrait that struck a chord with this year's judging panel.
'Someone Like Me' is a national celebration of the things that unite children of all abilities, helping to nurture more positive attitudes towards people with disabilities. This year's competition drew more than 2,700 entries from primary schools all over Ireland.
For his winning entry, Jake painted musical notes in his eyes to show how hypnotised he becomes when he listens to music. His hope is that the painting will convey one simple, but clear, message: 'no matter who you are, everyone has talents. All you have to do is keep exploring until you find them'.
Jake describes how having a learning disability helped him to find his ability in guitar playing, after noticing a guitar in his art teacher's room.
Minister of State with responsibility for disability, Anne Rabbitte congratulated Jake and his teacher Marie Blake on their success in the competition.
"Jake drew on his own experience to create a wonderful piece of art which carries such an important and inspirational message for us all. He clearly has a love for the arts and a real desire to find the things in life he enjoys the most.
"His positive outlook is admirable, and I hope it inspires people to follow Jake's lead and keep exploring until they find their talents, no matter who they are," Minister Rabbitte added.
National Disability Authority Director Dr Aideen Hartney also paid tribute to Jake and the first class pupils at Our Lady Immaculate Junior National School in Darndale who were highly commended for their group entry.
"'Someone Like Me' is an important part of the National Disability Authority's work to help develop positive attitudes towards people with disabilities," she explained.
The competition, which offers a range of prizes up to the value of €1,250, attracted a wide range of entries which ranged from posters and collages to large sculptural installations and multi-media pieces.