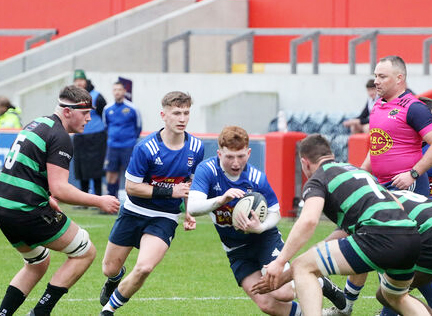 HOLDERS Crescent College booked a quarter-final meeting in the Munster Senior Schools Cup with Ardscoil Rís, thanks to a 36-29 win over Bandon Grammar School at Thomond Park yesterday.
Crescent had tries through Cillian Kenny, Fionn Casserly, Marcus Lyons, Mark Fitzgerald and Conor Ryan, while Eoin O'Callaghan impressed on kicking duties. 
The teams had been level at 8-8 at the interval.
Crescent College: Jed O'Dwyer; Eoin O'Callaghan, Joe McEnery, Ben Gallagher, Evan Cusack; Ryan Godfrey, Marcus Lyons; Mark Fitzgerald, Conor Clery, Cathal Lanigan Ryan, Jack Somers, Sean Magee, Fionn Casserly, Andrew Ahearne, Cillian Kelly (captain).
Replacements: Jonathan Byrne, Alex McNamara, Denis O'Dwyer, Conor Ryan, Jordan Power, Charlie Fenton, Cormac Quinn, Michael O'Mara, Evan Bennett, Sean Morrissey.
St Munchin's College are into the semi-finals after a 19-10 defeat of Ardscoil Rís also at Thomond Park yesterday.
Munchin's dominated the opening stages and raced into a 14-0 lead after 12 minutes with tries from Oisin Minogue and Danny Williamson. Both were converted by Cillian O'Connor.
Ardscoil got back into the contest just before halftime with a Luke Murphy try which Aaron Byrnes converted.
Early in the second half, Byrnes kicked a penalty to leave Ardscoil trailing 14-10. In the closing stages, Oisin Pepper scored a try for Munchin's to seal the victory.
St. Munchin's: Matthew Te Pou; Adam Cusack, Oisin Pepper, Gordon Wood, Tom Wood; Cillian O'Connor, Jake O'Riordan; Rían Burke, Peter Dougan, Tadhg O'Brien; Anthony Foley, Callum Black; Danny Williamson, Oisin Minogue, Liam Angermann.
Replacements: Ben Noonan, Oskars Vitolins, Sean Rice, Billy Power, Tommy O'Driscoll, Charlie Grace, Rory McDermott, Azad Mohamad, Ben O'Mahony, David Keane.
Ardscoil Rís: Adam Jordan; Harry Cowton, Sam Brown, Joshua Dillon, Alan Fitzgerald; Aaron Byrnes, Evin Crowe; Aaron McNamara, Joe Costelloe, Emmet Calvey; Matthew Danaher, Samuel Connolly; Kieran Shvaibovich, Alex Kennedy, Luke Murphy.
Replacements: Darragh Glennon, Killian McNamara, Jibril Koura, Adam Shawyer, Sean Horrigan, Marcus O'Donoghue, Alan Roche, Thomas Hourigan, Oisin Quinlivan, Conor Dowling.