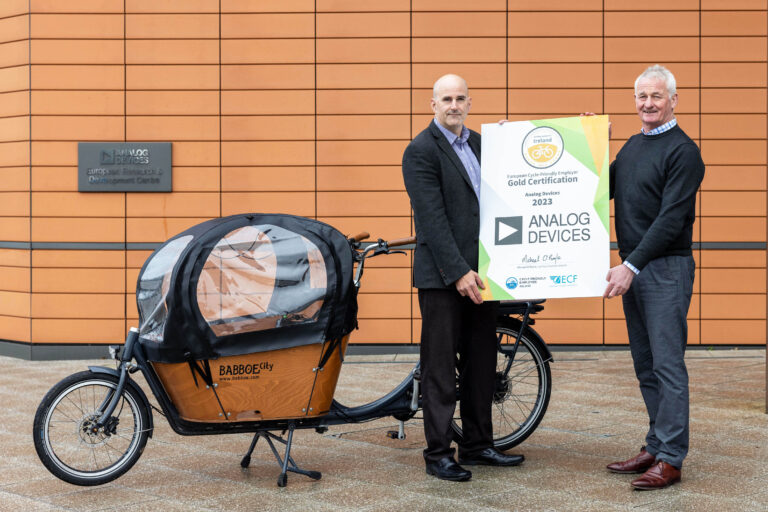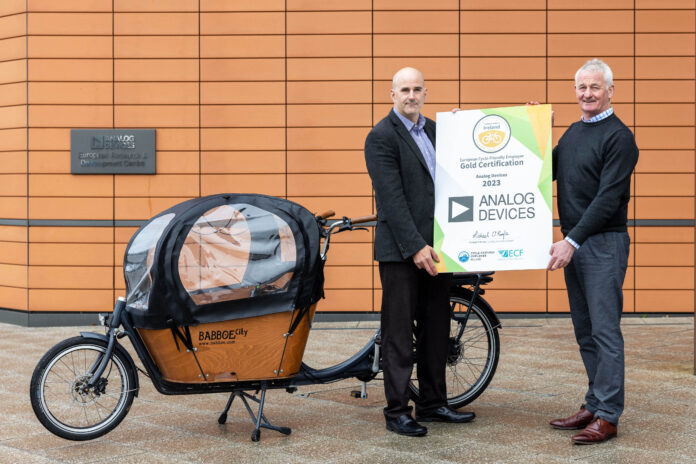 LIMERICK-based Analog Devices is the first employer in Munster to secure gold cycle-friendly status in recognition of its commitment to cycling initiatives and facilities for employees.
Analog joins a community of European and Irish employers who are using cycling to improve staff well-being and contribute to national decarbonisation and green travel goals.
An EU-wide initiative by the European Cyclists' Federation, the Cycle-Friendly Employer programme  is part of Ireland's National Sustainable Mobility Policy to encourage people to choose sustainable transport over the private car.
The certification process assesses onsite cycling amenities including showers and clothes drying, bike access and storage, and bike servicing facilities as well as cultural and wellbeing initiatives such as cycling weeks, onboarding information, and community cycling events.
Analog General Manager of Manufacturing Shane Geary said that achieving accreditation was a reflection of the company's commitment to the wellbeing of its employees and to drive positive change for future generations.
"As a keen cyclist, I'm also more than aware of the benefits of moving outdoors. We're looking forward to seeing the demand for our bike sheds soar."
Analog is also encouraging employers on the Raheen Business Park to help make it the first cycle-friendly business park outside Dublin.  The company is sharing the actions it has used to date and invited local employers in the park to join its Smarter Travel and energy reduction street event.
Cycling Solutions Ireland chief executive Michael O'Boyle said they were delighted to award gold Cycle-Friendly Employer certification to Analog Devices.
"The company is fully committed to driving the changes that must take place to create a healthier planet. Achieving gold CFE accreditation demonstrates this commitment comes from the ground up."
As a further endorsement of Analog's green credentials, the company has been recommended for certification to the Energy Management System Standard ISO 50001. This ISO standard has been designed for organizations committed to addressing their impact, conserving resources and improving the bottom line through efficient energy management.