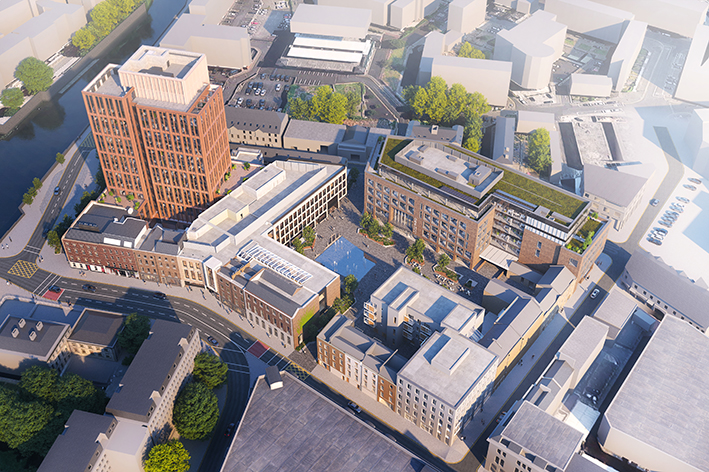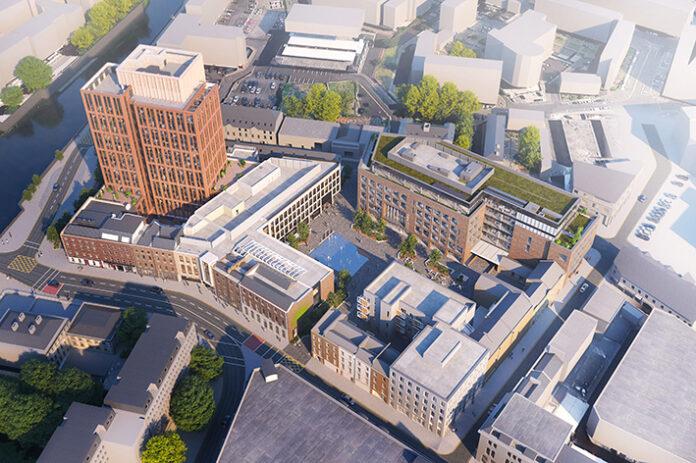 LIMERICK'S Opera Square development achieved significant momentum today with two announcements that will have a major impact on the delivery of the €200 million city centre regeneration project.
The creation of a joint venture partnership with the Ireland Strategic Investment Fund (ISIF) will provide €80 million for the construction of the One Opera Square building which forms a central element of the overall  development.
This was followed by confirmation that Limerick Twenty Thirty (LTT) has appointed John Sisk & Son for the design and construction of the One Opera Square building and the 10,000 square metre basement development which is scheduled for completion in January 2025.
One Opera Square will be developed over six floors at the corner of Michael Street and Ellen Street and can accommodate up to 1,000 employees.  A restaurant and retail units will be developed at ground level with an external seating area in the Public Square, landscaped roof terraces and world-class cycle facilities.
The basement, which will extend across the entire site, will accommodate 155 car spaces including electronic charging spots, 323 bicycles and ancillary areas serving the buildings overhead.
Demolition and enabling works, the largest such contract undertaken outside Dublin, have already been completed by John Sisk & Son. This included the stabilisation of 16 Georgian buildings for future redevelopment.
Speaking during a visit to the site earlier today, Housing and Local Government Minister Darragh O'Brien said that Opera Square will be a transformative development for Limerick, and he was delighted that the Government was able to help Limerick Twenty Thirty bring it to fruition.
"The regeneration and rejuvenation of our towns and cities is a key part of this government's vision. We are tackling vacancy and dereliction, and will continue to fund important regeneration projects the country," he added.
Describing it as a hugely significant moment for the wider Opera Square development, Mayor Frances Foley said it was the  moment when it could finally be said that building was finally underway.
"Opera Square, along with other private and public investments already underway in Limerick, is going to transform our city centre, setting it on a new course that will make it one of the most attractive locations in Europe to live, work and play in."
LTT Chairman Conn Murray said that having a trusted partner like the Ireland Strategic Investment Fund on board was a major vote of confidence in the wider project and Limerick's growth potential.
Limerick City and County Council chief executive Pat Daly added that it was the biggest single investment by ISIF and meant that the wider project was now fully funded.