THE University of Limerick (UL) paid homage last week to Irish Chamber Orchestra's former Principal Guest Conductor Jörg Widmann conferring upon him an honorary degree of Doctor of Letters. This award acknowledges Widmann's exceptional artistic achievements on the international stage alongside his immense contribution to UL's orchestra-in-residence, the Irish Chamber Orchestra (ICO).
ICO's building blocks were formed and enriched by the many Artistic Partners who made valuable contributions to ICO's mission over the years. However, Jörg Widmann's first appearance with Irish Chamber Orchestra in 2008 ignited a new flame in ICO's fire, catapulting this UL based ensemble from Berlin to European centre stage, performing regularly there, and raising the profile to such an extent that he transformed the artistic international profile of ICO.
Under his watch, ICO became the first orchestra to secure a unique 3-year residency at the Heidelberg Frühling festival (2015-2018), appearing with pianists Igor Levit and Elisabeth Leonskaja.
Widmann and ICO regularly appeared in the USA and in 2019 undertook trailblazing concerts throughout Brazil and Argentina, playing to some of the largest audiences ever. With Widmann, the ICO has performed in some of the most prestigious concert venues in the world including the Konzerthaus in both Berlin and Vienna, in Zurich, Essen, Freiburg, and Cologne Philharmonie, Bozar Brussels, Die Singel Antwerp, Reitstadel Neumarkt, Carnegie Hall NY, Teatro Colon Buenos Aires, Sala Sao Paulo, the Library at Congress D.C. among others.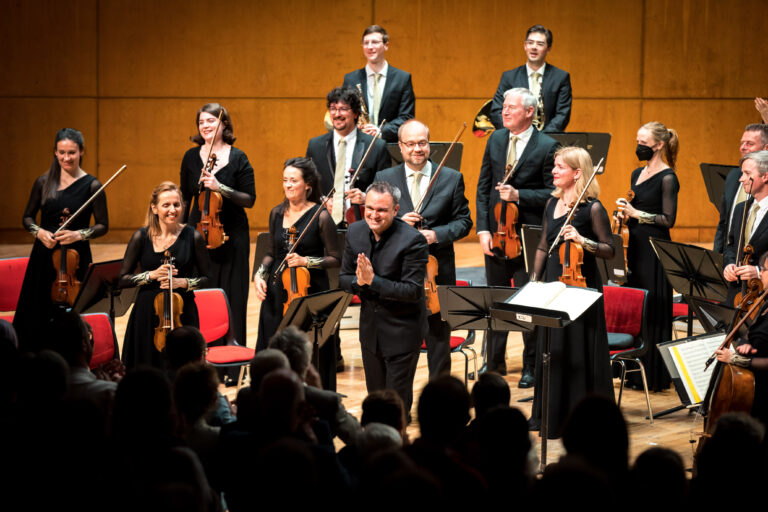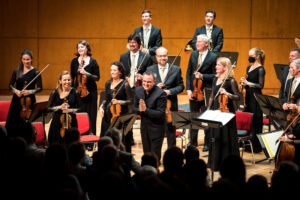 Jörg's career was on the cusp of a wave when he joined ICO as Principal Guest Conductor and Artistic Partner in 2012. An international celebrity, he quickly established himself as a force to be reckoned with at the helm of ICO, one of Ireland's most colourful and diverse ensembles. Such was the bond and synergy that his tenure extended from three to ten years.
Widmann attracted a loyal fan-base attending concerts to experience his extraordinary music and virtuosity as one of the world's finest clarinet players. The ICO Studio at UL provided the setting for several prestigious ICO recordings.
ICO runs UL's MA in Classical String Performance in conjunction with the Irish World Academy of Music and Dance. The inaugural ICO scholarships were awarded to two students of the MA in Classical String Performance programme – Jeannette Bogado and Anna Mária Miklós at today's celebration.
"ICO educates budding musicians, and we see University of Limerick not just as a campus that welcomes students, but as a global oasis for musical creativity.
"ICO believes music changes lives and we aspire to be a force in educating talent who will create music that will change the world.
"Jörg has played a significant role in our journey. With him, ICO grew a stellar reputation for innovative programming both at home and abroad. The rise in standards resulted in appearances at many of the most prestigious venues throughout the world – we will never forget his contribution, his passion and we are delighted that he remains on as an Artistic Partner" said ICO CEO, Gerard Keenan.