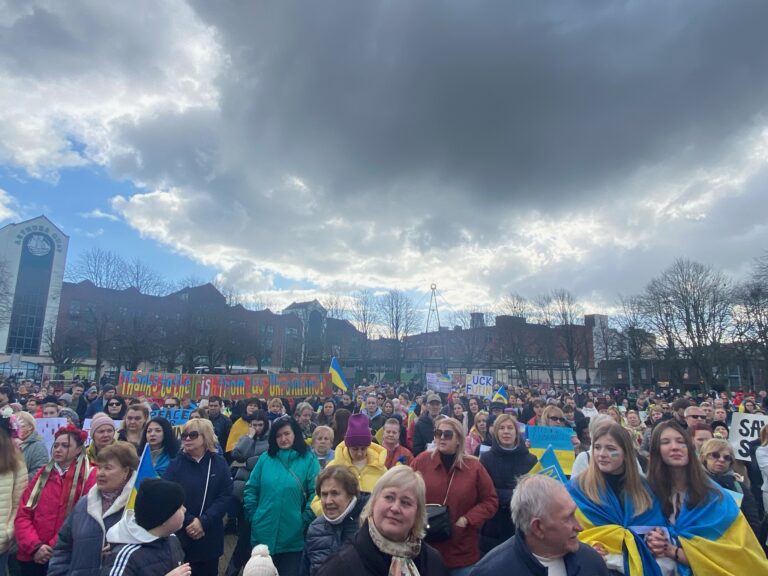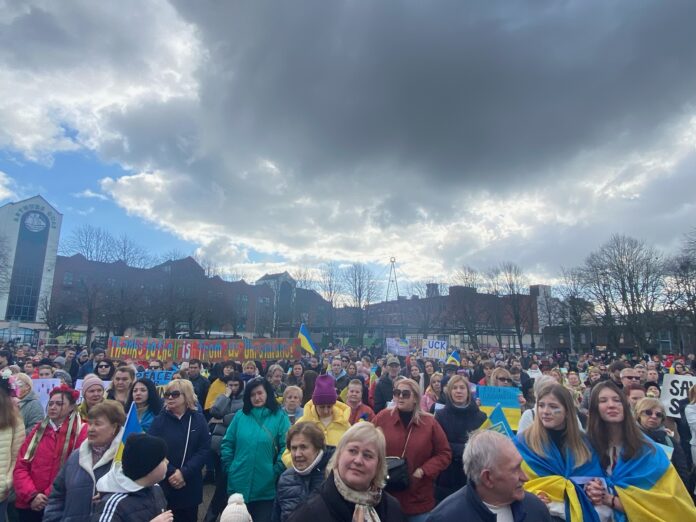 AN ESTIMATED 400-strong crowd turned out in Arthur's Quay Park this morning (Saturday) in a show of solidarity with the people of Ukraine.
The 'Standing for Peace' demonstration, organised by Limerick-based refugee and migrant rights group Doras, was part of a national network of events to mark the one-year anniversary of the Russian invasion of Ukraine.
The city park was a sea of yellow and blue, banners and chalk drawings, all united with one message: peace and solidarity.
Speaking to the Limerick Post ahead of the event, Deputy Mayor Kieran O'Hanlon said it was an opportunity for the Ukrainian community in Limerick to say 'thank you' for the welcome they have received from the people in the city and the county.
"There's over 2,000 Ukrainians making their home now in Limerick. And about 1,600 Ukrainian children going to school in Clare and Limerick. Today is their day. It's not a day of protest. It's a day where they say 'Go raibh maith agat'".
"I have my personal views about the Russians and what happens there. But I'm not going to go into that today. I'm very happy to be representing the people of Limerick here today," he added.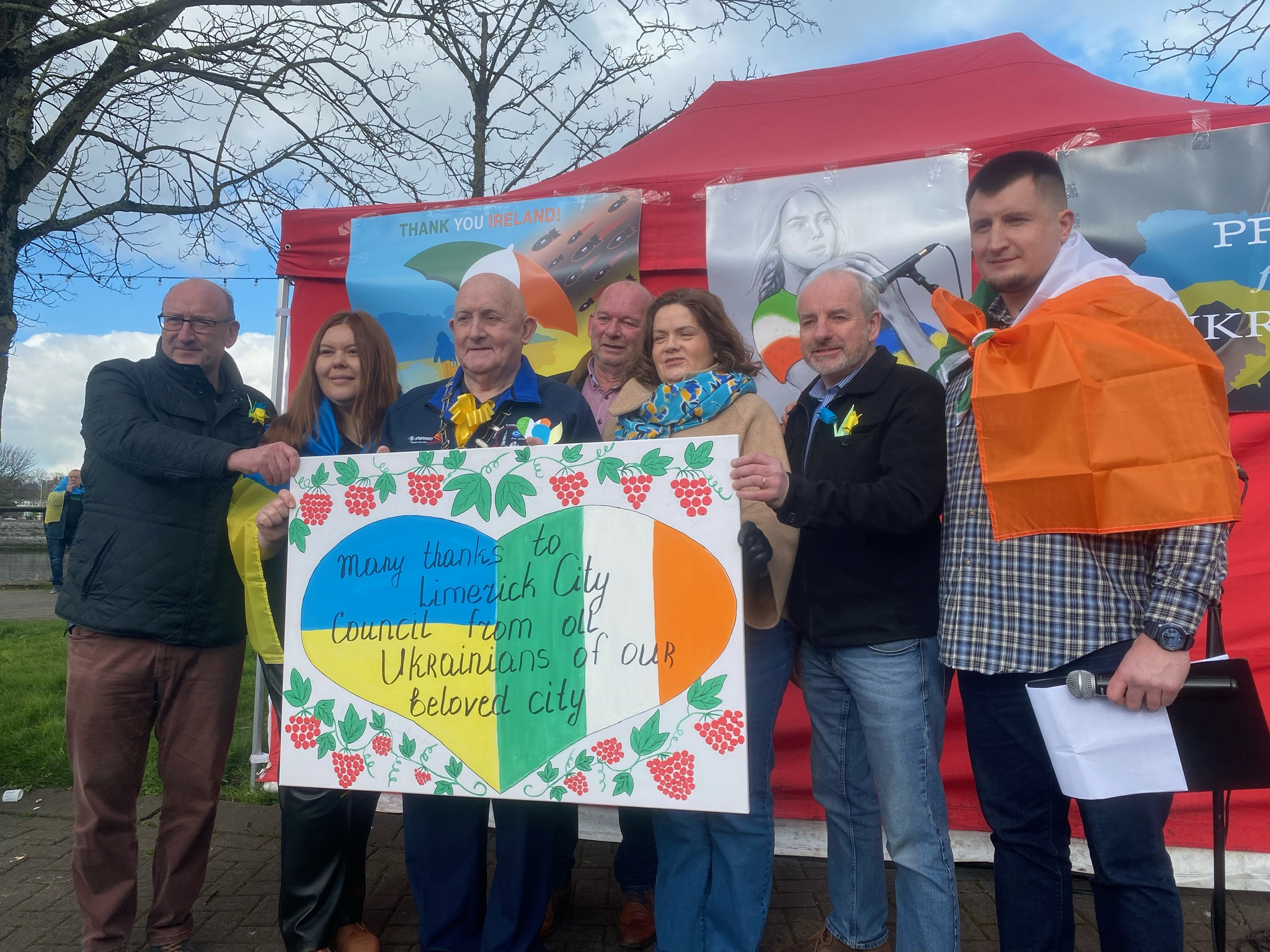 The commemoration began as a young Ukrainian child sang a rendition of his national anthem to resounding roars and applause, followed by speeches from members of Limerick's Ukrainian community, Deputy Mayor O'Hanlon, and Doras chief executive John Lannon, amongst others.
Cheers of 'thank you, thank you' were heard as banners reading 'stop war in Ukraine', 'we stand with Ukraine', 'thank you from the people of Ukraine', and 'the rotten Russian empire is falling' down were waved overhead.
At one point, a Ukrainian woman stood before the assembly, bending low to kiss the ground beneath her feet, thanking the people of Limerick for the welcome she has received so far.
One young Ukrainian woman, Yana Babkina from Kyiv, who made the journey to Limerick with her family last March, told the Limerick Post that "everyone has been so kind" since first arriving in the city.
"Of course we miss our home, but here we feel safe. We can't go home now, so yeah. We have to wait."
John Lannon told members of the Ukrainian community: "It shouldn't be like this for you. Your homeland should be safe for you. You should be able to continue your lives there, to live there with your families. But that is not the case now."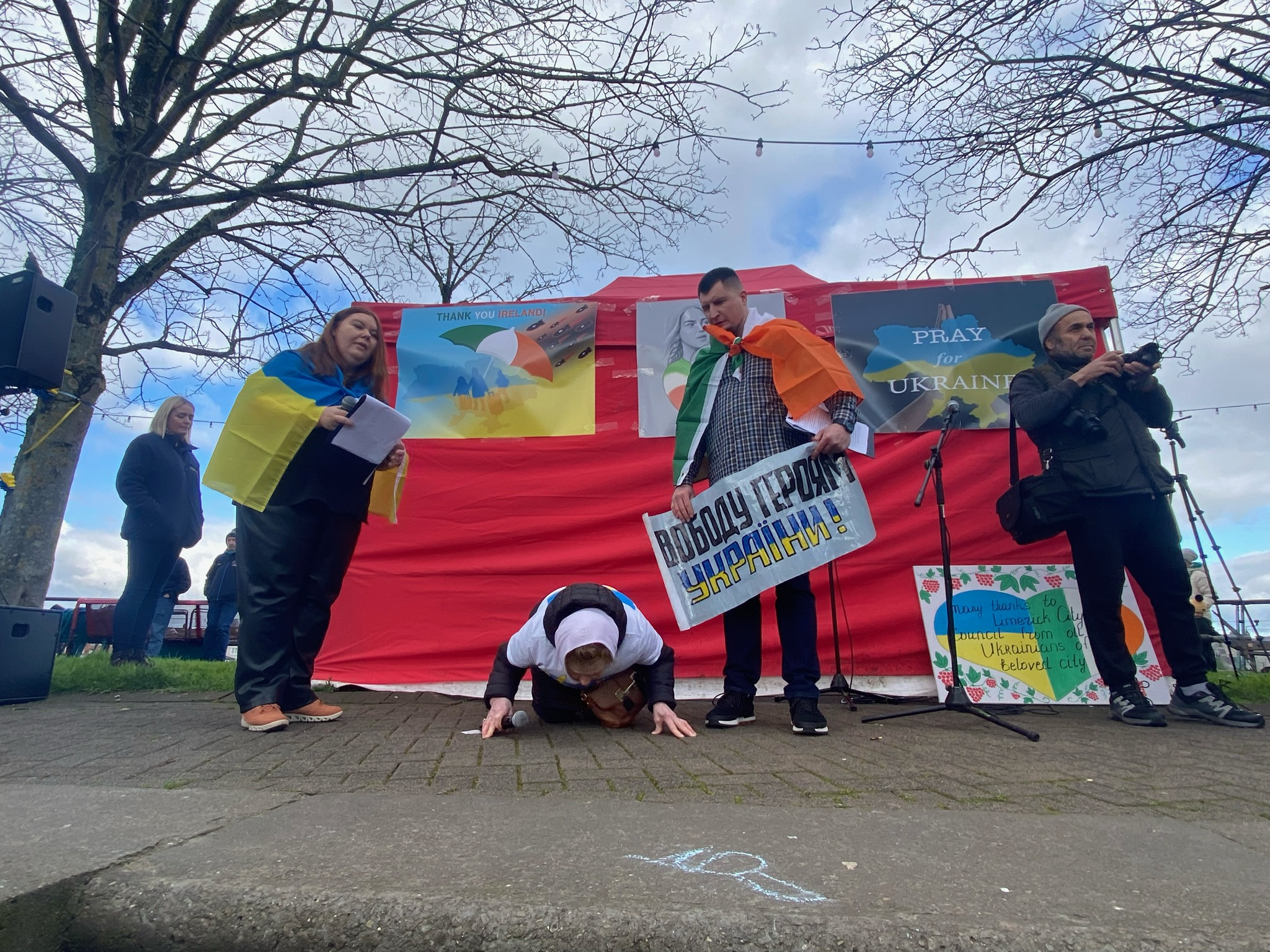 Speaking later to the Limerick Post, Mr Lannon said: "It was important for [the Ukrainian community] to be here today, to gather together from the hotels, from the other congregation centres around Limerick, and from within the community as well."
"I think what today showed was that there is a real openness and welcome in Limerick for people who are escaping from war and from persecution."
The Standing for Peace demonstration was part of a nationwide programme of events to commemorate the one year anniversary of the invasion of Ukraine, which began on February 24, 2022.
Elsewhere across the country, a 'Fighting for Europe' rally was held outside the GPO in Dublin, along with a number of concerts, demonstrations, and Masses arranged in Waterford, Longford, Cavan, and Wexford.