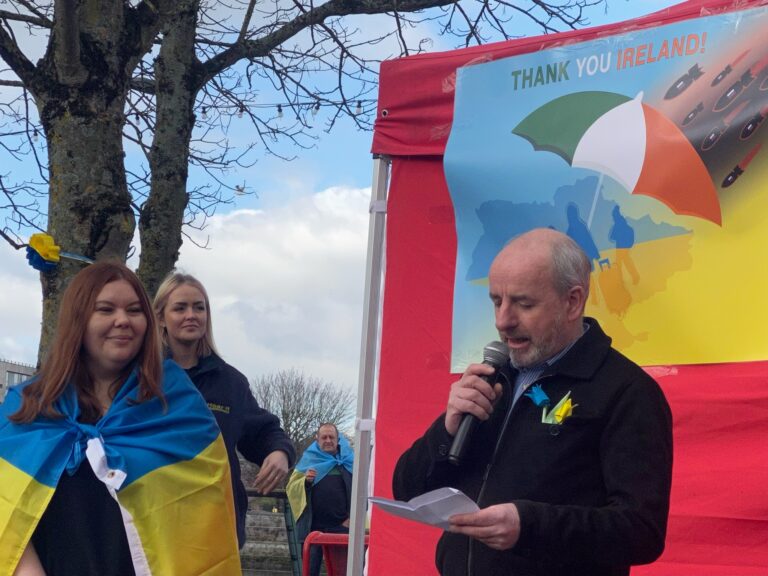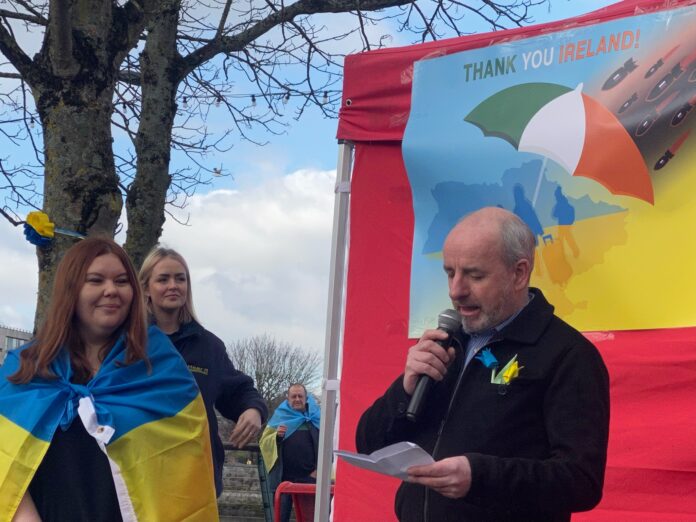 LIMERICK has made it clear that there is no a place for misinformation or targeting of refugees and asylum seekers.
That's according to John Lannon, chief executive of Limerick-based migrant and refugee rights organisation Doras, who has warned about the dangers of misinformation in rhetoric around those seeking refuge in Ireland.
This comes amid growing anti-migrant sentiment, mostly spurred on by posts across social media platforms by a small but vocal minority.
"Generally, Limerick is still welcoming," says Lannon. "Limerick is a place that made it clear that there isn't a place for misinformation or for targeting of refugees or asylum seekers."
The Doras chief executive spoke to the Limerick Post after Saturday's 'Stand for Peace' demonstration, in which an estimated 400 people gathered in Arthur's Quay Park to stand in solidarity with members of the county's Ukrainian community who have fled their home country in the wake of Russian devastation.
In the time since the February 2022 invasion of Ukrainian territory, public demonstrations have begun to crop up in cities across Ireland rallying against those fleeing the war in Ukraine, more than 2,000 of whom have settled across Limerick city and county.
According to Mr Lannon, this anti-migrant sentiment is being drummed up by "groups and individuals that are hijacking concerns that people have in relation to services in relation to housing and other things, and are attempting to turn that anger on refugees and asylum seekers".
"It's desperately unfair on people who have escaped persecution and war and come to Ireland seeking protection that now they have to worry about a small cohort of people that are venting anger against them.
"It's worrying that there are people in the background organising that type of activity within communities. It destabilises and unsettles communities. It causes social disruption if people feel that they have to take sides.
"It's something we really need to root out. Particularly the misinformation, the scare-mongering, and the targeting of people from other countries. It really does need to be put a stop to across the country."
One particularly prominent branding among these minority groups is that of the 'unvetted military-aged man', which Lannon dismisses as "a complete red herring".
"The term 'unvetted' doesn't have any relevance or significance," he says.
"International protection applicants, or asylum seekers, are possibly the most documented people in the country because when they come in their identity is recorded – where they've come from, why they've come here, and that's all on record within the Department of Justice and the International Protection Office.
Mr Lannon says the frequently-used term is being leveraged by anti-migrant groups to "imply that men, in particular, who are coming here seeking asylum are a risk".
"If we look over the last couple of decades at levels of crime here in Ireland, you will find that there has been practically no crime committed by people who are in the international protection system. It's a complete red herring."
The migrant rights advocate also highlighted the wider "fixation" amongst these groups on refugees coming to the country without passports or documentation of identity.
"You have to consider that people are fleeing from persecution and from torture in their countries. You're not going to be able to get a passport from the regime that they're escaping from.
"You also have to think about the people who managed to get across the Mediterranean, in boats or by land, possibly having to pay smugglers to get them here. In many cases their documentation has been lost or stolen.
"People have to make their way to a safe country in whatever way they can in order to survive, in order to stay alive.
"The Geneva Convention clearly states that anybody who is at the frontier of the state, either lawfully or unlawfully, may apply for international protection. And that's what's happening.
"We have a legal obligation as well as a moral obligation to retain that situation," Mr Lannon concluded.
The Stand for Peace rally, organised by Doras, was one of many marked across the country to commemorate the one-year anniversary of the Russian invasion of Ukraine.
A number of demonstrations, concerts, and Masses were also held in Dublin, Cork, Galway, Kilkenny, Kerry, Wexford, and Waterford.