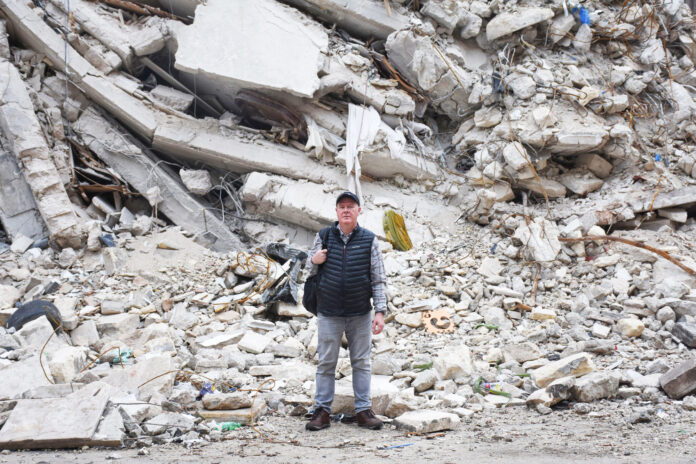 A FORMER Limerick parish priest, who is now based in Syria, says that the international community has largely forgotten the people of the war-torn Middle Eastern State who are struggling to survive the aftermath of a devastating earthquake.
Fr Tony O'Riordan, who served as parish priest of Moyross in Limerick City, has called on America and Europe to reassess their long-term economic sanctions on the barbaric Bashar al-Assad regime on the basis that it is threatening the future of ordinary citizens.
Now working as Director of the Jesuit Refugee Service in the Syrian city of Aleppo, said that said the economic sanctions are exacerbating "grotesque poverty on ordinary Syrians".
O'Riordan is no stranger to calling out wrong-doing where he sees it. In 2016 he highlighted the "evil activities" of drug gangs in Moyross. Two years later, he escaped an attack by a 2,000-strong mob on a Jesuit compound in Maban, South Sudan.
Speaking one month on from the 7.8 magnitude quake which claimed tens of thousands of lives, Fr O'Riordan said Aleppo remains "a city where people know hunger on a daily basis" as a direct result of the sanctions.
He believes that the Irish government can play a key role in keeping the plight of Syria on the international agenda.
He suggested that the Taoiseach and his cabinet colleagues can "bring Ireland's strong diplomatic experience" to shamrock bowl conversations with political leaders around the world on St Patrick's Day.
"Syria is already on its knees after 12 years of civil war and there won't be a peaceful end to the conflict unless there is a significant international effort to try to resolve the situation.
"Tens of thousands continue to sleep in makeshift shelters or in open public spaces, out of fear of further earth tremors and aftershocks – the last big one hitting Aleppo two weeks ago.
"The people here know the pain of extreme poverty, not having fuel or access to medical care. They know what it's like to live in the dark.
"There has been no urgency to address the political and international status of Syria, or look at the role of sanctions and their impact on ordinary people.
"The big powers like Russia, Turkey, the United States, and neighbouring countries are happy to see Syria move towards almost a crippling poverty and aid alone cannot be the international response," Fr O'Riordan added.