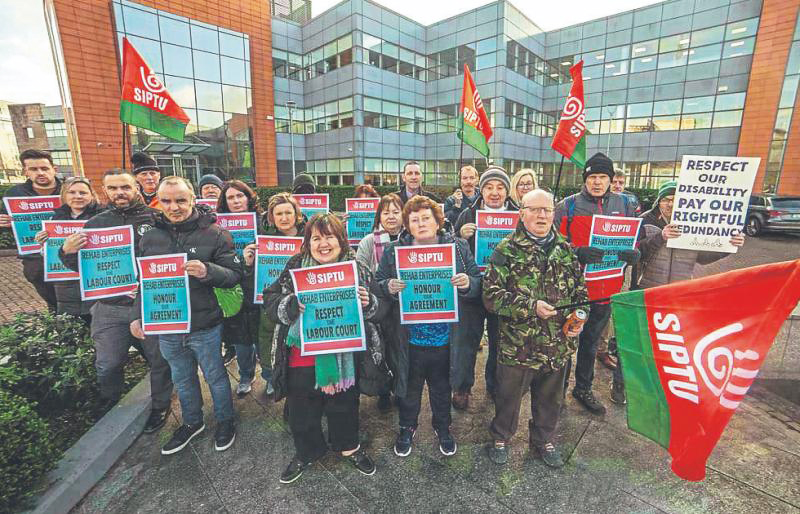 FORMER employees of the Rehab Enterprises logistics centre in Raheen will protest outside the RehabCare office on Parnell Street in Limerick City next Tuesday, March 21.
The demonstration, which gets under way at 1pm, is organised by the SIPTU trade union in support of the workers demand for the immediate transfer of outstanding redundancy payments.
SIPTU Organiser, Robbie Purfield, said that after the Raheen facility closed in 2021, the redundancy payments to the workers fell significantly short of those provided for in an existing collective agreement between Rehab and SIPTU.
"Rehab claimed that it could not meet the additional €900,000 required to pay the amounts that were due to staff, some of whom had more than 25 years' service," Mr Purfield explained.
"When the dispute, which involved 38 of the former workers, came before the Labour Court, a financial expert said Rehab had 'options' it could explore to raise the money and so its claim of inability to pay could not be successfully demonstrated.
"The court ultimately recommended that the existing collective agreement should be respected and the workers be paid their outstanding redundancy entitlements.
"Our members have not accepted their unfair treatment after years of loyal service. They expect Rehab Group to honour its obligations as a matter of urgency and pay them their outstanding redundancy entitlements."
SIPTU Manufacturing Division Organiser, Greg Ennis, said they were extremely disappointed that Trade and Employment Minister Simon Coveney failed to respond to two letters requesting a meeting  to discuss the unacceptable situation in which the former Rehab workers had been placed.
"The Rehab Group is in receipt of tens of millions of euros of State support each year. It should not be allowed to continue to ignore our members' redundancy pay agreement and the recommendation of the Labour Court," Mr Ennis added.
Tuesday's protest will be the second in a SIPTU campaign seeking justice for the former Rehab workers, following a demonstration outside the organisation's Dublin headquarters on February 13.