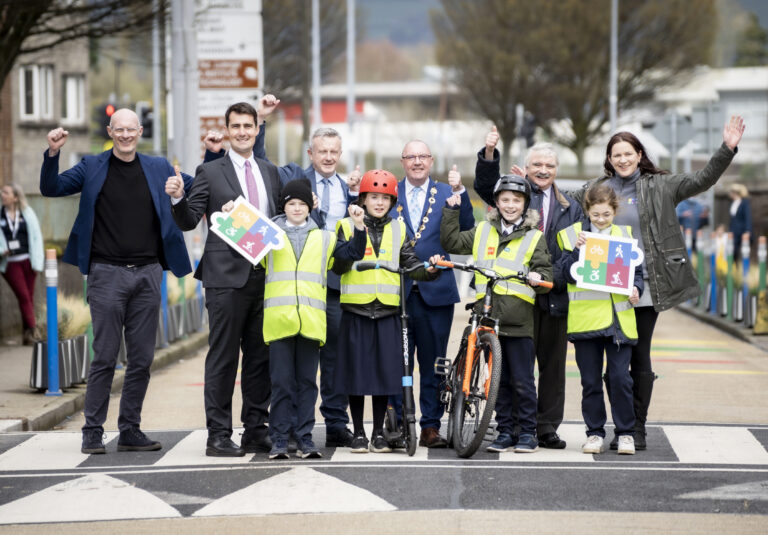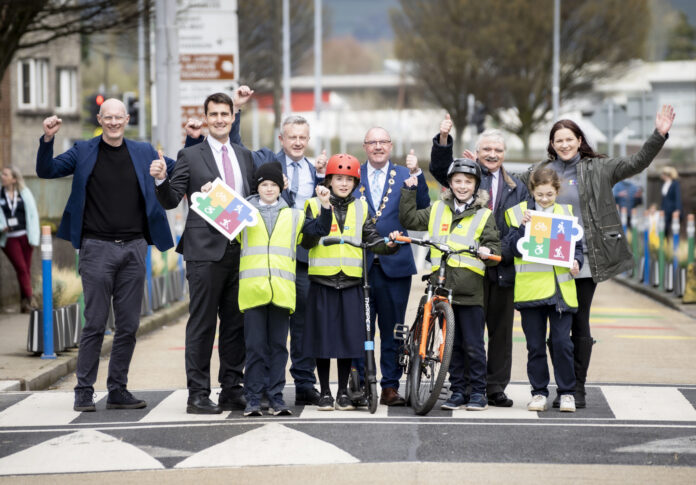 CHILDREN who cycle, walk or jog their way to An Gaelscoil Sáirséal in Limerick City can now do so in a much safer environment following the completion of work on Shelbourne Road and the surrounding area.
The 'School Zone' creates a safer environment for children going to school and raises awareness to drivers that they are directly outside the school and should proceed with caution.
The project is part of the Safe Routes to School programme, an initiative of the National Transport Authority and Green Schools, with the works being delivered by Limerick City and County Council's Active Travel team.
Speaking at the launch of the project, Mayor Francis Foley said he was delighted to see continued progress on Limerick's Safe Routes to School projects.
"Creating safer environments for our children and grandchildren outside and near the school gates will enable many more of them to choose active travel as a means of getting to and from class.
"There is a strong history of Active Travel at Gaelscoil Sáirséal which is supported by both staff and parents and I am looking forward to seeing this tradition continue to grow and develop in the future."
Minister of State at the Department of Transport Jack Chambers, who has responsibility for the Safe Routes to School project said the works at An Gaelscoil Sáirséal were a fantastic example of the type of projects that can be achieved under the programme.
"My Department has provided €220,000 towards the development of this project and it is evident that it will make a real difference to the student population by making their journeys to and from school safer, more convenient and more enjoyable.
"This year alone Limerick City and County Council has been provided with €21 million for walking and cycling projects," he added.
Director of Service for Transportation and Mobility, Brian Kennedy said that Limerick City and County Council is committed to delivering safer spaces for children to cycle, walk or scoot to and from school.
"The Safe Routes to School programme is one element of a much larger vision that we have for Limerick that will see the Active Travel team deliver a transformed network of safer cycling and pedestrian infrastructure," he explained.
The School Zone works include:
*A new raised, controlled crossing on Shelbourne Road
Junction.
*Improvement works at Mayorstone Estate to make it safer for children walking to school.
*Pencil-shaped bollards and planting along Shelbourne Road to create awareness for road users of the school's presence.
*Wider access gate on Shelbourne Park to allow easier access for  bicycles, scooters and buggies.
*New footpaths at the car park in Shelbourne Park, which is used as a 'park and stride' option.