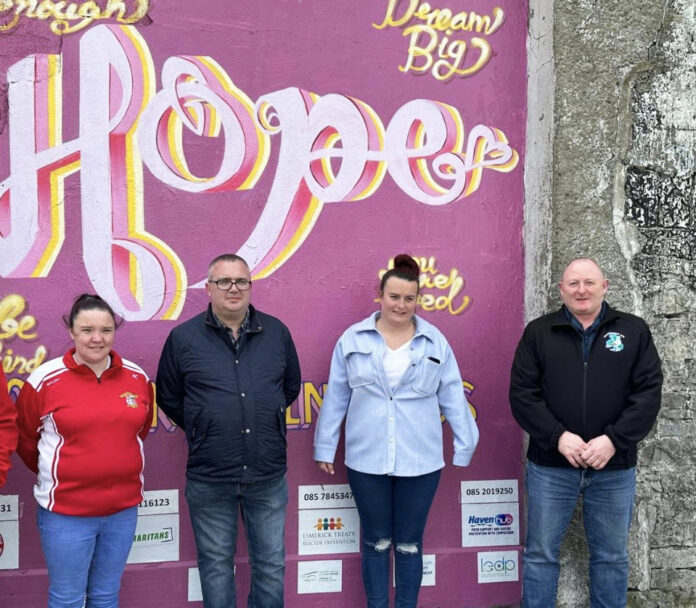 STUDENTS from the University of Limerick (UL) have teamed up with community groups in Garryowen to spread a message of hope in the area.
Unveiled on Friday (April 7), the 'Wall of Hope' is located on the Markets Field stadium, and will encourage people who are going through a difficult time to reach out and seek support.
Students of the university's Diploma in Community Wellness, Empowerment, Leadership and Life Skills (CWELL) are behind the new mural, in collaboration with the Garryowen Residents Association, Limerick Enterprise Development Partnership, and the Markets Field Stadium.
The Wall of Hope features the key message "hold on, pain ends", after students and members of the Garryowen Residents Association came together to decide on the design for the mural.
The project was unveiled by students from the CWELL course and members of the residents association.
Stacey Hogan, a student on the course and Garryowen resident, said that the idea behind the Wall of Hope is to let people in the area know that there is help out there.
"[I want] The Wall of Hope to encourage people to seek help and support if they needed it and to know that assistance is only a call away," she said.
George Lee, manager of the Markets Field, said: "We were delighted to provide the wall space and support to make this excellent community initiative a reality."
"Garryowen and its people have been a strong vibrant community over many generations and it is good for people in difficulty to know that help is at hand."