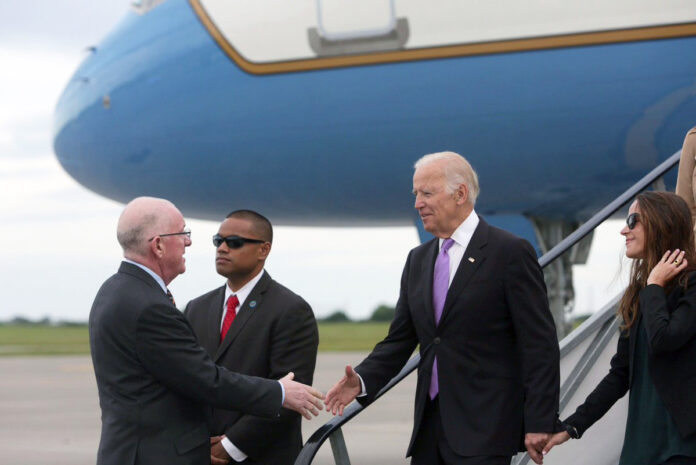 ONE of the leaders of the Shannonwatch group, which regularly protests the use of Shannon Airport by US Military planes, has hit out at a businessman's invite to President Biden to come to Shannon.
Businessman James Ryan of Lisnagry invited the US president "for all the wrong reasons", according to Dr Edward Horgan of Shannonwatch.
Dr Horgan, from Castletroy, commented on a report on the invite in the Limerick Post, saying: "He (Mr Ryan) says that he told US ambassador Claire Cronin that Shannon Airport 'had facilitated US military planes despite a storm of controversy and should not be forgotten for it' and 'tens of thousands of US troops have used Shannon airport on the way to and from the Middle East'."
According to Dr Horgan, "businessman Mr Ryan neglects to mention that these US troops were waging illegal wars in clear breach of the UN Charter that have caused the deaths due to war-related reasons of up to five million people, including over one million children since 1991, in Iraq, Afghanistan, Libya, Syria, Yemen, and elsewhere, and left these countries in a state of ruin and devastation".
"Businesses in Ireland, including the business of the operation of Shannon Airport, are supposed to be carried on in an ethical manner. Mr Ryan's proposal that Shannon Airport should be compensated in some way for having facilitated war crimes, including torture, is unethical and shameful."
Shannonwatch has also issued a separate statement on President Biden's visit, calling on the Irish government to use the opportunity to "reaffirm Ireland's commitment to peace and international stability".
It also calls on the US president to respect Ireland's commitment to non-membership of military alliances and to end the ongoing use of Shannon Airport by the US military.
"As we mark the 25th anniversary of the Good Friday Agreement that helped bring peace to Northern Ireland, it is shameful that we are actively working against peace in other parts of the world.
"The US military used Shannon Airport to support the invasions of Iraq and Afghanistan.  Today they continue to bring troops and their weapons through Shannon, despite the Irish government's claims that we follow a policy of military neutrality.
"As someone with Irish roots, Joe Biden should understand how deeply the principle of neutrality is to the majority of Irish people. He has an opportunity to honour this by ending US military use of Shannon airport," the statement said.