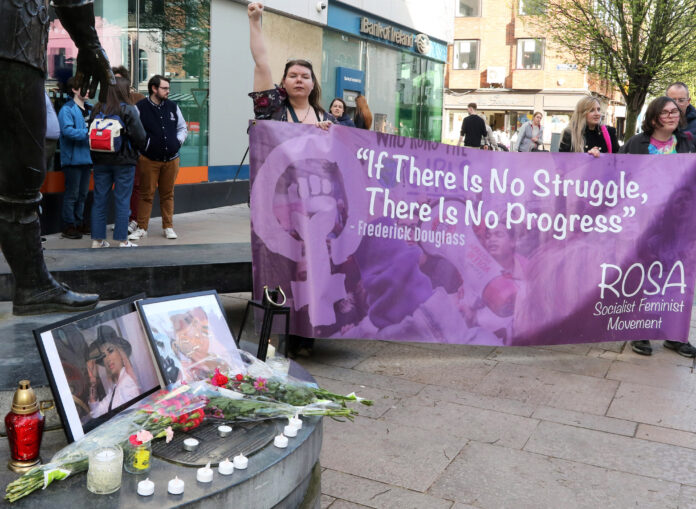 "WHEN women's lives are under attack, stand up, fight back."
Those were the words that could be heard chanted throughout Limerick City yesterday evening (Thursday) as the Limerick branch of socialist feminist group ROSA staged a demonstration on Bedford Row following the killing of Geila Ibram last week.
Around 50 people gathered at the vigil, the second such event following an earlier remembrance on Tuesday, a week on from Ms Ibram's killing.
Ms Ibram (27), who was from Romania and had only been in Ireland around three weeks, was killed at a residence on the Dock Road on April 4.
Pictures of Geila and candles were laid out on Bedford Row, along with bouquets of flowers to pay respects to the young mother-of-four.
Aislinn O'Keefe, member of ROSA and one of the organisers of last night's event said that they wanted to pay their respects to Geila and stand up against gender-based violence.
"ROSA have a history in Limerick and across the country of standing up against violence against women and gender non-conforming people and this is no different."
"The fact that it's happened in our city, we really want to make a stand and say we don't accept this continuing violence, and also in sympathy and grief with Geila's family and her friends as well."
Impassioned speeches were given by members of ROSA, including Stefanie who said she was "saddened and furious" to have to be standing out to remember another woman whose life was lost to violence.
"We mourn her, we stand here in grief and anger and solidarity. We, as people of Limerick, need to make sure we remember her, someone who we were denied the chance to know and build connections with."
"As the saying goes, we mourn the dead, but we fight like hell for the living," Stefanie said.
Niamh O'Mahony who attended the protest said it was important to call out the "little things" that happen to women "every day."
"For a woman to die here after such a short time in the city, I think we have to acknowledge that it's something that happens all the time – not necessarily being murdered – but abuse, all the thousand little things that happen to women every day, the suspended (court) sentences that we see, and I think we just have to call it out."
One woman who came from Ennis to attend last night's demonstration said she felt it was important to remember Geila and all victims of femicide.
"When Ashling Murphy died there were vigils up and down the country and rightly so, because I think every woman that dies at the hands of violence needs to be remembered.
"I just thought there doesn't seem to have been the same show of solidarity with Geila and her family and I think it's really important to come in and do that because every woman is equally important. It's just heartbreaking."