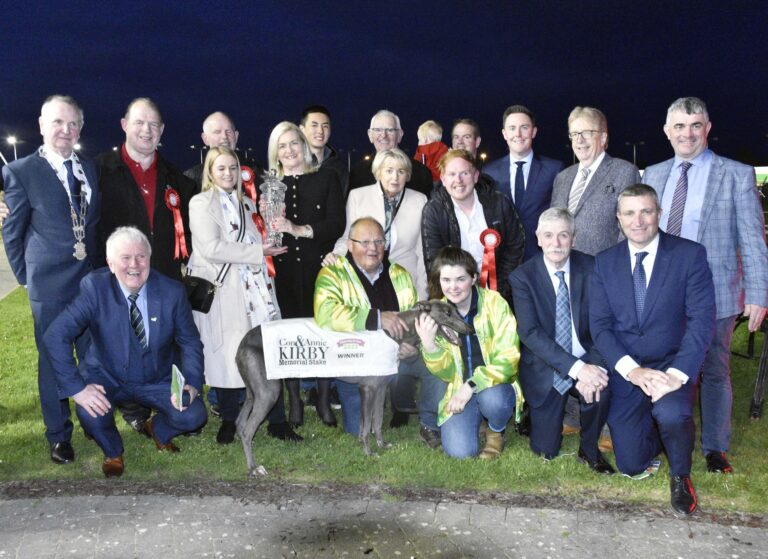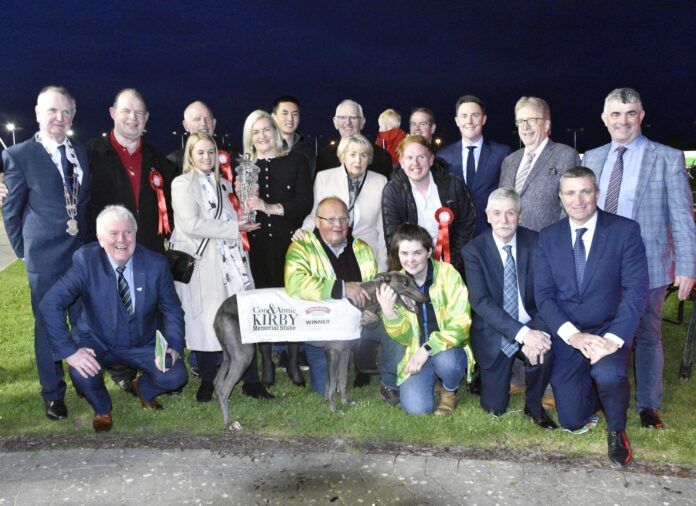 CLONBRIEN Treaty produced a spectacular run of 28.08 – the fastest ever final time – to win back-to-back Con and Annie Kirby Memorial titles for trainer Graham Holland of Riverside Kennels at Limerick.
For the winning connections, James, Muireann and Jerry Murphy (breeder) of Athlacca, there was an €80,000 prize, courtesy of sponsors JP and Noreen McManus, who named the event in memory of Noreen's late parents. 
Clonbrien Treaty was only returned at odds of 5/2 on the night but was available at a whopping 66/1 before the outset of the 10th edition of the Juvenile Classic. 
Clonbrien Treaty, the youngest of the finalists, was a snug winner on Saturday.
The winning nominator, collecting €10,000, was Knockainey GAA club. 
"This is absolutely brilliant," said club stalwart Ger O'Shea. "We're about to start some development work, so this cash injection is hugely welcome. It's a real shot-in-the-arm for Knockainey."
Young Kerry trainer Jack Kennelly was responsible for Una Maachina, winner of the Seán O'Connor Memorial Final (€5,000). The event was run in honour of a Claughaun GAA/greyhound racing stalwart who refereed the All-Ireland Senior Hurling Finals of 1969 and 1975. 
Pat O'Connell trained Glorious Best for John Lyons and Donal O'Carroll to land the valuable Limerick/Clare GOBA 525 Stake Final.
GAA:
ON THE back of a hugely impressive showing against overwhelming favourites Clare in the semi-final (0-16 to 1-16) of the Munster Senior Football Championship, it is with immense confidence Limerick enter the Tailteann Cup. 
The contest at the Gaelic Grounds was level for much of the damp evening but ultimately an early goal from Keelan Sexton proved decisive. It was an outing in which the 3,500 paying customers were treated to an entertaining affair. 
Clare will meet Kerry (who beat Tipperary 0-25 to 0-5 in the other semi-final) in next month's final. 
The Tailteann Cup – consisting of 16 teams – will be played in groups of four, with teams guaranteed a minimum of three games. In the mix also will be counties such as Meath, Down, Westmeath, Fermanagh, Offaly, and Laois. 
SOCCER:
TREATY United entertain bottom side Kerry in the League of Ireland First Division at the Markets Field on Friday night (7.45pm).
When the sides met last month, it finished 1-1 at Mounthawk in Tralee – with the Treaty goal coming courtest of Enda Curran.
On Monday, Treaty suffered a 4-1 home loss to Waterford FC. Ironically, 26-year-old Limerickman Ronan Coughlan (once of Mungret Regional) grabbed a hat-trick for the winners, while Dean George netted a second-half goal for Treaty.
Meanwhile, champions-in-waiting Pike Rovers can take another step towards claiming the Premier League title with victory at Aisling Annacotty on this Thursday (kick-off 6.30pm).
With only five fixtures remain, The Hoops currently hold a six-point advantage at the top of the table. They are unbeaten in 16 starts, with 13 wins and three draws, helped by Shane Clarke's total of 22 goals.
Elsewhere on Thursday, Fairview Rangers host Regional United and Ballynanty Rovers entertain Nenagh AFC. 
On Sunday, Pike welcome Ballynanty Rovers (2pm) while earlier Nenagh are home to Fairview, 10.30am.
Also on Sunday morning, Aisling Annacotty meet with Geraldines in the semi-final of the Lawson Cup, with the winners then up against either Pike or Fairview. 
On Saturday, Limerick will have the honour of hosting the FAI Junior Cup Final between Newmarket Celtic (Clare) and St. Michael's AFC (Tipperary) at Jackman Park (kick-off 5pm). 
ATHLETICS:
UP to 15,000 people are expected to line-up for the start of the Regeneron Great Limerick Run (full/half marathon or six mile) on Sunday next, starting from the People's Park. 
Since its inception in 2010, over 100,000 have participated and helped raise more than €4 million for charity. A quick perusal of fundraising platforms this time around would suggest that Milford Hospice will be the main benefactor, with many partaking in the memories of Brendan Ryan and Colin O'Dwyer, amongst others. 
"The event is an incredible success story for Limerick" commented Mayor Francis Foley. "It continues to bring thousands of people to our city, raising so much money for charity all the while signalling the start of the summer."