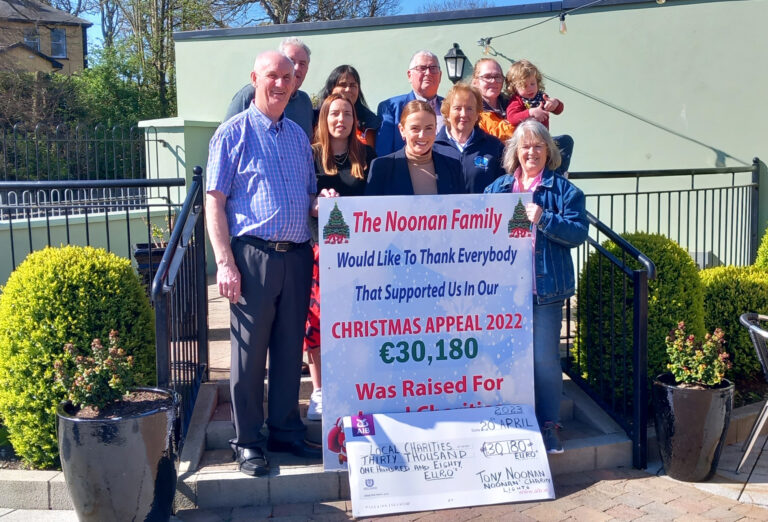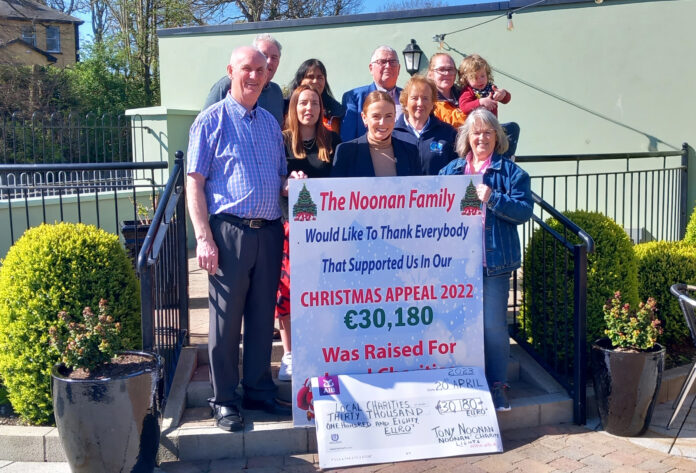 TONY Noonan and his family should be known as the Light Bringers for their work over the last 23 years in making a Templeglantine hillside a shining beacon every Christmas.
It takes months of climbing up and down ladders with thousands of LEDs and wiring up hundreds of glowing Santas, reindeers, and snowmen at Tullig North to stage the Christmas light show that the family puts on every year.
But the Noonans do more than light up the night sky – they burn  bright for charities who benefit from the bucket collections that visitors contribute to when they come to call annually.
Last week, the family generously donated a sum of €30,180, the final count on the money raise at the 2022 lights event.
Visitors to the house and donors over the years have raised €250,000 for charities.
This year, the beneficiaries will be Milford Care Centre, CARI, Limerick Suicide Watch, and the Tralee-based Recovery Haven Cancer Support House.
"We've tens of thousands of LED lights wrapped all around the house and the front. It's looking fantastic. They say the International Space Station can see it when it's all lit up," Mr Noonan said.
The energy crisis could not pull the plug on the massive operation as Noonan secured a donation of a generator from Richard Egan Electrical in Kilmallock.
"We have put in a brand new generator to drive the lights. The cables have been changed to the ESB standards, and special insurance to drive the generator – so we are ahead of Transport Minister Eamon Ryan," Mr Noonan added.
All-Ireland winning Limerick hurler and All Star winner Nickie Quaid, Kerry footballer of the Year and All-Ireland winner Tadgh Morley, and Ian Corbett, captain of Limerick's senior county football championship winners Newcastle West, signed autographs and posed for photographs alongside the Liam MacCarthy and Sam Maguire cups after throwing the switch on the lights last December.