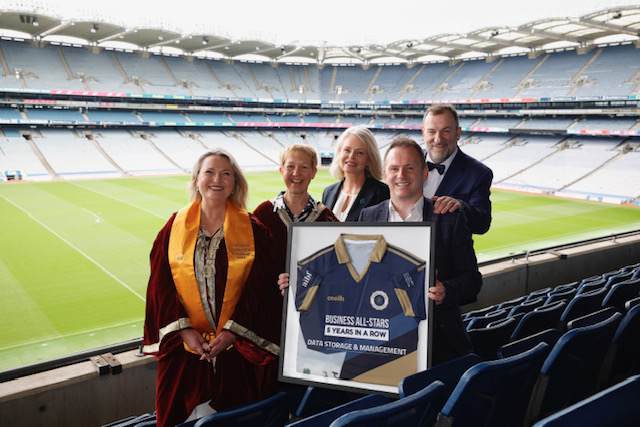 LIMERICK company DSM Ltd has picked up a landmark fifth consecutive Business All-Star Accreditation with the All-Ireland Business Foundation.
DSM provides a one-stop data management shop from its 'state of the art' Annacotty headquarters.
Alongside expertise in storage and retrieval services, DSM offers comprehensive digital services (scanning, secure electronic transfer, etc), shredding services, and other customised services to meet individual needs.
They have a team of 13 highly trained and committed professionals, some of whom have been with DSM since it started trading in 1998.
Data Storage & Management were presented with their fifth consecutive Business All-Star Accreditation at a special ceremony held at the All-Ireland Business Summit in Croke Park on Wednesday May 10.
The achievement comes in recognition of DSM's conduct in the areas of trust, commitment, performance, and customer centricity.
Reacting to the news of DSM's achievement, company secretary Peter Clark said: "On behalf of the DSM team, I would like to express immense pride in achieving Business All-Star Accreditation for a fifth consecutive year."
"This is a landmark accolade for our company and one we are extremely honoured to receive. Our customers are at the heart of everything we do at DSM and I would like to acknowledge their loyalty and trust over the years.
"I would also like to acknowledge the hard work and talent of the DSM team who make achievements like this possible."