WHAT do your shoes say about you? Where you've been? Where you're going? Step into the world of shoe psychology with me as we take a look at what your footwear might reveal about your personality.
As a long-time fan of the talented Hungarian artist Lainey Molnar (@lainey.molnar on Instagram), I've witnessed her exceptional artwork challenge societal norms and encourage embracing individuality. With her million-strong following, she fearlessly expresses her thoughts and creative vision.
Recently, Lainey embarked on a light-hearted miniseries, unravelling the secrets hidden within men's footwear. Some of her interpretations hit the mark with scary precision, while others are so outrageous that you can't help but laugh. Sit back and enjoy with a healthy pinch of salt.
Black Vans: 'The Golden Retriever'
According to Lainey, men in black Vans are akin to Golden Retrievers. For the uninitiated, this term describes slightly goofy, low-maintenance, unproblematic, kind-hearted, and laid-back individuals – mirroring the lovable qualities of the canine breed.
I must admit, familiar faces flashed through my mind. Guys I know who sport these shoes radiate the very essence of a Golden Retriever. They go to great lengths to make others happy and are very much content with spreading joy.
Worth noting, she describes red Vans men as 'Spicy Golden Retrievers'. Excellent.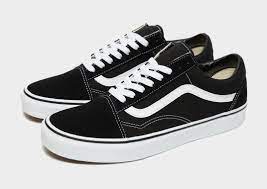 Dress Shoes: 'The Gym Guy'
Picture a man confidently donning dress shoes sans socks. While I may not personally know someone who fits this description, I couldn't help but picture in my mind the exact persona Lainey described. This sockless gentleman is prone to twitches if he misses a day at the gym, hence why he opts for a tight-fitting suit to highlight his hard-earned bod. He's an unapologetic fan of superhero movies and proudly wears the badge of being a mammy's boy, according to Lainey. Perhaps this Christmas, mammy should gift him a pair of superhero socks.
Lacoste: 'The Factory Setting Man'
We all know someone, or maybe we are that someone, who wears the stalwart Lacoste whites every day. According to the artist, men who sport these shoes tend to be passionate about football, enjoy a good beer, are great at connecting with kids, and are real home-birds without any overwhelming desire to explore the world. Hence the 'factory setting' moniker. If the default setting is someone who is reliable, kind to children, has hobbies, and loves their home, then I know what my next shoe purchase is going to be.
Lainey has hinted at continuing her insightful series with women's shoes, but I'm a little afraid about what she's going to tell me about myself! Who knows what she'll uncover next.