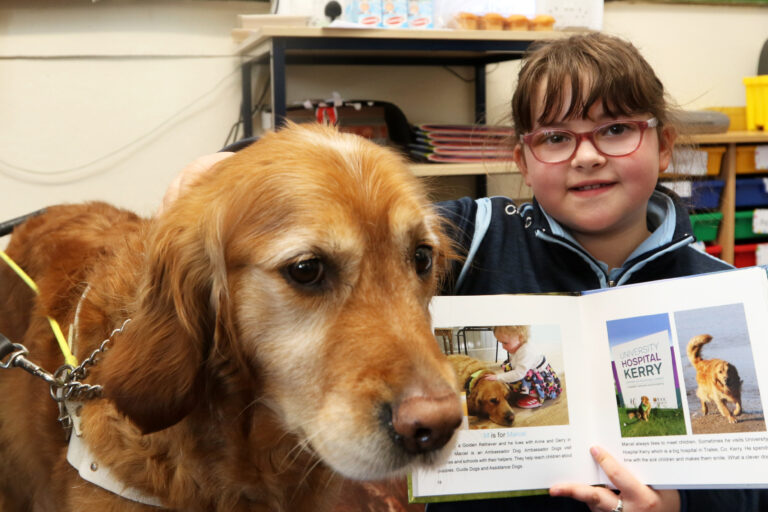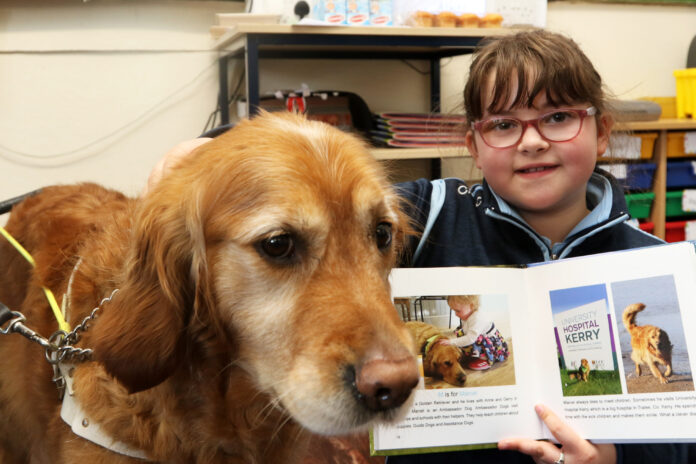 A LITTLE Limerick girl with a big heart brought joy to all when she designed her own doggie themed keyrings to raise funds for training guide dogs to assist blind people and those who are visually impaired.
Inspired by her love of the four-legged friends at the Irish Guide Dogs for the Blind charity in Cork, Caitlin McCarthy (9), of Church Street, King's Island, raised over €700 after selling the unique keepsakes to her fellow pupils and staff at St Mary's NS, Bishop Street.
Kind-hearted Caitlin made and sold over 230 keyrings which she created with resin.
She then travelled with her family to the Irish guide dogs headquarters on Model Farm Road in Cork and presented the charity with a fundraising pile totalling €705.
When the Limerick Post asked Caitlin for an interview, she cooly replied: "I'm down with that."
"Since I was three or four I was wanting to support the guide dogs, so what I did was I got my school principal Eoghan O'Byrne, my mam, my grandad, my dad, my whole family involved in it," Caitlin explained.
"So then I raised €705 and, while I was doing it, my mam told me my uncle had been partially blind. I was very close to my uncle, he passed away a few years ago, and I just really wanted to do something for the guide dogs."
"I love the guide dogs because they help blind people, and I have glasses because I have a turn in my eye."
Caitlin said some people had made fun of her because she wore spectacles which reinforced her commitment to do something to highlight the good work of the Irish Guide Dogs.
"If a blind person is out with just a stick, some people might start laughing and calling them names, but if they had a guide dog, people would go up to them and talk to them," said clever Caitlin.
"So then I wanted to help the guide dogs so that someone can feel how good it feels to be praised," she added.
Raising €705 "feels just amazing", she says, and handing it over at the guide dogs headquarters was "a very great day".
"I was proud of myself and I was very excited to go to Cork because I hadn't been there since I was three."
Her message to anyone wearing glasses or who might require the assistance of a guide dog is to embrace any offers of help: "I'd say try your best, you can do it, don't listen to begrudgers, just ignore them, and stand up for yourself, because you are a star and I believe in you."
Caitlin's parents Caithriona and Diarmuid and her grandfather Paddy accompanied her to the Irish Guide Dogs for the Blind headquarters.
Her mother Cathriona said: "Caitlin is one in a million, we are all so proud of her." Eoghan O'Bryne, Principal St Mary's National School, said: "The entire school is extremely proud of Caitlin, who, for such a young lady, has raised such a phenomenal amount of money."