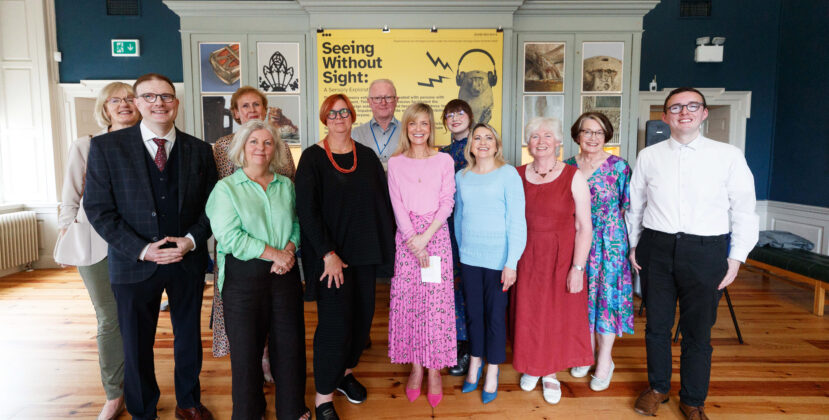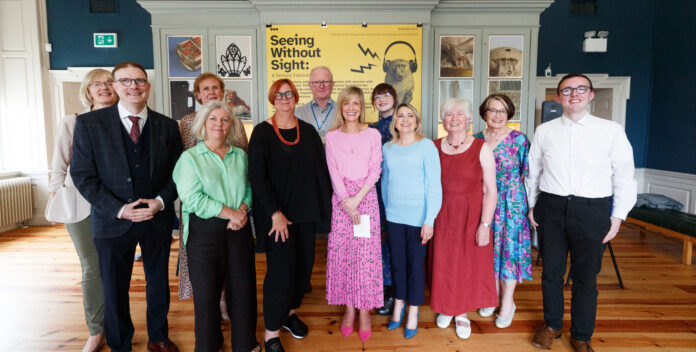 A NEW exhibition has been launched in the Hunt Museum, allowing people to walk in the shoes of people living with visual impairment.
Seeing Without Sight was launched at the Hunt Museum on Saturday last, and is a multi-sensory exhibition, allowing people to use their other senses to engage with items, like a person with visual impairment does.
The exhibition presents a selection of objects chosen by four people with visual impairment. They collaborated with the museum to deliver all the content in the exhibition as well as accessibility design solutions to increase access for people with disability while enriching the experience for all.
The exhibition was officially launched by University of Limerick President Kerstin Mey, who also sits on the board of the Hunt Museum.
Liam McLoughlin, one of the exhibition's visually impaired co-creators, explained:  "Engaging with objects in museums requires you to use the pathway of sight but as I am a person with visual impairment, I cannot easily do this."
"Seeing Without Sight is a game changer because it allows you to use your other senses to touch object reproductions and to listen to audio descriptions which bring the objects alive," he said.
"We have developed an excellent accessibility model for exhibitions which I hope other museum and galleries will use in the future."
Seeing Without Sight was developed over a year through a collaborative project with the visually impaired co-creators, museum docent volunteers and Hunt Museum staff. 
Maria Cagney, education and outreach curator at the Hunt Museum, led the project and delivery of the exhibition. At the launch she gave an overview of the project: "During workshops, we assisted our visually impaired co-creators to investigate 35 objects in total."
"To do this, the docents wrote vivid descriptions for these objects which give physical details and some contextual information allowing them to paint pictures in their mind. Our co-creators then selected two objects each. These were digitised in 3D and printed by the Rapid Innovation Unit and form the touch component in this exhibition," she explained.
"The audio descriptions presented in it were written and performed by our visually impaired co-creators. From an inclusion point of view, this component is very important because it allows their voices to be heard and represented in the museum."
The exhibition is free and will run until Sunday August 20.