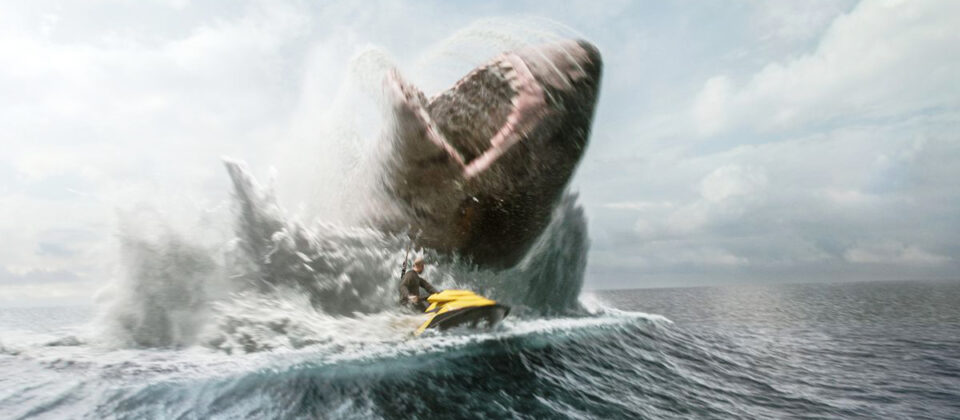 GRIZZLIER than a 245 million-year-old shark, Jason Statham is back chewing up the scenery in The Meg 2: The Trench and putting manners on everything that gets in his path.
It doesn't matter whether it's dinosaurs, krakens, sharks as large as Ellis Island, James Bond-style villains, or acting coaches. Nothing gets in the way of Jonas Taylor (Statham), the most dangerous creature in the sea, complete with a deviated septum and semi-automatic firearm.
Directed by Ben Wheatley, The Meg 2 is bigger and dumber than its predecessor. And while it certainly isn't better than the original, it is a lot of fun in places, especially when the action ends up back on land — on Fun Island, of all places!
I mean, how do you top knocking the stuffing out of a prehistoric shark? Obviously, you go up against three of them in the sequel.
My 10-year-old son loved the film, and the more ridiculous it was, the more he gleamed like a coral reef. Of course, it's one thing going head to head with monsters of the sea, but when Statham and his crew set off for a stroll at the bottom of the ocean at 25,000 feet, a couple of eyebrows are raised.
"OceanGate's Titan submersible imploded at 12,500 feet," the 10-year-old whispers to me disapprovingly.
You have to draw the line somewhere, I guess.
Those looking for realism have come to the wrong place.
The Meg 2 is pure bubblegum for the eyes. Myself and my little man chortled away happily over its two-hour runtime. However, this spectacle, that blends everything from Clash of the Titans to Jurassic Park and Sharknado, is best enjoyed with a pinch of sea salt.
A more mindless blockbuster than the original, we have every kind of creature of the deep chomping at the big screen throughout. None more so than the old man of the sea, himself — Jason Statham.
"See ya later, chum", indeed!
(3/5)