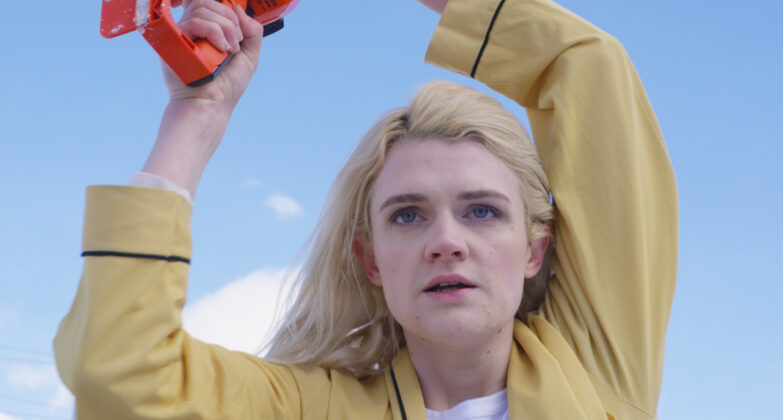 'BAD Things' is a rainbow flag-waving homage to Stanley Kubrick's horror classic 'The Shining'.
Directed by Stewart Thorndike, the film is set in a haunted hotel during a wintry weekend getaway for a group of gals whose interaction with each other is often as frosty as the weather at this snow resort.
Gayle Rankin plays the lead role as Ruthie, a young woman who has just inherited a rundown hotel from her grandmother. Her girlfriend Cal (Hari Nef) is keen for the couple, who are going through their own relationship difficulties, to run the resort and make a fresh start. However, Ruthie has no intention of taking over management and has plans to sell the site which is the root of unresolved trauma and forces that still hold influence over her.
But before signing the property away, she heads there with her three friends Cal, Maddie (Rad Pereira), and Fran (Annabelle Dexter-Jones) to reaffirm their friendship, unwind and take a breath in the fresh snow-capped mountain air.
Sadly, the tranquillity is short-lived. Between Ruthie's cheating ways and the ghosts of former guests making their presence known, the four friends quickly turn on one another.
What was supposed to be a weekend of relaxation and bonding turns into a nightmarish ruckus that leaves them fighting for their lives.
Kubrick's 1980 classic 'The Shining' is the template used for Thorndike's film, but it is the lack of real emotional depth and soulless dialogue that really lets it down.
Rankin gives a strong performance in the leading role but the plot and character development feel one-dimensional and we are left with a galumphing mess. Thorndike might have been better served focusing more on the unhinged and the overpowering sense of anxiety which he builds to a squally crescendo rather than a tepid and often embarrassing reimagining of one of cinema's most iconic features.
'Bad Things', which is new to Shudder, does give us a couple of memorable scenes with mysterious twin joggers running in the oatmeal coloured hallways and ghostly visitations from sexy realtor Ms Auberach played by the wonderful Molly Ringwald. But alas, other than that, there's no real big surprises coming to you here!
(2/5)