THE scene unfolding before me is like something out of Watership Down with rabbits hopping around briskly in the morning light.
As I cautiously drive down a winding country road onto a Patrickswell farmyard, unsure if I am even in the right place, I am greeted by seven barking dogs, who are totally oblivious to the bunnies, and instead focus their bawling on me.
There's no one home, so I decide to take no chances and stay put in my motor until I am saved from the baying hounds. Moments later, a car pulls in beside me and I am assured by my knight in shining armour that it is safe to step outside. The dogs quickly decide I am no longer worth their attention and go about the important business of ignoring the rabbits, and me with it.
Dan McSweeney, the young cub in the Fine Gael Council pack, has already taken two calls by the time we get inside. He puts the kettle on before ushering me to the kitchen table and plonks down a packet of fairy cakes in front of me.
'Were you out last night?'
It's 10.30am and Dan already looks like's he's had a full day before him.
"Were you out last night?" I ask.
With eyebrow arched, he explains that he has been hard at it, milking cows since 5.15am, and is just back in from meeting a constituent on council business before returning to my insinuations.
"This week I am working full-time on the farm because my parents are away, but when they are back I dip in and out because there's a lot of meetings in the coming months," he explains.
"We milk cows and we also have some dry stock as well. I don't milk every morning but the morning will usually start around 6.30am. We have a few to milk and that will take two and a half hours.
"Farming is a good outlet. In the last couple of months things have gotten busier on the Council front, with queries ranging from buses to housing – which is still a key issue and I do hope we as a local authority are turning a corner in relation to," Cllr McSweeney opines as he puts a cup of tea in front of me.
"I switch off when I am out on the farm. I don't have my phone and that's my space to actually relax and switch off. I mostly milk the cows in the evening but it gives me that two hours where you can switch off. There's always work to be done. There's no time to sit around, even if you are not doing council work."
Dan, who has only just turned 25, joins me at the table and tucks into his sausage rolls while taking a well-deserved breather from his daily toil.
From a very young age
The Sacred Heart of Jesus surveys all the goings on in this homely country kitchen as I ask the young City West representative about his first term on the local authority.
"I was going on 21 when I was first elected to the Council. Some of my friends think I'm mad, but the lads were a huge support to me during the election with postering and that. It is exciting, but yeah, some of them think I'm mad."
While Dan, unlike many in the Council's chambers, doesn't hail from a long line of elected representatives, he says that his family have always been very community minded.
"My family have had a strong connection with the community for generations. I'll go back to my grandfather who actually gifted the land to the church and there's a strong sense of community to do what you can.
"Dad is involved in the community council since the foundation in 2002 and I got involved with the community council around 2016. I joined Young Fine Gael at the age of 16.
"I suppose the big driving force for me to get involved in politics was the change you can make. They are only small changes, but they can really mean an awful lot to people."
'I live and breathe the council'
The provision of community, sport, and recreational facilities, improving connectivity with the city, supporting local business and tourism initiatives, and championing environmental issues are all high on Dan's priority list he says, and he takes his role as an elected representative of the public seriously.
"I live and breathe the council. My day revolves around it. I suppose the big thing when I was running for the council in 2019, there was a lot of discussion at the time and people saying 'he's too young', 'he won't be able to do anything', so it's great even to get the calls.
"I got a call yesterday from somebody ringing for whatever issue and I always ask the question 'how did you come across me?' I always ask, so they said 'I was told you are young and a doer'. So that's a big thing. If I can't do something for you, I will tell you straight out."
Despite his young years, McSweeney has found his feet and proved himself a formidable force in the council chamber in recent times. An old head on young shoulders, he is never one to shy away from the issues of the day and takes no nonsense from his seniors – be they fellow councillors or members of the executive.
"The best advice I got from day one when I went into the council was sit back and learn and understand. And yes, I sat back and learned. But the other bit of advice was that you don't always have to go to a council meeting to get work done. A lot of work goes on in the background. So even though it took me a while to learn, I was still doing my work quietly. Sometimes that's the best way to work," he tells me.
Cllr McSweeney, often referred to as the "young fella" on the Council, says he has "learned the ropes of how to survive in politics very quickly".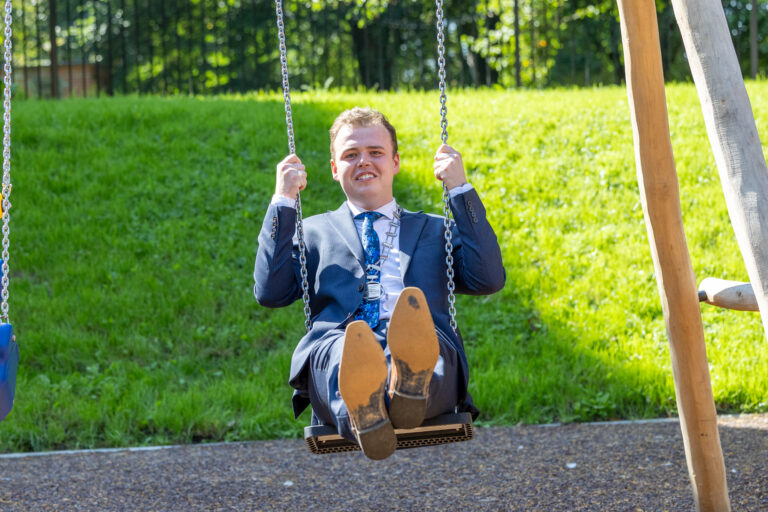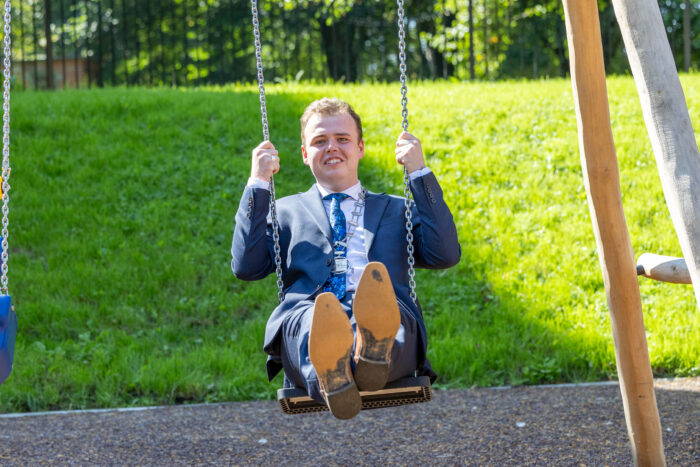 Limerick's last Deputy Mayor
In June this year, the impressive youngster was elected by his council peers to the elevated position of Deputy Mayor of Limerick City and County. He raised his own concerns to me about the Directly Elected Mayor as he gears up for a busy year in office and a local election at the end of it.
"I am going to be the last serving Deputy Mayor that the city and county have, and Ger Mitchell will be the last serving Mayor, so we have a lot of work to get done between now and next June.
"There's stuff coming into the Mayor's office fairly quickly at the moment and they are enjoyable. You are representing the city and the county. You go out there every day and you deputise for the Mayor and you are going out trying to sell Limerick."
The Directly Elected Mayor election is going to be interesting, I suggest.
"It is," he agrees.
"Look, I have concerns in relation to the mayoralty, does it have the powers that it needs to be that transformational position? From the outset, it's looking like a lot of it is consultation, being able to consult with ministers and the NTA (National Transport Authority). Alright, they will have their own budget, it's not a huge budget in comparison to other local authorities, but there's still time for change. There's time for amendments in the legislation and I know Minister Kieran O'Donnell has worked very hard on it.
"I don't think the reduction in powers is due to that department. I honestly think it's the other departments reluctant to give their powers. Take transport for example, I don't think the department want to give their powers down to local authority. There's probably a fear on what they are going to do," he maintains.
"I anticipate I will be the last Deputy Mayor if things go as planned and we're welcoming a Directly Elected Mayor after the next locals. We need someone that is capable and somebody that has vision and is going to show leadership because at times it is lacking.
"I asked the question, it mightn't have been the right question to ask, but if you have two candidates and if one person is capable that may not have the ability to get elected, whereas you might have another candidate that has no issue getting elected but may not be capable, so it's complex.
"It's going to be an interesting couple of months in the run up to the Mayoral Election. At this side of Christmas we should have a fair indication of who's going to be on the field," he suggests.
A village with so much potential
Driving into Patrickswell earlier to meet the local representative, I was struck by the hive of activity going on in the village. The much-needed community centre is moving along at pace and will see in the region of €1.5million invested in the project. Once opened in October, Dan believes the centre will become the focal point for all community events for decades to come.
Significant grant funding has been secured from a number of sources, including €250,000 from the JP McManus Foundation, €500,000 from the Government, €430,000 from Limerick City and County Council, and the remainder of the funding from the local community.
"I hope people will be able to look back at the work I have done for community," he says.
"I have great admiration for community groups because they are all volunteers and I kind of look forward to working with them. They do real work for the community. The local authority would not be able to do the work that those community groups are doing. I hope all the communities will look back and say, 'yeah, he did actually make a difference'.
"In Patrickswell, we have the community centre and the village renewal. In Ballybrown we have the footpath, which has been on the agenda for decades at this stage, finally through the planning process, and I hope we will see the sod turned there by the middle of next year. We can also see the work that's going on in Ballybrown GAA club and the community centre in Ballybrown, so look, there's loads of work going on.
"There was a report done in the early 2000s to say we needed a community centre in Patrickswell. We now finally have a facility come October that we'll be able to build on. We'll be able to expand. We'll be able to get it up and running.
"All the work is down to a handful of volunteers but they are all tremendous workers. They have been working on this for years. There was bumps on the road. There was big bumps. There was small bumps. But now we actually have bricks and mortar, which I know will become the focal point of the village.
"It has so much potential to deliver a park, allotments, men's shed, women's shed, there's huge potential, and that's something I look forward to in the months ahead."
It is clear the young councillor is hugely passionate about his local community. Well polished and well spoken, he has all the markings of a future Dáil candidate, but assures me that his focus, for now at least, is on the work at hand at council level.
'The end finally comes and it comes to everybody'
With breakfast out of the way, the wellies are put on and Dan takes me on a walk around the farm to clear our heads. The McSweeney family have roots on this Patrickswell farmland and in the local community since 1890, something he is very proud of.
Glad to be out of the office, I am childishly gleeful to see the cows and calves, while Dan, wondering what he has signed up for, has a day of milking cows and council functions ahead of him.
"I have less and less free time," he admits as we make our way to the top of the hill.
"Initially when I started off in the council I was looking after my grandmother. She's now departed from us, so that has given me a bit more time to do what I want to do. I was very close to her. I lived with her and looked after her for six years.
Dan's grandmother, Bridget McSweeney (née Coughlan), passed away after a long illness shortly after Christmas in January 2022 in the Beacon Hospital.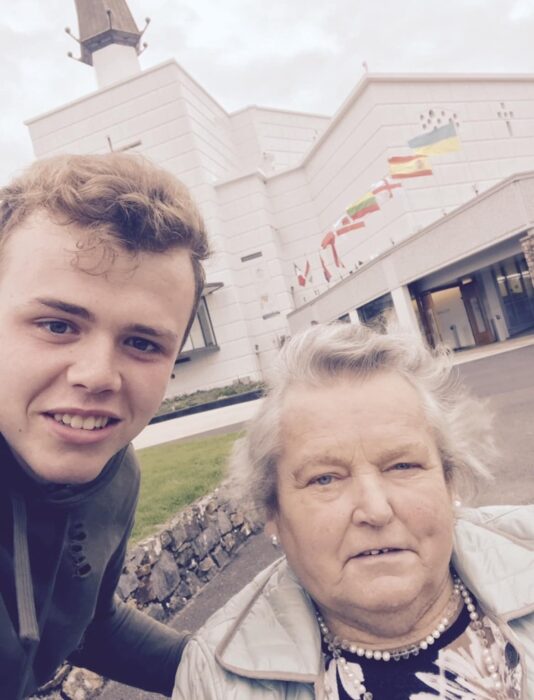 "The end finally comes and it comes to everybody. Death is inevitable. At 23 years of age, we don't think about death. But for me there was two difficult years in the council when my grandmother and then my friend Darren Whelan passed away.
"We don't expect to be burying our best friend at that age. They were two big things for me."
A talented hurler, Darren lost his life in a tragic accident on the Greek island of Ios in July 2021. From the parish of Kildimo-Pallaskenry, he had studied civil engineering at the then Limerick Institute of Technology and had travelled to the Greek island with friends to celebrate graduating from college. He sustained fatal injuries after falling from a height.
Dan still remembers the call to tell him the sad news of his close friend's tragic death.
"Darren was in Greece and a group of us were together the night before and we were actually talking to him on the phone. Then to get that phone call a couple of hours later to say that he was dead. That would shake anybody.
"Now as a group of friends we talk about death because now we all understand that death is inevitable. I suppose we learned that tomorrow isn't guaranteed, no matter what age you are. That's what brought it home to us as a group of friends.
"It has been difficult but the council has been great, it keeps you busy."
Busy, Dan certainly is.
The next generation
Before I let him get back to his hectic schedule, I ask him if any of his friends would ever consider going into politics.
"I don't think they would," he suggests.
"The big focus is just about getting young people involved and I don't think there's a huge number of young people looking to step up.
"The public eye can be difficult in the way that the media look at your private life. Even for me going out on a Friday night or Saturday night, it's difficult.
"There's a lot of sacrifices and I have no issue making those sacrifices. It's actually a privilege to serve. I enjoy the job and hopefully this time 12 months I will be able to continue to serve.
"It's a really enjoyable job. You have your good days and you have your bad days and you hear some difficult stories and you try and do your best for them.
"All you can do is your best," he sagely says. An old head on young shoulders.