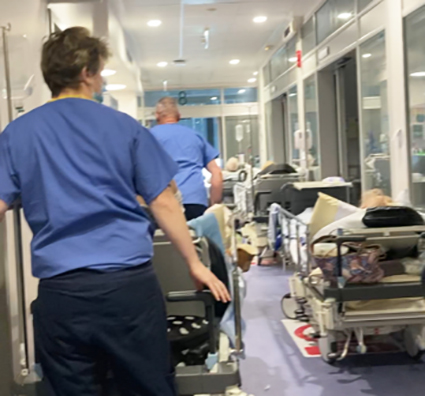 WITH Limerick topping the monthly hospital overcrowding table once again this month, according to figures by the Irish Nurses and Midwives Organisation (INMO), nursing representatives have warned that the number of people on trolleys is sending dangerous signals about what is coming down the line for winter.
Across August there were 1,885 admitted patients left waiting on trolleys in corridors, in cubicles, or in overflow wards for an in-hospital bed at University Hospital Limerick.
The figure represents the worst on record for the month of August at UHL since INMO began its count.
The same trend continued nationally with 9,720 on trolleys countrywide.
UHL's grim record made it the country's most overcrowded hospital across the month by nearly double the second highest figures, Cork University Hospital with 984 waiting on trolleys throughout August.
The Dooradoyle hospital saw a 741 per cent increase in patients languishing on trolleys compared to the 224 recorded a decade ago in August 2013.
INMO General Secretary Phil Ní Sheaghdha said: "There's no doubt this winter is going to continue the pattern of difficult and dangerous times in our hospitals."
"The summer period used to see an easing off in overcrowding figures, but this year numbers admitted to inappropriate spaces, trolleys, and chairs have been alarmingly high too early in the season. The new so-called target of no more than 320 people on trolleys set by HSE was only achieved on five days this year."
"Last year was the previous record for August overcrowding, and the winter that followed was honestly beyond what we could have imagined. This August is somehow worse again, and our members are worried, for themselves, and for their patients, about what is in store for them over the coming months."
In response to the figures, a spokesman for UHL told the Limerick Post: "Provisional data shows a total of 6,692 attendances at the ED during the month of August, and an average daily attendance figure (223) that is approximately 15 per cent greater than that of the pre-pandemic era."
"UHL's well documented and acknowledged shortfall in bed capacity remains the fundamental driver of crowding in this hospital. Our teams must continually balance the needs of the most acutely ill emergency and urgent care patients against the needs of inpatients and those waiting for scheduled care.
"In addition, there was an increase in COVID activity in the Mid West and around the country during August, adding to demands on our service and creating an additional consideration for patient flow teams."
"We are following our hospital escalation plan to maximise patient flow and create additional capacity to manage the consistently high levels of activity in the hospital. Staff are focused on ensuring that emergency care is first received by the sickest patients," the spokesman said.