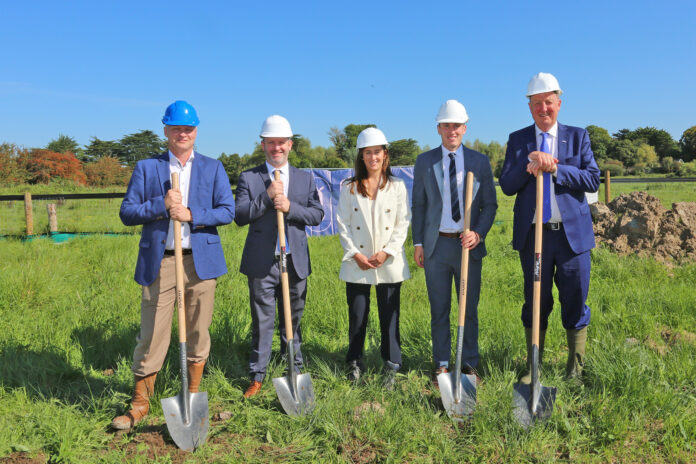 WITH the current housing situation, home-hunters will be delighted to hear of a new development which went live on Daft.ie this week.
Timber frames are up on the first phase of the 371 home Greenpark development, adjacent to the South Circular road and within walking distance of the heart of Limerick City.
The highly energy-efficient homes have spaces for all needs from a one-bed duplex apartment for right-sizers to four-bed family homes.
The first phase of 38 homes is new open for registration for interest and developers, Voyage Property, said that to "say the response is significant is an understatement."
The recent sod turning was a joyful ceremony marking years of careful planning and determination to produce a plan that would create a community rather than just be a build.
Company director John Keane said: "Greenpark offers a once in a generation opportunity to secure a new, energy efficient home within a short walk of Limerick City Centre as well as numerous other local amenities such as schools, Mary Immaculate College, the Crescent Shopping Centre, Raheen Business Park, and others".
The phased building is designed so that each phase will be complete in itself, with all amenities intact before a new pat of the project begins allowing new residents to begin their new home journey without the intrusion of further site works.
"The design of the homes in Greenpark, coupled with their central location so close to the very heart of Limerick City, allows delivery of energy efficient homes in a community whose residents will have the realistic option of utilising more sustainable travel modes such as walking or cycling, thus contributing in a positive way to the environmental footprint of Limerick as a city," Mr Keane said.
"Greenpark is about delivering new homes in a welcoming community. The team working in Voyage Property value their role in delivering new homes within communities, rather than new houses in developments. The difference, although subtle in terms of words, makes a world of difference to our purchasers. Greenpark will allow our team to deliver on those values".
The first phase has launched to the market via daft.ie on Daft.ie/new-home-for-sale/greenpark-limerick-city-co-limerick/5408240.
The website for people interest to register this interest is GreenparkLimerick.ie