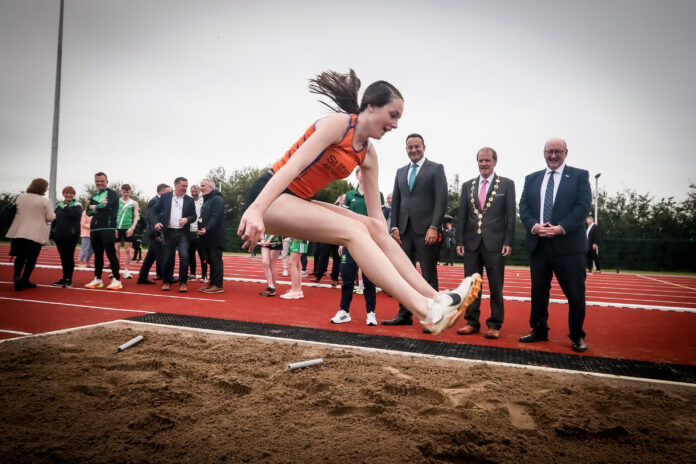 ATHLETES and sports supporters across Limerick had another reason to celebrate on Thursday (September 14) with the opening of the Limerick Regional Athletics Hub in Newcastle West.
Costing a reported €4.2million, the long-awaited sports facility will usher in "a new era of sports and community excellence", said a spokesman for Limerick City and County Council, who proudly led the project through to development.
High performance athletic talent was on show at the hub's launch, with Olympic athletes Thomas Barr and Carolyn Hayes in attendance alongside field stars Lily Ann O'Hora and Reece Ademola.
The hub was officially launched by Taoiseach Leo Varadkar, who was in Limerick this week for the Fine Gael party 'think in' at the Strand Hotel.
The new facility includes an international standard athletics track, floodlights and an illuminated path, and dedicated space for field sports activities including shot put, discus, hammer throw, javelin, long jump, high jump, and pole vault.
At the official opening on Thursday, Taoiseach Leo Varadkar said: "This is an incredible facility for the community, which will benefit existing athletes and encourage many more people to get involved in sport."
"Limerick has an outstanding sporting tradition, most recently with local athlete Sarah Lavin breaking the national 100m record in Switzerland, and I know this hub will help to produce many excellent athletes for the future."
Dr Pat Daly, CEO of Limerick City and County Council, highlighted the Council's commitment to the project, adding: "This project underscores our dedication to fostering a vibrant, active community. We believe that this hub will be a source of pride and inspiration for generations to come."
Mayor of Limerick City and County, Cllr Gerald Mitchell, also expressed his enthusiasm for the new athletics hub, saying: "The Limerick Regional Athletics Hub represents a remarkable investment in our community's health, wellbeing, and sporting excellence. We look forward to welcoming athletes of all ages and abilities to this world-class facility."
The development of the Limerick Regional Athletics Hub was a collaborative effort between Limerick City and County Council, the Large Scale Sport Infrastructure Fund, the Department of Tourism, Culture, Arts, Gaeltacht, Sport, and Media, the Department of Housing, Local Government, and Heritage, the JP McManus Benevolent Fund, and the ESB Community Windfarm Fund.