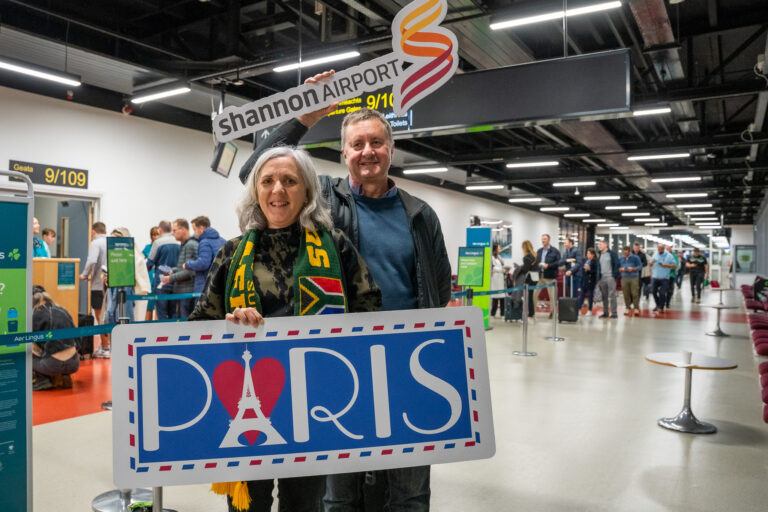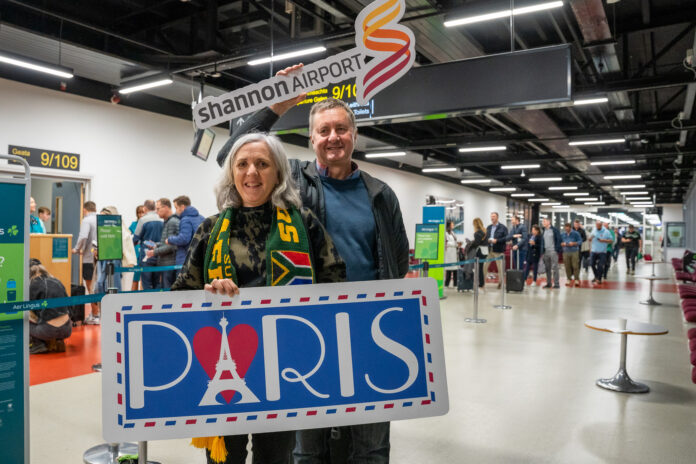 A NEW route for passengers looking to get in the mix of the Rugby World Cup action opened at Shannon Airport this morning, with air travellers chorusing 'bonjour, Paris'.
The new Aer Lingus service commenced this morning (Friday September 22) running from Shannon Airport to Charles de Gaulle in Paris. It runs until January 7 next year, before taking a short break and recommencing between March and October 2024.
The launch, timed to coincide with the Rugby World Cup in France, saw plenty of Irish fans board the Airbus A321 Neo just in time for tomorrow's clash between Ireland and South Africa. It will see flights leave Shannon for Paris twice weekly, with trips timed around key World Cup matches.
Welcoming the launch of the new route, Shannon Airport Group CEO Mary Considine said: "After a busy peak summer season, it is fabulous to see passengers aboard the first flight of our new Aer Lingus service to Charles de Gaulle."
"In addition to creating a gateway to the Rugby World Cup, we know this will be a popular destination for family, friends, and couples alike, wanting to explore the history, culture, and cuisine of Paris, while providing a vital connection from Shannon to a major European City.
"This service is another win for the region. It will not only boost the West of Ireland economy, but it will also be of great benefit to the rich and diverse tourism trade all along the Wild Atlantic Way."
Donal Moriarty, Aer Lingus Chief Corporate Affairs Officer, added: "We are delighted to commence this new direct service from Shannon to Paris re-establishing the connection between both airports after an absence of 12 years offering customers travelling a convenient connection to the French capital."
"The new Shannon to Paris route will give those in the West of Ireland more opportunities for leisure and business travel as well as an influx of tourism opportunities to the region.
"It's also great to welcome the many Ireland fans on board to bring home advantage to France," he said.
The new service is expected to be popular with leisure and business travellers, and is timed to allow for passengers travelling from Paris to connect onwards from Shannon to New York JFK and Boston via Aer Lingus.